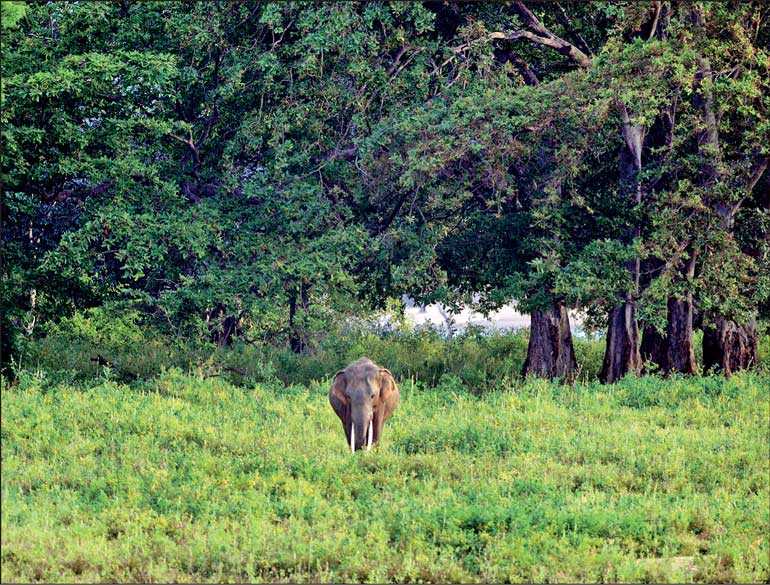 No foreign visitor will come to see starving elephants, degenerating eco-systems and barren landscapes. They come to see healthy populations of wildlife, prospering in nature, protected and preserved for the future – Pic by Shehan Gunasekara
---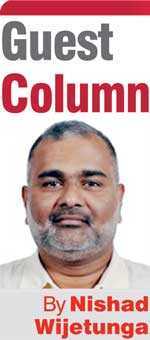 The protection of biodiversity does not only mean conservation. It is also a way to improve the national economy. Biodiversity will be incorporated into tourism, education and cultural events in a planned and systematic manner in order to boost the economy – The Election Manifesto of President Gotabaya Rajapaksa (Chapter 8, Page 64).

This was the promise. It was heartening to know that there was someone at the top who understood the enormous economic potential there is in preserving Sri Lanka's forests and its wildlife in pristine condition especially if the quality of the experience to a foreign visitor is high. They will then even be happy to pay more for such wildlife encounters, with the eternal memories they would give, and come back again and again to relive them.

Sri Lanka is a global biodiversity hotspot and has the potential to be the best place for wildlife lovers to visit outside of Africa. So, the sea, forests, rivers and tanks, and the wonderful array of wild animals and birds that inhabit them, are doing their bit for this country, by providing enormous economic potential for the economy; if kept alive and healthy. But what of its people?

With the highest rate of Human-Elephant Conflict in the world, with forests being cut, national parks and forest reserves encroached into, and the sea and waterways being increasingly polluted, the human residents of this resplendent isle seem hell bent on destroying its glory.

If what has happened before was bad enough, the Government has recently handed over forests designated as 'other State forests' from the Forest Department to the District Secretaries for development, thereby ringing the death knell for all wildlife in Sri Lanka. The already increasing Human-Elephant Conflict will escalate to unimaginable levels, resulting in the death of even more elephants and people, and of all the other wildlife of this country, who are dependent on these forest connections between one protected area and another.

'Essential Forests'

These politically re-designated 'Residual Forests' are given this derogatory name only by those who wish their destruction. These are, in fact, vital living entities that provide the following services to the country:

1. Their existence is essential for the movement of elephants and other fauna from protected area to protected area.

2. They host unique species of animal and life, some found nowhere else on Earth.

3. They provide avenues for the exchange of genes, vital for the long-term existence of all species, and

4. In so doing, they ensure a revenue for all those who earn a living from their presence.

As the effects of global warming begin to be felt throughout the world, these remaining forests of Sri Lanka, both in and out of protected areas, will ensure that some of its more virulent effects will be mitigated against. Rather than be destroyed, these 'Essential Forests' should be given even greater protection than they enjoy now.

If these forests are handed over to the whims of those in local government, elephants will starve or have to seek food in human cultivations, as 70% of them live in these state forests outside of the protected areas. They will be killed in greater number, as will people, and the reputation of this country internationally will suffer.

As the rest of the world, especially during this global pandemic, begins to recognise the value of its environment, its forests and its wild animals, Sri Lanka begins to destroy its own. Would this be a place to visit?

Destroying local economies
In 2016, as per a study undertaken by former President of the Tourist Hotels Association of Sri Lanka (THASL) Srilal Miththapala, foreign visitors to the Minneriya National Park contributed an estimated Rs. 1.5 billion for the local economies, especially the hotels, shops and safari jeep drivers who operate in its vicinity, as well as to the Government coffers through the Department of Wildlife Conservation. All this in just the four months of its world famous 'Gathering' of elephants.
As per another study undertaken by the same author on behalf of the Sri Lanka Association of Inbound Tour Operators (SLAITO) in that same year, the Yala (Ruhunu) National Park earned approximately Rs. 7 billion for its local economy. If elephants cannot range into Minneriya from other protected areas via these 'other State forests' during times of drought, then there will be no 'Gathering' and the local economy will die.
The same is true for the Uda Walawe National Park where in a matter of a mere 20 years, the little hamlet that was there has grown to be a thriving economy that hosts over 100 hotels and guest houses, a multitude of shops, and has over 600 jeep drivers providing a service to visitors.
This success all depends on the National Park and its elephants; it has the reputation of being the one park in the world where the sighting of an elephant is guaranteed at any time, on any day of the week. The elephants of this park depend on these State forests too; moving in and out during the different seasons. Without them, the economy of Uda Walawe dissipates too.
When the last elephant is gone
No foreign visitor will come to see starving elephants, degenerating eco-systems and barren landscapes. They come to see healthy populations of wildlife, prospering in nature, protected and preserved for the future.
When the last elephant is gone, so will a very large chunk of Sri Lanka's source of foreign exchange. Thousands will have to find alternate employment and the chance even of returning to the land will be lost, as with forests gone, water sources will deplete and the soil degrade. What a bitter harvest to reap for such a short-sighted policy. There will be no biodiversity left to help fuel the national economy as envisioned by the President.
Joanna Bell and her family visited Sri Lanka and spent time in the Uda Walawe and Lunugamvehera National Parks. They were enthralled by its amazing biodiversity, the wide vistas and, in particular, the wild elephants of these Parks. 2020 would have seen them return, had it not been for COVID-19, to spend more time with nature.
"So sad to keep hearing about the destruction of habitat and wildlife in Sri Lanka in the name of progress. It makes much more sense to protect this beautiful country and its wildlife and grow the tourist industry. Another elephant killed…" – Facebook, 11 March.
Is this the image of this land and its people that we wish spread to the world?
---
[The writer is Vice President, Sri Lanka Association of Inbound Tour Operators (SLAITO) and Trustee, Federation of Environmental Organisations (FEO).]
---