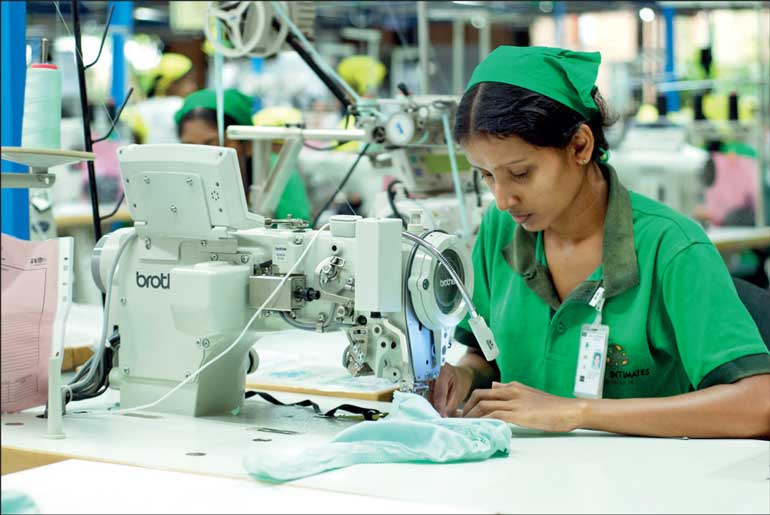 Apparel exporters who are still reliant on GSP+ have limited flexibility in sourcing the highest quality fabrics at competitive prices from anywhere in the world, as they are being compelled to source from Sri Lanka
---

Sri Lanka is one of eight developing countries eligible for GSP+ concessions, which grants duty-free access to over 66% of products exported to the EU (over 7,200 products). Since attaining GSP+ status in 2005, the nation's apparel and fisheries industries have notably benefited from zero tariffs when exporting to the EU, as opposed to tariff rates of over 7%, which countries outside the concessionary programs of the EU must face. Industries such as seafood, rubber, and footwear heavily depend on GSP+ preferences, with the scheme facilitating over 90% of their exports to the EU. In fact, 67% of all dutiable exports from Sri Lanka entered the EU duty-free through GSP+ in 2021.
However, while it is fine to enjoy the GSP+ benefits until they last, over-reliance on these benefits to be competitive is a risky strategy for Sri Lanka and especially for apparel exporters, that account for over 40% of total exports of the country. There are three factors which make it so.
1) GSP+ is temporary and will last only until the country graduates to upper middle-income country status.
2) Continued access to concessions depends heavily on actions/inactions of the government.
3) The utilisation of concessions is undermined by highly restrictive rules of origin criteria which limits Sri Lankan exporters' flexibility in sourcing inputs.
In fact, a study by Verité Research finds that products that are competitive on their own gain the most from the GSP+ concessions and are also able to better withstand the loss of concessions. The GSP+ is a temporary arrangement to help countries to become strong on their own, without depending on such charity. The EU defines countries benefiting from GSP+ as "vulnerable developing nations with insufficient export diversification and inadequate integration within the global trading system". Yet, Sri Lankans seem to have grown accustomed to this label, demonstrating little interest in moving beyond this definition and securing a competitive advantage for its exports outside GSP+. As such this article highlights the importance of investing in building competitiveness of Sri Lankan exports and diversifying its economy into sectors/products that can compete in the absence of these concessions.
Over-reliance on GSP+ is a risky gamble
The concessions will last until Sri Lanka reaches upper middle-income status
As Sri Lanka progresses to upper-middle income status, it will ultimately lose eligibility for GSP+ concessions. Sri Lanka would have become an upper-middle-income country by 2024 if not for the current debt crisis, according to forecasts published by the IMF. The crisis only delayed the inevitable by a few more years.
It seems while arrangements like GSP+ are put in place to help countries on their path to development, ironically, most countries that receive these concessions like Sri Lanka fear losing them when they become more developed. A key reason for this is the failure of countries to make use of this opportunity to invest in sectors and factors that will help withstand the loss of these concessions, as they become more developed.
Continuous access to concessions is highly dependent on the actions/inactions of the Government
The extent to which Sri Lankan exporters benefit from GSP+ appears to be contingent on the Government's behaviour (or misbehaviour) as perceived by the EU. To receive GSP+ status countries must ratify 27 international conventions related to human and labour rights, environmental protection, and good governance. The benefit of getting GSP+ concessions and the cost of losing the concessions is meant to help nudge the governments and corporates in countries like Sri Lanka to be better compliant with the international conventions. However, as was evident in 2010 when Sri Lanka first lost its GSP+ status, the cost of losing concessions was not sufficient to make the Government take its international commitments seriously. The unpredictability of the Government actions/inactions makes over-reliance on GSP concessions too risky for the private sector in the country and their employees who ultimately bear the cost of losing these concessions.
For instance, when Sri Lanka lost GSP+ status in 2010 for failing to comply with three crucial international conventions, it led to the closure of 25 apparel factories and left nearly 10,000 people unemployed. This is according to an article written by Kishali Pinto Jayawardene from October 2013, quoting the then Minister of Investment Promotion Lakshman Yapa Abeywardena.
In 2017, Sri Lanka was successful in meeting the criteria set by the EU trade commission, which led to the restoration of its GSP+ status. However, in June 2021, these concerns were reignited causing an unwanted déjà vu for the private sector. The EU parliament passed a resolution urging the EU Commission to use GSP+ as leverage to promote Sri Lanka's human rights obligations. Specifically, they pushed for the Prevention of Terrorism Act (PTA) to be either repealed or revised. The EU parliament requested the EU Commission to evaluate whether enough justification exists to initiate a temporary withdrawal of Sri Lanka's GSP+ status and accompanying advantages.
In response, Sri Lanka committed to repealing the PTA. However, even before the EU Commission releases its final verdict after evaluating Sri Lanka's commitments towards the PTA in the coming months, new concerns have emerged regarding the proposed Anti-Terrorism Bill expected to replace the PTA. Critics argue that this new Bill is even more restrictive than the PTA, and EU member states have expressed that the Bill's characteristics could potentially impact decisions concerning GSP+ concessions.
Concessions are dependent on the ability to meet restrictive rules of origin
Apparel exports constitute up to 50% of total exports to the EU and the apparel which qualifies for GSP+ enjoy duty-free access to the EU market, compared to an average tariff of at least 12% for those that don't. This duty-free advantage plays a key role in the success of Sri Lankan apparel in the EU market.
However, a key observation that hasn't received much attention is that only 52% of Sri Lanka's apparel exports took advantage of GSP+ concessions in 2021. The main reason for this low utilisation is the strict rules of origin (ROO) requirements that must be met to benefit from the concessions. As per these requirements, duty-free access is granted only to apparel that is manufactured in Sri Lanka starting from the yarn stage. It excludes apparel that uses imported fabric from countries outside Sri Lanka, the European Union (EU), or the South Asian Association for Regional Cooperation (SAARC) countries. As such apparel exporters who are still reliant on GSP+ have limited flexibility in sourcing the highest quality fabrics at competitive prices from anywhere in the world, as they are being compelled to source from Sri Lanka and South Asia to qualify for concessions, thus foregoing strength and competitiveness in some products.
Nurturing internationally competitive products is the key to reducing reliance on GSP+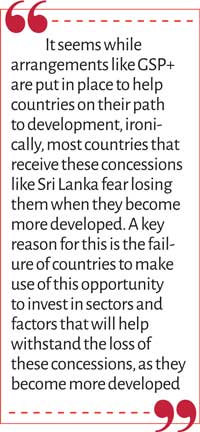 Products competitive on their own, benefit the most from gaining GSP+
A recent study by Verité Research titled "Apparel Exports from Sri Lanka to the EU: A product level analysis of the impact of GSP+" assessed the impact of losing and gaining GSP+ on the top 20 apparel products. The study shows that GSP+ cannot reverse the fortune of products that are already on a declining path and are deemed uncompetitive, but it can help boost demand for products already on a growth path or are competitive regardless of GSP+ status. For example, three of 14 products with high GSP+ utilisation rates experienced a continuous decline in market share even after Sri Lanka regained GSP+ in 2017. Conversely, four products experienced either consistent growth in market share, regardless of GSP+ status or experienced only a marginal reduction in market share (less than 0.1%) when Sri Lanka lost GSP+ between 2010-2016 (which is indicative of competitiveness in these products derived from factors other than duty-free access such as quality, reliability, and timeliness of delivery). These four products accounted for 26% of the EU's total apparel imports from Sri Lanka and include products such as brassieres (HS 621210) which is Sri Lanka's largest apparel export item to the EU. In fact, these products also tend to benefit the most from GSP+ concessions when it's available.
Competitive products are opting not to use GSP+
Overall, there is a declining trend in Sri Lanka's GSP+ utilisation for apparel having reduced from a peak of 66% in 2009 to 52% in 2021. This is because today up to 66% of the textiles imported into Sri Lanka come from countries outside the EU and SAARC. Therefore, apparel that uses these fabrics cannot benefit from the GSP+ as they do not meet the rules of origin requirements.
The previously mentioned study shows that the products which have gained market share in the EU between 2005 and 2019 (since Sri Lanka first gained GSP+ status) have gradually reduced their reliance on GSP+ as indicated by a considerable decline in their GSP+ utilisation rates during the same period. Some key examples of such products are brassieres (HS 621210), women's or girls' briefs and panties (HS 610822, 610821) and men's or boys' underpants and briefs of cotton (HS 610711).
The above findings illustrate that certain Sri Lankan apparel products remain competitive in the EU market even in the absence of GSP+ concessions. They may also be opting out of GSP+ to keep the flexibility of sourcing fabric from anywhere in the world which helps them to better meet their buyer requirements of quality and price. For some products, the margin of preference (i.e., the difference between the MFN tariff rate paid by non-GSP beneficiaries and duty-free access enjoyed by GSP+ beneficiaries) is already low, that it does not make it worthwhile to accommodate GSP+ requirements, foregoing the flexibility of sourcing from anywhere in the world. A good example of this is brassieres where the MFN rate in the EU is only 6.5%, which is much lower compared to up to 12% for other apparel products. As a result, the study found that the decline in GSP+ utilisation has been most pronounced in the case of brassieres, where it dropped by 40% between 2005-2019.
The findings of the study indicate that some exporters have already invested in factors that mitigate the risk that the uncertainty of the concessions poses to their market access and have reduced their reliance on GSP+. For example, there are products that have high utilisation of GSP+ but have reduced their dependence on GSP+ concessions to secure orders, as demonstrated by their ability to grow or sustain their market share even during the period GSP+ was not available. It would be wise for Sri Lankan policymakers and corporates to follow the same path and build the resilience of exports by nurturing internationally competitive products that can benefit from GSP+ when it is available, but at the same time can remain competitive in the absence of it as well.
(The study done by Verité Research is available at: https://www.veriteresearch.org/publication/apparel-exports-from-sri-lanka-to-the-eu-a-product-level-analysis-of-the-impact-of-gsp/)
(Mathisha Arangala is a Lead Economist at Verité Research, a think tank based in Colombo. He holds a Bachelor of Business and Commerce in Economics and Banking & Finance from Monash University Malaysia and a Higher Diploma in International Relations from the Bandaranaike Centre for International Relations (BCIS).)
(Johan van der Ploeg is a Junior Research Analyst at Verité Research. He is currently studying for his Bachelor of European Studies at Zuyd University of Applied Sciences in Maastricht the Netherlands.)