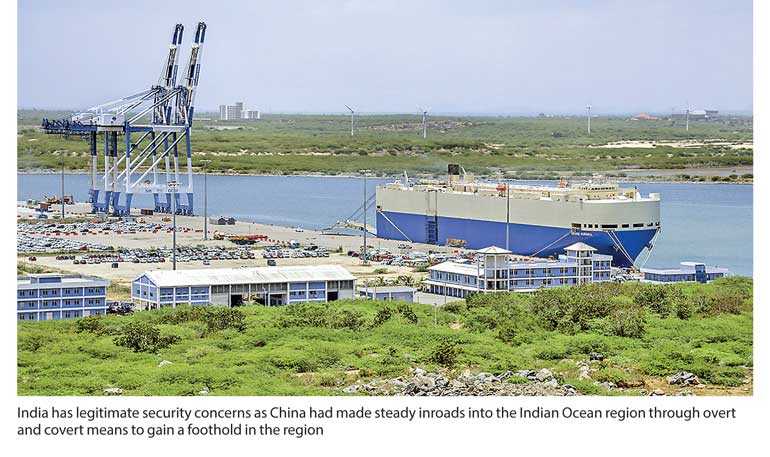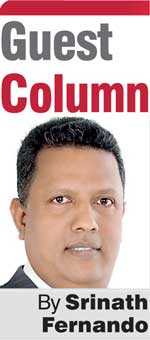 Constitutional debacle in Sri Lanka
It was only a few days ago that the Prime Minister of India Narendra Modi issued a statement expressing concern over the slow pace of the India-backed development projects and the strategic joint ventures with Sri Lanka. As a small island nation, the Government of Sri Lanka must take into account the much bigger picture of the Indian foreign policy through the lens of how India would look at Sri Lanka and other Indian Ocean rim nations.

India, being Sri Lanka's closest neighbour, has an impediment that its maritime affairs both commercial and strategic are undertaken around Sri Lanka. The strategic position of Sri Lanka has much to do with Indian Naval operations. With the ever-increasing Chinese footprint in Sri Lanka, the Indian Navy has now a difficulty undertaking naval operations without being seen by its rivals and adversaries. India cannot possibly share its strategic concerns with Sri Lanka and it is for Sri Lanka to understand India's strategic concerns.

The sudden change of Government and the Constitutional debacle of competing Constitutional positions of two Prime Ministers in Sri Lanka would not augur well for the relations with India. The sooner the matter is resolved, the better for the country.
Media reports on RAW debacle
The Hindu, a well-respected newspaper in India with global circulation, had reported a discussion that seems to have taken centre-stage when the Cabinet of Ministers deliberated on national issues. It seemed to have delivered a devastating blow to Indo-Lanka relations. As far as Indian Prime Minister Narendra Modi is concerned, it is a grave matter for him to conduct India's foreign relations with other foreign countries in the region at a time when the President of Sri Lanka Maithripala Sirisena had made a serious allegation, according to media reports, that a section of the Office of the Prime Minister of India had conspired to assassinate him and others. The Office of the President of Sri Lanka had issued a statement vehemently denying such media reports. This has far-reaching implications for the Office of the Prime Minister of India and his credibility in conducting foreign relations with other heads of states in the region.

Adding fuel to the fire is Senior Cabinet Minister Mahinda Amaraweera, who was reported to have said that four Cabinet Ministers are agents of RAW, India's State intelligence service. The flipside of this is that The Hindu journalist had verified the story with four Cabinet Ministers whom Minister Amaraweera considers as RAW spies. The Hindu reporter could then be faulted if one goes by Amaraweera's logic. These types of utterances would tend to create further fissures of the goodwill between the President Sirisena and Prime Minister Modi.

One political heavyweight who grafted an addendum to this story is the media icon N. Ram, a man who has direct access to the Prime Minister Modi, saying that The Hindu, stands by its report. It would be wise and prudent if the Government of Sri Lanka makes an effort to deescalate the situation at this moment and make an effort to improve the relations between India and Sri Lanka. Lose cannons from within the Cabinet of Ministers must be shut.
East Container Terminal and Chinese submarines
During the Rajapaksa era, almost all the newspapers had reported that India had expressed grave concerns over Chinese submarines visiting Colombo. The Chinese presence in the Indian Ocean region had been highlighted by the foreign policy experts all over the world and it never dawned on anyone to expect that a Chinese submarine would ever dock at a Chinese-built berth at the Colombo Harbour. It is truly a "great leap forward" as far as Chinese defence posture is concerned.

This had triggered alarm bells in India as this had been considered a breach of the letter and spirit of the Indo-Lanka Agreement in which Sri Lanka had provided guarantees to India that that it would not allow foreign military interventions that would be prejudicial to the national security of India. Now according to media reports, President Sirisena seems to have expressed his displeasure over the joint venture with India to develop East Container Terminal – ECT.

The real reason for India's interest in securing ECT could very well be for strategic reasons and Government of Sri Lanka must promptly support India in this endeavour. The Government of India could not possibly divulge the real reasons for securing ECT for reasons known only to the top echelons of the Indian Government. This factor must be taken into account by the Government of Sri Lanka without further bickering over this petty issue.
India's legitimate security concerns
India has legitimate security concerns as China had made steady inroads into the Indian Ocean region through overt and covert means to gain a foothold in the region. There does not seem to be any appreciation of India's security concerns when the Chinese built berth was allocated for the submarine. The then Sri Lanka Ports Authority (SLPA) Chairman says it was due to the inadequacy of the depth of SLPA berth, however the Chinese naval operations division must have calculated the depth of the Chinese-built berth.

Indian, US, Australian and Japanese defence establishments are studying the Chinese advances in both political, economic and defence spheres and these countries are heavily occupied with countering Chinese capabilities. The Indian Navy is a massive organisation with a fleet of aircraft carriers, frigates and submarines and it must have the operational mobility and it must also conduct its operations stealthily. It operates ships from East to West coast and vice versa. All these movements are done along the coast of Hambantota. Its ability to conceal its naval operations must be of paramount importance to India. This is a factor the Government must take into account.
True Chinese strategic intentions
Since the Chinese political system, which is a far cry from the way India and other democratic governments are run, provides no transparency, it would be difficult to fathom true Chinese defence and strategic intentions.

It would nevertheless be pertinent to consider the recent advances in Chinese military posture such as its:

(1) ability to shoot down a satellite;

(2) operating aircraft carriers which can carry stealth fighters;

(3) aggressive stance towards Japan and declaration of a controversial air defence identification zone in violation of international law;

(4) construction of port facilities in Pakistan, Bangladesh, Myanmar, Seychelles, Maldives and a strange set up in Vanuatu Island;

(5) construction of a pipeline from Myanmar to China;

(6) advances in technological superiority in some aspects of its offensive weapons capabilities;

(7) massive allocations for defence spending;

(8) interception of US navy patrol aircrafts not in keeping with international norms and the unprofessional way of intercepting such aircrafts disregarding the safety concerns of the crew. The US is not at war with China and China is a founding member of the United Nations, hence bound to respect the international norms. There have been incidents where Chinese aircrafts have threatened the safety of US Navy Poseidon surveillance aircraft in South China Sea in gross violation of international norms. Chinese Navy had harassed US Navy, Royal Australian Navy and other ships in South China. China had forcibly stationed an oil drilling rig in the Vietnamese waters disregarding the sensitivities of a sovereign country like Vietnam.

(9) China's closer ties with Pakistan and border disputes and tensions with India; and

(10) aggressive pursuit of continental shelf in South China sea in a controversial manner hurting the feelings of Vietnam, Philippines, Malaysia, Brunei, etc. The Permanent Court of Arbitration had delivered a judgment in favour of Philippines over its territorial dispute with China.
Why was the Japanese Minister of Defence in Sri Lanka?
When China threatened Japan, it went into a frenzy reviving its defence capabilities which had been for self-defence purposes and Japan comes under the US security umbrella. US defence priorities are spread across the globe hunting terrorists and involved in nation building efforts.

Japan, despite its constitutional constraints and limitation on offensive defence capabilities, it took upon itself the need to defend its territorial integrity and to secure vital sea lanes of communications. Japans only worry is to secure its supply routes as almost all the industrial raw materials, such as crude oil, LNG and other vital strategic commodities are imported from overseas countries and Japan must ensure that supply route is secured at all times. Sri Lanka's position is extremely important to Japan.

The worst case scenarios for Japan would be to provide naval escorts to its commercial fleet of ships. Even the US defence analysts had expressed deep concern that some of US bases in the Pacific are within the striking distance of Chinese military capabilities. The US Navy aircraft carriers, the symbol of American Global power, are also threatened by some of Chinese advancements in armaments technology.

Japan cemented defence ties with India mainly because of the Chinese aggressive posture in the pacific. Does Japan have the capability to defend its merchant fleet plying to and from the Persian Gulf to carrying crude oil and other important commodities essential for the survival of its economy? In this backdrop the strategic location of Sri Lanka comes to the fore.

China has built a pipeline from Myanmar to China and secured some of its oil and LNG requirements from Russia and Central Asia, whereas Japan relies heavily on ocean transport of strategic commodities. Japan is therefore concerned about any Sri Lankan port falling to Chinese Government or State owned Chinese companies. The visit by the Japanese Minister of Defence to Port of Trincomalee and Port of Hambantota, might possibly be to check on the level activities of China in Sri Lanka.

The Chinese footprint in Sri Lanka is ever-increasing. If Japan, being a very far away country, is concerned about ports being taken over by China, what would be the level of concern of Indian authorities? Hence ECT must be made a joint venture between India and Sri Lanka.
(The writer is a freelance journalist and a political commentator. He holds a Post Graduate Diploma in Diplomacy and an LL.M in International Commercial Law.)