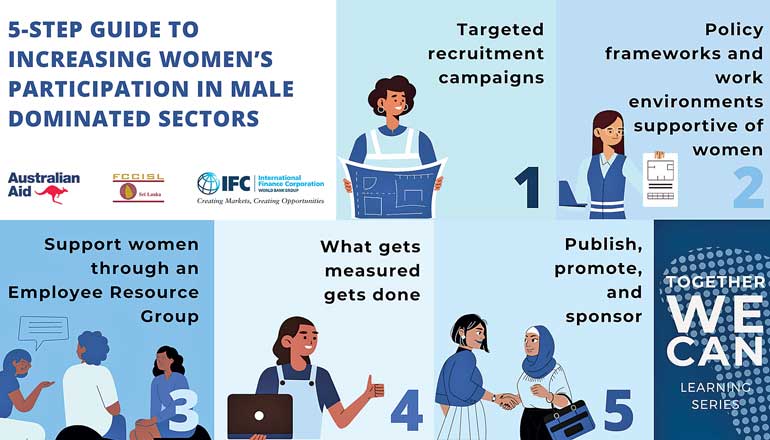 A few years ago, when Thilini Gunasekara joined DIMO, she was one of a small number of women employed in the service workshops. Today, she is joined by five other women engaged in automobile service operations and 21 women in engineering. Traditionally, women are largely underrepresented in the automotive sector. DIMO is proving otherwise. For them, having more women in engineering and in the workshops has helped to retain customers and improved efficiency and compliance.

Over the years, strong strides have been made in Sri Lanka towards introducing more women into male-dominated sectors such as automobile, shipping and logistics. Apart from the social and moral imperatives, there is a strong business case for providing opportunities for women in non-traditional sectors.

Studies have shown that increasing women's participation in male-dominated industries increases access to a broader talent pool, improves safety, boosts performance, and improves overall community impact when local women are hired and integrated.

As Sri Lanka braces to recover from a pandemic that has left the economy in dire straits, increasing female labour force participation is more important than ever.

In this context, the 'Together We Can' peer learning initiative – launched under the IFC-DFAT Women in Work program in collaboration with the Federation of Chambers of Commerce and Industry of Sri Lanka (FCCISL) – organised a session for over 40 Sri Lankan companies on the business case for recruiting, promoting and retaining women in male-dominated roles.

Bringing expertise from the field, the session included a discussion with Romesh David, CEO at South Asia Gateway Terminals (SAGT); Ashan Ransilige, Head of Human Resources/Vice President at John Keells Holdings – Retail Sector Keells; and Thilini Gunasekera, Technician at DIMO 800 (Mercedes-Benz Service).

Based on global best practices, IFC presented the following guide for how Sri Lankan businesses can increase the participation of women in male-dominated roles.

A five-step guide to increasing women's participation in non-traditional sectors


1. Targeted recruitment campaigns

One of the first steps companies can take to support diverse hiring is to target recruitment of women. Marketing anchored around female and male role models, using more gender inclusive language and images in job advertising, and explicitly encouraging women to apply for roles in male dominated areas are some steps to follow.

At Keells supermarkets, the Human Resource department made a concerted effort to recruit women to operate the meat counter – a role traditionally filled by men. Keells expanded their talent pool by training women specifically for this job. Today, the supermarket chain boasts over 40 meat counter supervisors supported by a large team of women operators – solving a critical market gap and providing more women with better-paying jobs.

Ransilige said they "had to overcome implicit biases within the teams to make this change happen". He also mentioned they drove the messaging from the top, setting targets for recruitment teams and managers to hire women for these non-traditional roles.

While making hiring decisions, companies should use a pre-agreed merit-based scale and consider the gender make-up of recruitment panels, ensuring inclusivity of both men and women who have received training on overcoming bias.


2. Policy frameworks and work environments supportive of women

Equal employment opportunities, non-discrimination, equal pay, and anti-bullying and sexual harassment policies contribute to workplaces that ensure safety and respect for all staff. Working environments must meet the needs of all employees – from assessing workplace safety through a gender lens, including the supplying of appropriate Personal Protective Equipment (PPE), to ensuring equipment which are operational by both women and men.

David identified that labour regulations in Sri Lanka are also a barrier against women's equal participation. According to him, "the Shop and Office Employment Act restricts women working at night. This means that at the Colombo Port – which operates 24/7 – women can only work the day shift, effectively excluding them from accessing 80-90% of jobs." David reiterated that one of the main barriers SAGT – Sri Lanka's first public private partnership container terminal – faces in including women as equal participants at the Port are related to regulatory and inbuilt bias. Not to be deterred, SAGT reviewed their shift structures to ensure they could maximise women's working hours while adhering to national regulations.


3. Supporting women employees through an Employee Resource Group (ERG)

ERGs that align their mission with the goals of the business serve as catalysts for advancing women in leadership.

Operating in a sector traditionally dominated by men – automobile, construction machinery, power and engineering – DIMO has made efforts to bridge the gender gap. Gunasekera, sharing some of the most effective tools used by DIMO noted that DIMO's ERG – The Women's Network – has helped ensure women's voices are heard, providing female employees a safe and trusted network to share their opinions and learn from each other's experiences. The Women's Network is directly linked to the company's vision and strategy, solidifying its relevance in the company ethos and providing a platform of collaboration to deliver inclusive business solutions. This platform also provides members with a range of opportunities such as skill development, mentoring, and networking.


4. What gets measured gets done

Keeping score can be a powerful tool in advancing the organisation's gender strategy. Establishing accountability, targets and KPIs convert gender diversity from an aspiration to an actionable outcome. In addition, a transparent monitoring and reporting system which tracks gender-specific data can support the gender targets of an organisation and provide valuable insight into the real business impact of policies, practices and strategies.

At JKH, business specific interventions have increased the number of women in the workforce – a 5-percentage point increase in the share of women recruits over a span of two years. The Diversity and Inclusion team also works on developing targets and strategies towards achieving gender parity across the group.

At SAGT – which operates in an industry where the global average for women's participation is 4% – concerted efforts were made to bring more women into the business. Almost 1 in 3 employees in the executive cadre are now women. For the first time in two decades, SAGT boasts seven women in the engineering department. The company has introduced a targeted internship program, where it actively canvasses for female candidates – the current intern pool has an all-time high of eleven women.


5. Publish, promote, and sponsor

Breaking gender stereotypes is hard work, especially in the corporate world where biases can be entrenched in organisational culture. When you make a step in the right direction, no matter the scale, celebrate the win. Publish the inspirational stories of women in your company that are breaking gender stereotypes and position them as role models in the industry. Promote individual and corporate awards that recognise the contribution of women in male dominated sectors, and sponsor events and awards that highlight inclusion and diversity – positioning your company as an employer of choice.

Deeply ingrained gender stereotypes constrain business performance. The challenge for companies to break these stereotypes is now even more urgent as we set on a path to recover from COVID-19. Fostering greater diversity and inclusion will ensure companies are able to recruit the best talent, and retain the talent they hire, ultimately leading to happier and more productive workplaces.
---
(Twigg is the Program Manager for IFC-DFAT Women in Work Program in Sri Lanka, and Arunasalam is the Employment Lead for Women in Work program. Connect with womeninwork@ifc.org for more info on the program)

(This blog series is written under the 'Together We Can' peer leaning initiative – launched under the IFC-DFAT Women in Work program – in collaboration FCCISL, bringing together over 40 Sri Lankan businesses to promote gender-smart policies, and mitigate COVID-19 impacts.)
---