---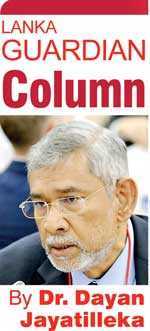 Blinken's "atrocities" remark on Sri Lanka should make it clear to the Rajapaksa regime that though it rides on the dragon's tail, it isn't bunkered in the dragon's lair; it is now in the eye of the eagle
Sri Lanka needs not only India's vote but its active support – the Indian 'umbrella' to be unfurled—in Geneva next month. The carefully calibrated statement by the Indian representative on the OHCHR Report clearly declares before the international community, Delhi's commitment both to Sri Lanka's unity and territorial integrity as well as to the "aspirations" of the Tamil people, "meaningful devolution" and "the full implementation of the 13th Amendment".
At precisely the moment that Colombo most needs and is soliciting Delhi's support, GoSL's Secr-etary/MFA trashed the 13th Amendment and meaningful devolution that Delhi's representative had set out just days before as India's bottom-line in his address to the UNHRC.
Executing 13A
The Rajapaksa regime's views and intentions are made transparently clear in the interview given by Admiral Colombage, Secretary/Foreign Affairs, to Meera Srinivasan of The Hindu.
He absurdly asserts that the 13th Amendment/devolution is tantamount to/on a continuum with federalism, while federalism is tantamount to/on a continuum with secession.
"All the same, the Foreign Secretary does not see the existing 13th Amendment as a solution. …Despite Tamil parties seeking greater power devolution within an "undivided, indivisible Sri Lanka", as senior Tamil Leader R. Sampanthan unfailingly states, Mr. Colombage views their demands as leaning towards separatism, "although they do not use the Tamil Eelam word."
"When you say that you want a federal state, you want more devolution of powers, you want police powers, you want land powers, right? So that means you are asking for almost a separate state," he said, referring to powers that the 13th Amendment envisaged, but the Centre is yet to part with.
"I personally feel that India also should not really harp on the same thing that prevailed in 1987, because the dynamics have changed…"
(India cannot abandon us: Sri Lanka – The Hindu)
This isn't just the personal view of Admiral Colombage. It is the considered position of the Gotabaya Rajapaksa administration as evidenced by the dogmatic 'denialism' of its official (30-page) response in Geneva to the OHCHR Report: "The GoSL rejects the assertion in paragraph 7 of the report that "Sri Lanka's armed conflict grew out of progressively deepening discrimination and marginalisation of the country's minorities, particularly the Tamils"…Any attempt to attribute the war waged by the LTTE to alleged "discrimination and marginalisation" of Tamils, therefore, should only be perceived as an attempt to justify and legitimise the ruthless terrorism unleashed by the LTTE on the people of Sri Lanka including the Tamils themselves." (p3)
By contrast, the Report of LLRC appointed by President Mahinda Rajapaksa and accepted by him (2011) affirmed:
"The Commission takes the view that the root cause of the ethnic conflict in Sri Lanka lies in the failure of successive Governments to address the genuine grievances of the Tamil people. The country may not have been confronted with a violent separatist agenda, if the political consensus at the time of independence had been sustained and if policies had been implemented to build up and strengthen the confidence of the minorities around the system which had gained a reasonable measure of acceptance. A political solution is imperative to address the causes of the conflict…" (LLRC Report, p 291, articles 8.150, 8.151)
The Gotabaya regime rejects this diagnosis. It will eviscerate the 13th Amendment and bury a political solution.

China's doctrine
Even more portentous a development for Sri Lanka is the landmark speech of US Secretary of State Antony Blinken.
The US Secretary of State's Chinese counterpart, Foreign Minister Wang Yi had earlier unfurled his country's doctrine of human rights. Shannon Tiezzi, Editor-in-Chief of The Diplomat, analyses the paradigm shift presented by the Chinese Foreign Minister in his virtual address to the UNHRC on 22 February in a piece entitled 'Can China Change the Definition of Human Rights?'
Tiezzi lucidly frames the occasion and the issue:
"…It was the first time a Chinese Government official had addressed the UN's top human rights body – and the speech contained important clues about Beijing's attempt to remake the very concept of human rights to better suit the Chinese Communist Party. Wang's…remarks sought to shift the definition of "human rights" to one more suited to the CCP's strength, by focusing first and foremost on economic development and security." (Can China Change the Definition of Human Rights? – The Diplomat)
She explains that:
"…In this [Wang's] formulation, economic prosperity tops the list, the nebulous concept of "happiness" replaces more concrete markers like racial and gender equality or freedom of religion, and security its elevated to a human rights priority. Wang's full enumeration of human rights includes the concepts of "Peace, development, equity, justice, democracy and freedom." The order here – with peace and (economic) development at the top, and democracy and freedom at the bottom – is particularly notable…Beijing's formulation is attractive to a large number of countries – particularly other authoritarian-inclined governments…" (ibid)
She depicts this as an existential question for the UN Human Rights Council:
"…All this raises the question of how the Human Rights Council will function in coming years. Will it increasingly adopt China's new definition of human rights, which quietly sidelines civil and political rights in favour of development-focused emphasis?" (ibid)
Blinken didn't blink
US Secretary of State Antony Blinken picked up the gauntlet in his speech of 24 February and presented a soaring yet strongly committed, even combative vision. Its critically self-reflexive character exemplifies the distinction between the US Democrat and the Trumpian ultranationalist approaches, and more basically, between the American and Chinese ethos:
"…I'm here to reaffirm America's commitment to respect and defend the human rights of all people, everywhere. As the Universal Declaration of Human Rights proclaims: all human rights are universal, indivisible, interdependent, and interrelated."
"The United States is placing democracy and human rights at the centre of our foreign policy, because they are essential for peace and stability. This commitment is firm and grounded in our own experience as a democracy – imperfect and often falling short of our own ideals, but striving always for a more inclusive, respectful, and free country."
"…I recognise that any pledge to fight for human rights around the world must begin with a pledge to fight for human rights at home. People of colour in the United States deal every day with the consequences of systemic racism and economic injustice. In his first week in office, President Biden took action to tackle the root causes of these inequities, including in housing, prison reform, improving the conditions of indigenous peoples, and fighting discrimination against Asian Americans."
"We must do more to advance racial justice globally. We are eager to find a more effective and inclusive way to put 'fighting racism' at the top of the global human rights agenda."
"The Universal Declaration of Human Rights states that all human beings are born free and equal in dignity and rights. And yet the rights of women and girls, persons with disabilities, LGBTQI people, religious minorities, and members of other minority groups are often violated or abused. We are committed to advancing gender equality and uplifting the rights of women and girls. And we will pursue a policy to end violence and discrimination of all kinds, including on the basis of sexual orientation, gender identity or expression, or sex characteristics."
"The United States does not claim to be perfect but we strive every day to improve, to hold ourselves accountable, to become a more perfect union. We confront our own challenges openly, transparently, for the entire world to see. Sometimes it's painful, sometimes it's ugly, but we deal with our problems openly and fully."
"There is no moral equivalence between the actions of the United States, which are subject to robust, impartial, and transparent accountability mechanisms – and those of authoritarian regimes, which violate and abuse human rights with impunity."
"Together, we must push back against blatant attempts to subvert the values upon which the United Nations is founded – including that each of us as individuals are endowed with human rights and that states are obliged to protect those fundamental rights. Those who hide under the mantle of promoting economic development while seeking to undermine human rights will be held to account, including for their own human rights violations."
"…The United States is fully committed to the universal protection and promotion of human rights..."
(Secretary Blinken: Remarks to the 46th Session of the Human Rights Council | US Mission to International Organizations in Geneva)
Though as an Obama supporter even while serving in Geneva (Barack Obama: History's High Note – Groundviews), I relate to Tony Blinken's universalist, progressive-democratic vision, as a foreign policy Realist I'd say Sri Lanka has two options:
1.Line-up with one perspective—one set of values—or the other (as the present administration has done by bandwagoning with China); or
2. Find the space between or a point of intersection, and balance dynamically between the ideological camps while articulating its own optimal fusion of the contending visions (as President Premadasa and Lakshman Kadirgamar strove to in their distinct ways).

Atrocities
President Gotabaya must digest Antony Blinken's remark on Sri Lanka towards the conclusion of his UNHRC speech. The Hindu reported: 'He also called on the Council to adopt resolutions in this session including one on Sri Lanka's lack of accountability for war crimes. "We encourage the council to support resolutions in the session, addressing issues of concern around the world, including ongoing human rights violations in Syria, North Korea, the lack of accountability for past atrocities in Sri Lanka and the need for further investigation into the situation in South Sudan," Mr. Blinken said. The UK and other countries have circulated a draft resolution asking for accountability for war crimes in Sri Lanka's 26-year civil war.' (US will seek to rejoin UNHRC: Blinken – The Hindu) Meanwhile the Voice of America (VoA) ended its report with "Blinken…said notorious human rights violators such as Syria, North Korea, Sri Lanka and South Sudan must be held to account."
For us, the key phrase in Blinken's speech is "…the lack of accountability for past atrocities in Sri Lanka…", and the keyword is "atrocities".
Tony Blinken's stepfather was a survivor of three Nazi concentration camps, so when he uses the term 'atrocities' he means it in a precise sense. While every atrocity is a war crime, not every war crime is an atrocity. "Atrocities" denote a specific category of horror and evil. It has a certain resonance. It puts those Sri Lankans who are suspected of committing atrocities, ordering them, covering them up, blocking accountability for them, or pardoning those who committed them, on notice. If any such persons exist they should be worried as to what hard evidence the US Secretary of State has in his possession or had seen/has access to, that prompted his choice of terminology.
When Blinken used the term "past atrocities" I recalled Luis Moreno Ocampo, the legendary first Chief Prosecutor of the International Criminal Court telling some European TV station in 2012 (which I caught in Paris) that the ICC had opened a file on Sri Lanka.
On 18 February, just days before Wang Yi's and Antony Blinken's landmark addresses to the UNHRC, Obama's former Ambassador-at-large on War Crimes, Stephen Rapp, co-authored a piece on Sri Lanka in the influential Just Security, which has run 10 articles in a series on Sri Lanka in the UN Human Rights Council this March. President Biden's National Security Advisor Jake Sullivan and Director of National Intelligence Avril Haines are (or were until just recently) members of the webzine's Editorial Board.
Ambassador Rapp's new article alleges not only that those responsible for war crimes were running the country – he explicitly names President Gotabaya—but also that the President was responsible as Secretary/Defence for determinedly blocking any accountability investigations into those crimes. As proof he quotes from (and provides the link to) a 2010 interview that Rajapaksa gave the BBC's Ethiraj Anbarasan, in which he exhibits uninhibitedly vehement loquaciousness on the subject.
'…Perversely, those who have evaded justice for atrocities are now running the country, starting with President Gotabaya Rajapaksa. Credible evidence suggests that Rajapaksa is criminally responsible for war crimes and crimes against humanity from his time as defence secretary and a military commander during the civil war. (https://www.justsecurity.org/10537/sri-lanka-gotabaya-us-citizen-war-crimes-accountability/)
Yet Rajapaksa has made clear that he will block all efforts for accountability. In 2010, when he was defence secretary in the administration of his brother, Mahinda Rajapaksa, he told the BBC, "I am not allowing any investigations in this country. There is no reason. Nothing wrong happened in this country…Take it from me…This is my final word."' (US Can Restore Leadership on Human Rights by Promoting Accountability in Sri Lanka – Just Security)
Rapp's appeal to the Biden administration is that a wrong signal risks proliferation. "…Impunity risks normalising their ['the Rajapaksa regime'] behaviour, which would be…a dangerous precedent for people around the world living in countries where violent authoritarianism is on the rise." (ibid)
Dragon and Eagle
Ambassador Rapp places the Sri Lanka issue at the UNHRC this March squarely within the framework of the post-Trump project of the United States to reassert global leadership. He argues that the Sri Lanka issue at the UNHRC is an opportunity for, and test of, the new US leadership. "Sri Lanka offers the first opportunity for Biden to fulfil his pledge to put human rights and multilateralism at the centre of US foreign policy..." (ibid)
Given the two contending philosophies of human rights and global governance unveiled at the 46th session of the UNHRC in Geneva last week by China and the USA, the March resolution on Sri Lanka becomes a test case of soft power competition, in which Washington and Beijing may utilise their global diplomatic resources and reach. The stakes seem too high to do otherwise.
Having bet on Trump against Biden, the Rajapaksa regime is betting on China against America.
Lee Kuan Yew said that "America will remain the sole superpower" for at least two to three more decades (Forbes, 2013). Lee's confidence that America's world leadership would not be displaced by China was sourced in his admiration for the flexibility of US society, its ability to attract the world's talent, the universality of the English language, and his famous metaphor of America's 'black box' in which was hidden the secret of its ability to constantly remake itself as a country.
When Lee repeated this to Joe Biden and Jake Sullivan, Biden replied that he knew the secret of the American spirit hidden within the black box. Vice-President Biden retold this story and his reply to Mexico's leadership in 2016: "…stamped into the DNA of every American is an overwhelming scepticism for orthodoxy and authority. The only way you make fundamentally new things is break old things. That's the innovative genius that continues to repeat itself in my country."
Blinken's "atrocities" remark on Sri Lanka should make it clear to the Rajapaksa regime that though it rides on the dragon's tail, it isn't bunkered in the dragon's lair. It is now in the eye of the eagle.