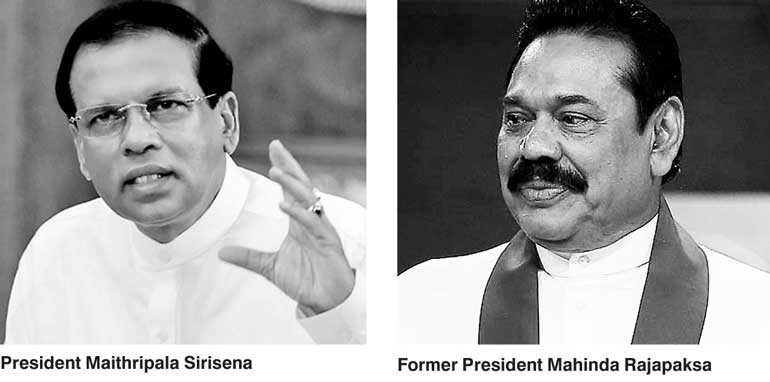 "A lot of sound and fury, signifying nothing."
Storm

Much more than a storm in a tea cup! To a non-discerning person, it all seemed like the final battle of the counter revolution. President Sirisena was up in smoke trying to oust Prime Minister Ranil Wickremesinghe for no articulated reason. He asked good old Karu but Karu said, "Nope!" He asked Sajith but Sajith said, "Nope!" The JO boys thought they at last, were seeing a political Nirvana as the cases against them are sure to fall. "Government must resign!" they cried. "Prime Minister must resign!" The mandate is given by the people unmistakably. Ranil-critic Dayan Jayatilleka thought he found gold and eureka. "Ranil is a tactician in infighting," Dayan theorised. Dayan always spins theories like that. They never work as they are not derived from factual study of events but by an unquenchable passion to see the last of Prime Minster Ranil Wickremesinghe.

Joking

What eventually has turned out now? The UPFA Spokesperson Minister Mahinda Amaraweera seems to be saying he never wanted to quit the Yahapalanaya unity government ever? "You guys are joking!" President Sirisena smiles and he is seen back again with the Prime Minister Ranil Wickremesinghe in apparent cordiality. Susil Premajayanth has not yet come out; but he will, surely, speak in the same refrain. The SLFP will remain in the fold. The Government was never in threat. JO jubilancy was not real. Perhaps, they will have to wait for another day.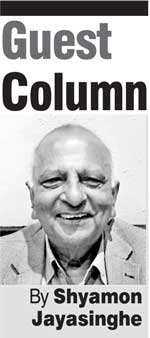 Ranil's emotional management

There were many contributors to the return of the facade of unity that is the "national" or "consensual" government. But one man stands out and that is Ranil Wickremesinghe who won in the end as he kept his absolute cool.

JO brethren will say he is no longer Mr. Clean; most certainly he is Mr. Cool. (I am not borrowing from our cricket hero Arjuna Ranatunga). Dayan Jayatilleka's theory flattened again as Ranil – far from being an infighting expert – had been in this entire stormy saga, the great moderator and peace-bringer.

The reason is, he had knowledge of things that were in place and things that were to come and he had extraordinary emotional management. In all my column writing, I have often shown Ranil Wickremesinghe's emotional management at play. In the entire twenty or so years in Opposition, he displayed that in the hardest of instances: when Mahinda Rajapaksa used his enormous power- gravity and resources to win over as much as 19 UNP ministers in one shot and was threatening to do fatal damage; when some of his very party men challenged his leadership; when all the odds seemed stacked against the comeback of the Grand Old Party. Ranil never lost his cool and he never castigated his political opponents except on policy.

Since the seminal work of Daniel Coleman published in his bestseller, "Emotional Intelligence," (1955) the concept of emotional management has become a buzzword in management study.

Goleman pointed out that IQ is not as much as we think a decisive factor in our thinking and decision making and that our emotions play a far greater role than is commonly acknowledged. The characteristic of emotional management is what defines a successful leader in business management.

In his emotional management and political savviness, Ranil's political enemies see in him the danger to their plans. He is their number one enemy and so all guns are on him. "He is a loser," they cried. He must go from the UNP leadership. Of course, he must go at some time in the near future, but if that is this time the collapse of the UNP would be imminent. Had he gone during the days of his Opposition, the UNP would have been like the SLFP today: in pieces. Against all the myriad and vehement thrusts to bring him down, and against all the insults hurled against him by his political opponents, Wickremesinghe remained calm like the elephant in the Dhammapada.

Mr. Cool in action again

Now again, in this senseless storm that appeared to bring down the Government and even the country, Ranil kept his cool. Remember how he faced a hostile media recently? The mandate for the Prime Minister and his Government comes, he explained unruffled, from the general election of 2015 and that has to keep until 2020.

Local government elections cannot cancel that mandate; it is a mandate for the constitution of local bodies. "I will continue as Prime Minister under the provisions of the Constitution and the Government will continue," he said. "Yes, we have learnt lessons from the local government elections and we will make necessary changes in our approach." That put everything in a nutshell. "Now, it is tea time and let us all go for tea!" Can you beat that? Observers knew Ranil had things under his grasp.

With President Sirisena, Ranil was never provoked into escalation of conflict. He admonished his other party men not to "drag in the President," in their public criticism. Throughout the elections process he never uttered a word as reaction to Sirisena's criticism of himself and the UNP as a corrupt party.

This crisis had been created when the President – so good and sensible until then – decided to launch himself into a separate force under an SLFP banner. He has to blame his rotten advisors for that disastrous adventure. It all landed himself and his major partner into a mess; more himself than the partner. Maithripala Sirisena, who had positioned himself well in the credibility ladder, suddenly sank into zero.

And after the election and the consequent political fracas, Wickremesinghe took slow, gracious steps in dealing with Sirisena – always leaving a respectful space for the latter to discern the reality. Ranil was strong and he was quiet. He stuck to his guns. He knew the law was on his side and that the political reality hadn't transformed.

Central Bank Chief intervenes

The nation is safe for another period of political life. In a timely intervention, Central Bank Chief Dr. Indrajit Coomaraswamy gave warnings: Charumini De Silva reports to the Daily FT: "Dr. Coomaraswamy delivering the keynote address at the AMCHAM Business Luncheon meeting held in Colombo yesterday stated: "The headline message one could give is until a week or so ago, there was a degree of stabilisation that was taking place as far as the economy was concerned. Now we have got to convince the politicians that they have to 'stay the course', make adjustments that need to be made to meet some of the urgent needs of the people, within this overall framework that has been carefully put in place." Justifying the degree of stabilisation that has taken place, Dr. Coomaraswamy said up to November 2017, for the first time since 1953 there has been a primary surplus in the Budget and this year they are expecting a surplus in the current account of the Budget for the first time since 1987."

This is also an indirect accolade for the Government's economic management thus far. Those in the fold of the Yahapalanaya Government should be self-conscious of this progress, which is more than words can measure. Effective media management is required. With two years left, the Government should focus on fulfilling the promises given to the people in 2015. If it fails, today's sound and fury will be a real predictor.