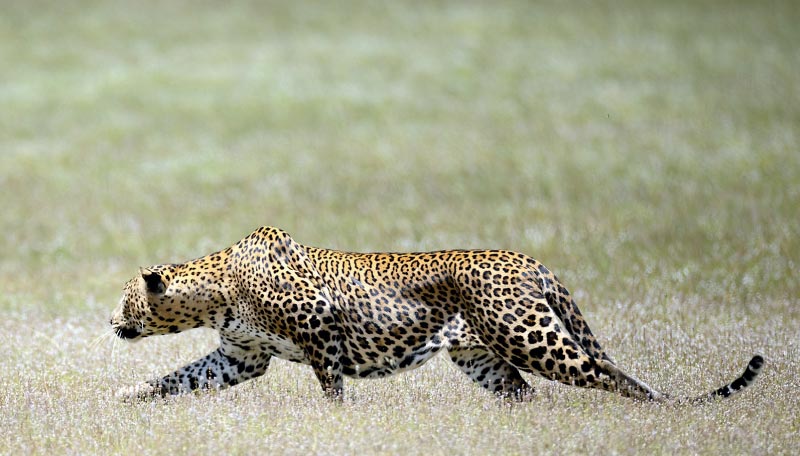 Leopard hunt at Wilpattu - Pic by Dev Wijewardane
---
Commemorating 1 August as 'Leopard Day' in Sri Lanka will help draw attention to the plight of this magnificent cat and help in the ongoing conservation efforts to protect it
---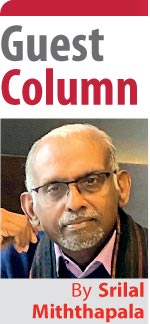 There is no doubt that the leopard has become a popular wildlife attraction in Sri Lanka. Its relatively high abundance in certain areas of the country, with easy accessibility and spotting has thrust it into the limelight of wildlife interest the world over.
However at the same time, all's not going too well for the celebrity feline in the wild. There is an alarming increase in leopard-human conflicts in the last five years, affecting the survival of this iconic species within and outside protected areas. The leopard is listed in the threatened category in the National Red List (2012) due to the ongoing challenges the animal faces because of conflict with humans and loss of suitable habitat.
Some of the threats include:
Suspected body part trafficking
Deliberate targeting through snares
Poisoning
Loss and fragmentation of habitat, loss of prey
Visitor, jeep disturbance
In this environment, it is indeed praiseworthy to note that the Wildlife and Nature Preservation Society of Sri Lanka (WNPS), Sri Lanka's oldest (and the world's third oldest) nature protection society, decided to commemorate a Sri Lanka Leopard Day, which is now celebrated annually. The date of 1 August was declared based on a proposal put forward by the WNPS, which is the date on which a thesis by Dr. Sriyanie Miththapala confirmed 'Panthera pardus kotiya' as an endemic sub species.
My lifelong interest has been elephants and my knowledge about leopards is limited. It is my sister, Dr. Sriyanie Miththapala who is the 'cat woman' of the family, having studied leopards in depth. While my practical knowledge about leopards in the wild may be limited, the popularity of leopards in tourism is something I can talk about, having been involved with tourism for over 30 years now.
Leopards in Sri Lanka – Kings of the jungle
Unlike in other parts of the world where leopards are found, (like Africa) the Sri Lankan leopard does not have to share the limelight with other cat species. In Africa, other carnivores such as lions and cheetahs are popular attractions in addition to the leopard. However in Sri Lanka the leopard reigns supreme, the apex predator in the food chain, with no other contenders. So from a tourist attraction point of view, the leopard is the undisputed charismatic species, high on the list of 'must see' wildlife species.
Die hard wildlife tourists would be willing to spend long hours in tracking wildlife to make a viewing. But to an average tourist there are three elements that are necessary to make the wildlife attractions popular. It must be charismatic, have easy 'observability' and visibility. The Sri Lankan leopard certainly can tick all the three boxes quite easily. It is charismatic, being Sri Lanka's largest carnivore. It is becoming quite 'easy to see', particularly in certain locations (such as block 1 of the Yala National Park) so 'observability' is high. And with many of the leopards (especially in Yala Block 1) getting quite acclimatised to visitors, clear sightings are common – high visibility.
The elephant, another highly charismatic species, is very 'visible' with its 'larger than life' presence quite literally! The leopard however is a more elusive animal which then adds to the excitement and suspense to a tourist of 'looking' for it in the national parks. I still remember my first encounter with the leopard in Yala several decades ago. We sighted a big male on a low hanging bough of a tree and stopped just about 10 metres away. He slowly turned his head and looked straight at me. I will never forget those piercing eyes, as he almost disdainfully looked at me for a full minute or so. An encounter like that, and you are 'hooked for life'!
What's the 'value' of a leopard to tourism?
The WNPS has done a basic calculation to compute the effective value of a leopard in the Yala National Park in 2019. The revenue generated by park entrance fees, income to jeep drivers and estimated revenue to hotels in the area from tourists, were used in this calculation. The estimated total revenue from the above sources was about Rs. 3.5 billion. Thus for a leopard population of 85, the value of a single leopard was found to be a staggering Rs. 40.5 million ($ 250,000 at prevailing exchange rates at that time).
I have also separately evaluated the value of an elephant in the Minneriya/Kaudulla, Yala and Uda Walawe national parks for 2018 on a similar basis. The total revenue from all the above three revenue streams was found to be about Rs. 6.7 billion. Based on the elephant populations in these areas (1,500) I arrived at an approximate value of Rs. 4.5 million ($ 27,000 at the parity rate in 2018) per elephant (the value is lower than that of the leopard because the leopard numbers are far less than the elephants: https://www.researchgate.net/publication/359308466_How_much_is_a_Sri_Lankan_Elephant_worth).
These approximate computations just go to show the sheer gigantic value of these two species to Sri Lanka. We sincerely hope that the Government will at least now take note of this valuable natural asset, and even at this late stage introduce a holistic program to conserve and protect them.
WNPS initiatives to help conserve the leopards
In the last 12 months the WNPS has initiated several projects:
Launching of Sri Lanka's first multi-regional monitoring system for the conservation of the Sri Lankan leopard, a 5-year program supported by LOLC
Establishing a network of specialised leopard conservation locations and research centres across identified geographically important areas, within Sri Lanka supported by LOLC
Conducting of many awareness programs on the use of snares and their impact on wildlife since educating the public is very important to protect the leopard, especially in mountainous areas
Through these initiatives, the WNPS together with LOLC is creating common knowledge and data-sharing platform to drive a research-based island-wide leopard monitoring program. Through the establishment of these research centres nationwide, smaller monitoring efforts will be easily integrated into larger programs and databases. It will enable scientists and conservationists access to deeper and wider sets of data to understand local leopard populations, regionally and countrywide.
Conclusion
There is no doubt that Sri Lanka is blessed with several charismatic large animal species, of which the leopard takes a pride of place. It has helped promote tourism due to its popularity and a 'leopard safari' is a must for many a tourist coming to Sri Lanka.
Therefore it is absolutely imperative that such valuable species like the leopard are protected, not only for nature and conservation, but also for economic reasons as well.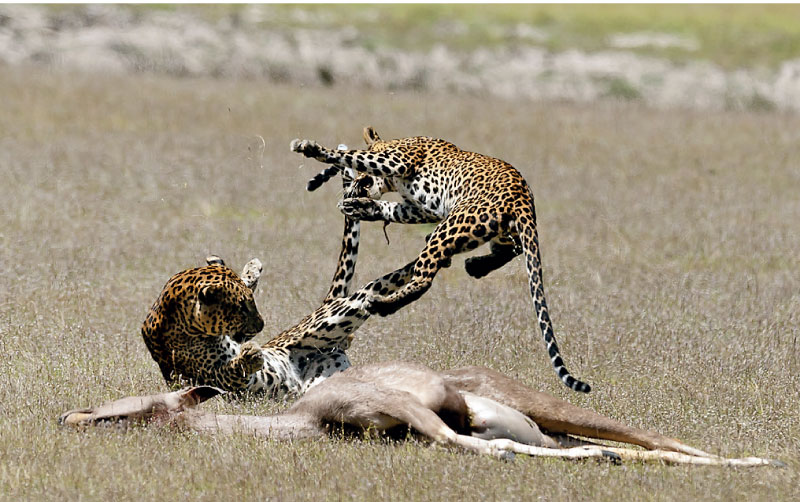 Hunt at Wilpattu - Pix by Dilshan Hettiaratchi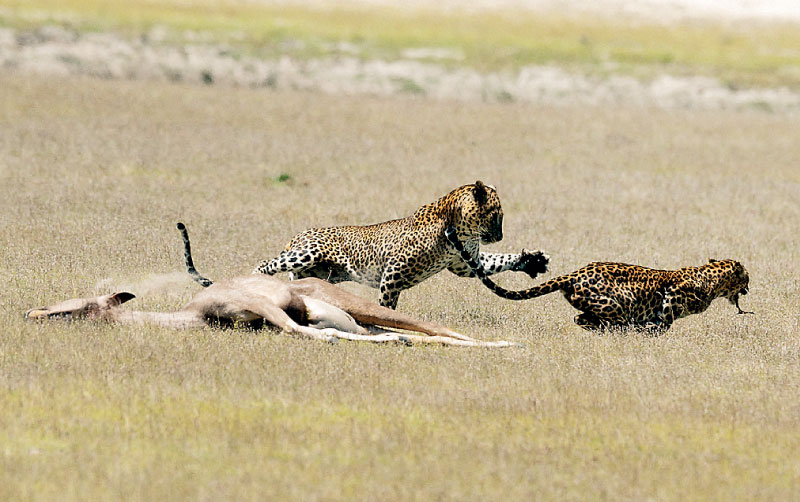 Leopard in the tea garden - Pic by Rohan Gunasekara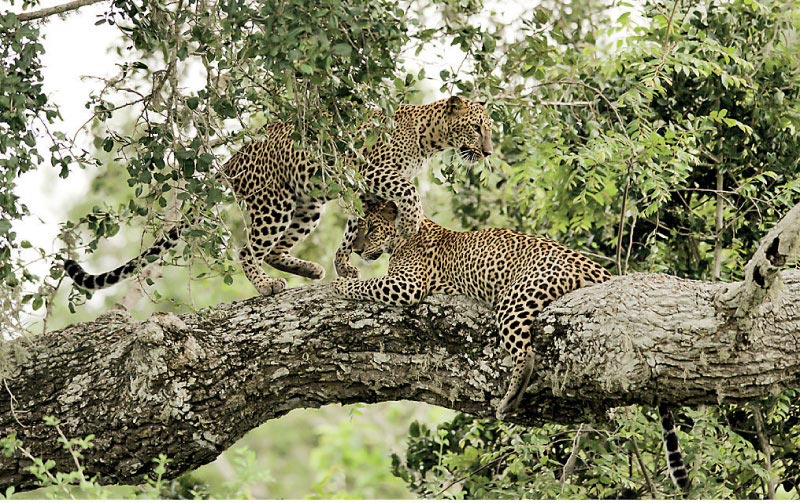 Leopards at Yala - Pic by Dilshan Hettiaratchi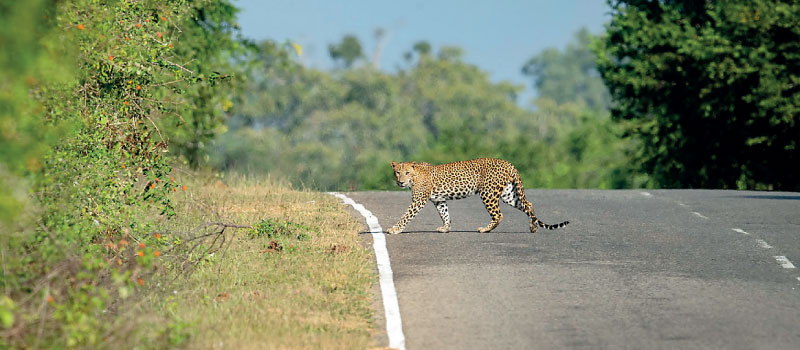 Leopards crossing the Buttala Kataragama Road - Pic by Milinda Wattegedera of the Yala Leopard Diary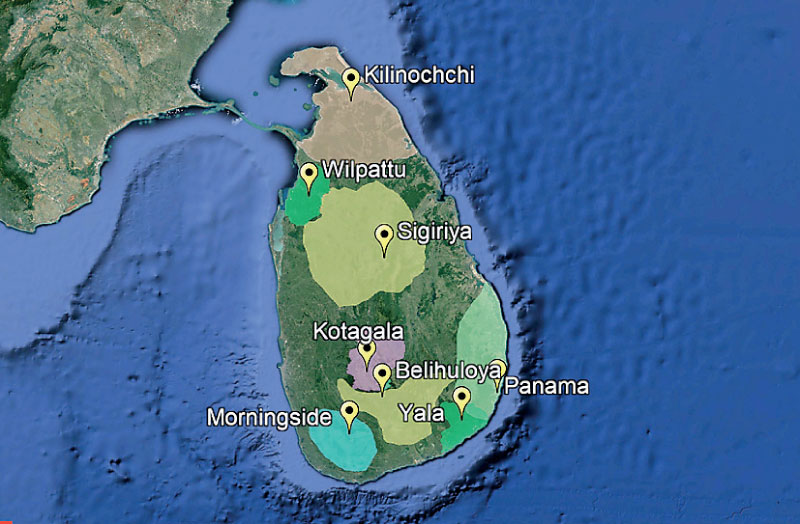 Area map of the WNPS LOLC Leopard Research Centres
---