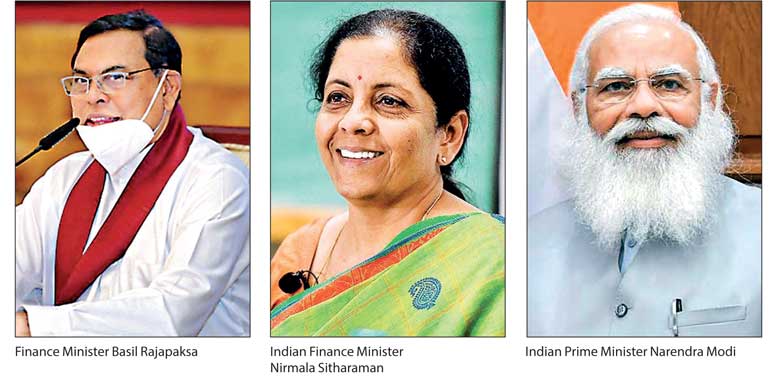 ---
When Minister Basil Rajapaksa's visit to Delhi was announced, my imagination ran riot. What I imagine here is based on the behaviour of Sri Lankan governments and how they have related to Indian leaders.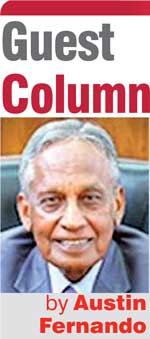 I imagine the following scenes and conversations between Minister Rajapaksa and the Indian leaders:

"Namaskar, Good Morning Your Excellency" is the friendly greeting from Minister Basil Rajapaksa to Indian Minister of Finance Nirmala Sitharaman.

"Ayubowan! Good morning Your Excellency" is the reciprocation from Minister Sitharaman. High Commissioner Gopal Baglay has briefed her on Sri Lankan traditions. (Minister Rajapaksa thinks that hailing from Karnataka she knows our traditions.)
Ministerial meeting
The purpose of the ministerial meeting is predictable. HC Baglay's brief to the South bloc on the Sri Lankan economic crisis has reached Minister Sitharaman. It is not confidential since, in the Parliament, former Prime Minister Ranil Wickremesinghe and economist turned parliamentarian Eran Wickramaratne have let the cat out of the bag.

HC Baglay's messages are easily understood both politically and technically by Minister Sitharaman. Her capacity to understand such has developed over time by representing India at international economic fora, pushing agreements on trade, commerce between India and other nations, attending World Trade Organization meetings, inter-country business conclaves, participating in India-EU summits and bilateral meetings in African, Asian, European countries, meetings of G-20, BRICS Summit, etc. Knowing her wide international exposure, Minister Basil Rajapaksa with less exposure on these areas attempts to match them with his strategising prowess.

"Excellency, we understand you are facing a grave crisis at present?" The discussion commences after the exchange of pleasantries. She can be informal, and tough too, as I have personally observed previously, in her office and at Lok Sabha.

Minister Rajapaksa replies: "Madam Minister, you will understand the difficulties caused by COVID-19 and its impact on our economy."

"Yes, true. But our situation was far worse. We had about 467,000 deaths due to the pandemic." (This is straight-nosed Minister Sitharaman's equally straight-nosed response, diplomatic but sternly brushing away the COVID argument.)

"COVID hit us severely and our exports were affected, tourists did not arrive, foreign remittances shrunk, creating an extremely serious foreign exchange crisis," says Minister Rajapaksa, getting to the point.

"Yes, I hear of it. My information is that former PM Ranil Wickremesinghe has said in Parliament that foreign reserves have dwindled to 1.5 billion dollars and the net is 1.2 billion when gold reserve value is deducted. It is precarious and dangerous, I presume."

(A bell rings in Minister Rajapaksa about Ranil Wickremesinghe's utterance, and the further capacity reduction quoted by Eran Wickramaratne, i.e., "to less than one month's worth of imports, which is the lowest in history.")

"Madam Minister, it is true, and the forex crisis may worsen the shortage of essential food items, medicines, aside from being expensive. It will create a shortage of fuel and may lead to power cuts. Industry and businesses will face difficulties. Our foreign debt burden is exceedingly high. In that light, we have to request India's assistance." (He downplays the resultant political crisis.)

Assuming a confrontational mood, Minister Sitharaman says: "Chinese debt? (Laughs!) Or international sovereign bond debt? We were lucky because we managed the economy efficiently, and thus our foreign exchange reserves position is comfortable in terms of import cover of more than 18 months and provides a cushion against unforeseen external shocks. Yours is only a one-month import cover? Our foreign exchange reserves have been increasing from 370 billion dollars in 2016-2017 to 478 billion in 2019-2020 and this year to 577 amidst the pandemic."

Minister Rajapaksa wonders, "Why cannot India help us with a billion dollars to purchase fuel, on a long-term credit basis? Indian reserve performance is a one hundred billion dollars increase in one year with COVID ravaging the whole country. India can well afford to assist." (He is happy that credit ratings are not mentioned.)

"We sought relief from several donors. In January we must pay $ 500 m as debt repayment. Another instalment will have to be paid towards mid-2022, amounting to one billion dollars. My government has advised me to seek India's help and initiate negotiations on terms for an immediate response. It is not financial assistance alone we need; we require trade and investment for which we offer incentives."

Madam Sitharaman inquires about such repayments without naming countries.

"I think when you meet Prime Minister Modi, please discuss with him this request formally. I will discuss with my officials and colleagues, especially with Foreign Minister Dr. Jaishankar, and brief the PM. You can request Minister Jaishankar too."
The IMF
And, she continues, "Incidentally, I remember meeting Minister Malik Samarawickrama as a representative of President Sirisena's Government in 2019. He promised positive actions but did not follow up. He discussed the Economic and Technology Co-operation Agreement (ETCA). Minister Piyush Goyal told me that he promised to follow up on ETCA with him too. Nothing has happened. He mentioned the LNG project, and now it has gone to an American company. No consistency. Delays. The PM may express his concerns over and above financial and economic matters. By the way, I would like to know your stance on approaching the International Monetary Fund, which most countries turn to in such eventualities."

"Excellency, the IMF solution is being considered by us. Yet, we have not finally decided on it. We have differing views on the subject. I am aware that accessing the IMF eases the problem."

Minister Rajapaksa retreats thanking her for all courtesies and supports extended (though nothing concrete has emerged from their discussion!) with a passing comment regarding his kinship with Indians through the marriage of a sibling.

Madam Sitharaman grasps the point on the 'extended family connection' and says, "Yes, I heard about it. Now, we are not only friends, neighbours, and relations, as your brother President Mahinda Rajapaksa said earlier, but moreover true relations!" A hearty loud laugh from both sides.

Minister Rajapaksa retreats, thinking of Minister Sitharaman's camouflaged advice and issues that may be raised by PM Modi. He knows that PM Modi can be blunt at times. The Minister discusses details with his officials and the new High Commissioner of Sri Lanka, Milinda Moragoda, who has prepared a roadmap which concentrates on benefits to Sri Lanka, as it ought to, but the Minister knows that PM Modi will want to know how it will serve India's interests.
Meeting Modi
Minister Basil Rajapaksa meets PM Modi with High Commissioner Moragoda and Secretary S.R. Attygalle.

Prime Minister Modi in his usual friendly manner greets the delegation. Making the meeting informal PM Modi inquires, "I heard that you met Minister Sitharaman already?"

"Yes, Your Excellency, it was a fruitful meeting," says Minister Rajapaksa, though she did not offer to help sort out Sri Lanka's foreign reserve crisis. However, knowing the toughness of PM Modi's approaches he waits to hear his "demands". He knows that there is no such thing as free lunch diplomacy or international relations. He has learned it even from the Chinese.

The PM gets to the point straight away:

"Minister Sitharaman indicated to me that you have a serious foreign exchange crisis, and you face an extremely serious economic and political crises as well, and you expect our assistance too. Of course, we have accommodated your requests earlier too by way of assistance, swaps and investments."

Though Minister Rajapaksa did not explicitly mention a political fallout, Minister Sitharaman has understood it and briefed Prime Minister thereon. "Yes, we are faced with economic and political crises," replies Minister Rajapaksa. (He does not say it is 'grave,' though it is so.) As a strategist, he knows that if he shows weakness, Indians will take the upper hand, as happened to President J.R. Jayewardene during PM Rajiv Gandhi's tenure in 1986-1987.

"I understand it well. We were faced with extensive problems with a larger pandemic impact on our society. Still, we have enhanced our foreign reserves irrespectively. Even Bangladesh has achieved success in it. I know you had issues with trade unions and farmers. It is common to us too. We had farmers on the roads for months. Still, we have propped up our foreign reserves. Of course, you have just taken over the finance portfolio. But you are a seasoned politician, I know. Still, you must look at bilateral, multilateral, and regional policies and issues as a continuum."

"Yes, Your Excellency. We should."

"I am happy that you endorse continuing with already followed policies and issues. I need not mention to you about the LNG Project at Kerawalapitiya. It was to be taken along with Japanese participation and now that is gone to a US firm, I am told. It may be a new development after you became the Minister of Finance."

Minister Rajapaksa worries: "Was it a reference to the Minister's dual citizenship, as alleged in Colombo?"
Future projects
"Future projects I believe are on the cards. For instance, gas exploration in the Mannar Basin. I find one of your Tamil MPs – I think Mr. Adaikkalanathan has told Parliament that the project to collect natural gas in Mannar should be granted to India. It is not we who say it."

"I will make note of Your Excellency's concern," replied Minister Rajapaksa.

PM Modi goes on: "The former Government agreed with us in 2003, I presume, to settle the Trincomalee petroleum tanks issue. Later in 2017, a project was considered for Mattala Airport, which I understand the government wishes to develop now. In 2017, Foreign Minister Sushma Swaraj signed an MOU with Sri Lanka. The progress was extremely slow. Eastern Container Terminal agreement was scrapped. However, I am aware the West Container Terminal matter is progressing, and happy, although some trade unions are opposed to it. I sense there is some dialogue on the Trincomalee oil tank project with slow movement. I think you can solve your foreign exchange and oil supply issues if Sri Lanka correctly plans Trincomalee – oil tanks, port, industries in the hinterland, beaches, Ramayana Yatra, tourism, fisheries, agriculture, etc. Don't you think so?"

"Your Excellency, all these are negotiable. To negotiate this Government should be in office sans financial and economic problems," responds Minister Rajapaksa. The foundation for financial assistance is slowly 'pushed in'.

"Since you were willing to follow through earlier bilateral relationships I may mention economic and political issues that have been carried over for decades. One is the ETCA which was also mentioned by Minister Sitharaman. How many rounds of talks were held? More than 10? No finalisation. The second economic issue is the fishing in Palk Bay, which is a humanitarian issue too. There too there is a Joint Working Group, which has met about three or four rounds but without solving problems.
Political issues
"There are two political issues. One is the repatriation of refugees for which our foreign affairs officials should work together. The second is more important. It is the devolution of power. You will recall President Mahinda Rajapaksa was ready to go even to 13th Amendment plus. He said this to former Minister of External Affairs SM Krishna. Your present Foreign Minister repeated in support of devolution, I remember.

"When I was following through, I found in a statement, even you have said that the Indian side called for the implementation of the 13A and greater devolution of powers to the provinces and that you emphasised that the President of Sri Lanka and his Government were committed to a political process that should lead to a sustainable solution. Don't you think that it is time to carry out that pledge?

"Minister, please keep in mind that this request had been made by all Indian governments, irrespective of Congress or Bharatiya Janata Party. It is meant for the Tamil people to feel that they are equal citizens of Sri Lanka, and they could lead a life of dignity and self-respect. Your brother Mahinda Rajapaksa said in 2009 that he was willing to do so. President Sirisena's Government promised it in 2015 at the UNHRC. A domestic issue that became bilateral with us was internationalised by them. These go along with human and fundamental rights. We had to deviate from your stances at the UNHRC twice and abstain once in recent times. We did so with a heavy heart. Sri Lanka should act to make its friends stay forever. With the promulgation of the new Constitution, isn't it fair to emphasise devolution?"

Minister Rajapaksa says, "I agree with you on power-sharing and qualitative upliftment of minorities. I will bring this to the notice of our Government."

"Finally, I have to say something about the Indian Ocean's security, peace, and free movement. As you are aware the Asian seas are affected by the intrusion of some nations. I believe you too would appreciate that the Indian Ocean should remain as the Indian Ocean and not by some other name!"

"I understand what Your Excellency explains. Of course, bilaterally we have already taken some economic measures. We are misunderstood due to such relationships. President Gotabaya Rajapaksa said in Delhi during his maiden state visit that Sri Lanka would not do anything detrimental to India's interests; he has repeatedly said India should put behind them the misunderstandings and move ahead. He told this to Foreign Secretary Shringla when he met him in Colombo. Excellency, please note that the President's commitment will stand firm and solid. Hence, your assistance at this difficult juncture will reinforce that firm, solid, longstanding unwavering friendship. We will not forget it."

The dialogue seems extremely productive.

"Thank you, Minister. I made note of your statement. I will advise my Ministers External Affairs and Finance to look at your request very positively, and further influence the private and state sector agencies to promote and encourage investment and trading opportunities in Sri Lanka. I wish that your government will speedily ease systems and approaches to support such investors. I think the Minister of Finance will keep you happy. I wish you well in the new portfolio."

The Minister bids adieu with a sigh of relief. The results will be known soon. (I think it will be positive. If negative, we will be done for. Best wishes Mr. Minister!)


(The writer is a former High Commissioner of Sri Lanka in India.)