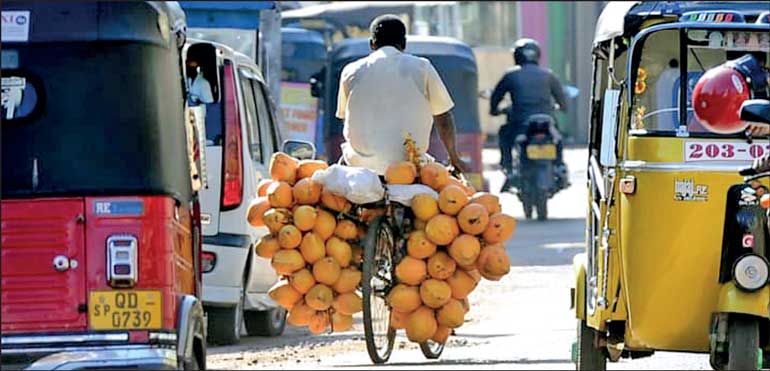 Whatever the Wickremesinghe government would promise for the future, Sri Lankan polity needs to understand that socio-economic stability with IMF assistance does not come with democracy and space for social development for improved quality in life for all
---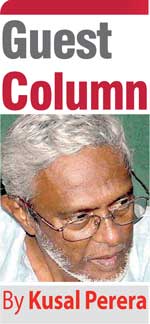 Much has been said about what's good and bad with IMF assistance and much is being argued over its feasibility in "bailing out" Sri Lanka. What nevertheless is not spoken about is the IMF contribution for "development and democracy" even if it could bailout Sri Lanka. All explanations, arguments and counter arguments on IMF assistance is clearly restricted to "resurrection of the free and open market economy", introduced 40 plus years ago. No one is asking, what Sri Lanka could gain out of resurrecting an economy that never served the larger majority of the people and never cared for democratic, transparent, and accountable governance. Proved beyond doubt with complete breakdown of State functions and responsibilities in a sweeping wave of serious crimes, corruption, and inefficiency.
For a fleeting glance as to what this liberalised economy means in terms of crime, numbers scavenged say as per police records, 365 cases of reported rape in 1990, had increased to 1,054 in 20 years by 2010 and further increased to 1,636 during the first 10 months of 2011 (https://twonationsoneisland.blogspot.com/2012/01/incidents-of-rape-rise-drastically-in_10.html). By end 2019, rape of women over 16 years was 1,674 and of girls below 16 years though with consent of victim was 10,765. There were another 56,783 rape cases of girls under 16 years, without the consent of the victim. Also in 2019 there were records of 90,656 cases of child abuse and sexual exploitation recorded, 5,040 extortions on record and 107,298 cases of property theft of over Rs. 25,000 value, among many crimes that include murder, kidnapping, counterfeiting currencies, etc. (All Island Grave Crime Abstract for year 2019)
To say it bluntly, since liberalising the economy in 1978 while the society turned into a collective of extremely selfish and greedy "consumers" in a razor-sharp competitive market, all crimes go viral. "Bribery and corruption" have eaten into the entirety of the State apparatus including law enforcement authorities.
Is it worth rescheduling and restructuring a total of $ 45,543 billion of foreign loans including arrears (https://www.treasury.gov.lk/api/file/a969a81b-13d9-4337-a5b7-858d31eb3715) with pledges for repayment after three to four years to resuscitate an economy that breeds heavy crime, mega corruption and painful social injustice?
We have to anyway find some breathing space to get back on our feet. Restructuring dollar loans thus seem an unavoidable necessity. Yet the sad fact is, economy is being discussed with no attention paid to quality of social life and social justice with IMF making empty statements on "Reducing corruption vulnerabilities through improving fiscal transparency and public financial management".
It is a fact the IMF remains one of the most non transparent organisations in the international arena. It lays down conditions to recipients to have IMF conditions out of reach of society. The IMF Executive Board assessments on recipient countries under Article IV are transmitted by the MD as Chairman of the Board to the country's relevant authorities as a summary but are kept out of public domain. In relation to Sri Lanka this was done and over one year ago on 2 March 2022. Wonder who had access to that official "summary" other than through a "leak". Almost a week ago, IMF Managing Director Kristalina Georgieva officially tweeted on 7 March 2023 she is looking forward to presenting the "IMF-supported program to our Exec. Board on March 20".
But where is that IMF supported program? Has it been transmitted to Sri Lankan authorities? It is about the lives and future of 22 million Sri Lankans. Both the IMF and the SL Government therefore have a responsibility to publish that program as citizens have a basic right to know what it contains before the SL Government is called upon to sign it. If IMF is serious about its support to Sri Lanka's economic recovery, they need to know corruption thrives in governing processes where democracy, transparency and social accountability is suppressed and is absent.
From what their Asia-Pacific Director Krishna Srinivasan has posted in the official FB on 7 March (2023), Sri Lankan Government has already begun implementing conditions laid out in the IMF program. He says, the IMF arrangement will support Sri Lankan authorities' reforms "that they have already embarked upon". But what those reforms are not known and never discussed in terms of IMF conditions and proposals that are also left confidential.
Obviously, tariff and price increases on electricity and fuel respectively and latest tax reforms that gather protests on Colombo streets are those unpublished and unexplained reforms the Sri Lankan Government has "already embarked upon". The official statement by the IMF on 1 September 2022 after their staff level discussions concluded says, "Raising fiscal revenue to support fiscal consolidation. Starting from one of the lowest revenue levels in the world, the program will implement major tax reforms" and also "Introducing cost-recovery based pricing for fuel and electricity to minimise fiscal risks arising from state-owned enterprises" are key elements of the program agreed upon.
In this carefully worded statement left with vague and ambiguous conditions and proposals, the IMF includes other key elements as:
Mitigating the impact of the current crisis on the poor and vulnerable by raising social spending, and improving the coverage and targeting of social safety net programs;
Restoring price stability through data-driven monetary policy action, fiscal consolidation, phasing out monetary financing, and stronger central bank autonomy that allow pursuing a flexible inflation targeting regime. A new Central Bank Act is a cornerstone of this strategy;
Rebuilding foreign reserves through restoring a market-determined and flexible exchange rate, supported by the comprehensive policy package under the program;
Safeguarding financial stability by ensuring a healthy and adequately capitalised banking system, and by upgrading financial sector safety nets and regulatory standards with a revised Banking Act; and
Reducing corruption vulnerabilities through improving fiscal transparency and public financial management, introducing a stronger anti-corruption legal framework, and conducting an in-depth governance diagnostic, supported by IMF technical assistance.
"Raising social spending, and improving the coverage and targeting of social safety net programs" could also mean "improving the coverage and targeting" of beneficiaries to the bare minimum that in fact would mean heavy axing of social safety budgets. While the Government has already amended the Banking Act thrice in 18 days from 31 January 2023, the IMF has imposed adopting a new Central Bank Act. One that may be rushed through parliament, denying opportunity for social discourse. The Statement also speaks about rebuilding foreign reserves through a flexible exchange rate with market determinations "supported by the comprehensive policy package" under the "programme". A "policy package" and a "programme" the People are totally unaware of.
What is glaringly clear is that none of these "key elements" the IMF statement highlights have any serious and pragmatic solutions in democratising society that is increasingly brought under severe repression and in increasing dollar income that could at least cover the total annual import bill hereafter. What it basically provides for is a "03 to 04 year" breather for repayment of debts and some acceptance in the international market to borrow more dollars. In short what Sri Lanka is provided for under strict IMF supervision is a revamp of the bankrupt free market economy that breeds corruption and crime, reduces democracy to procedural events and leave a yawning large income and wealth gap between the top 10% of the ever growing rich and the struggling 40% poor at the bottom. The 20% above the struggling 40% would try maintaining their seriously threatened lifestyle.
What it all means is, whatever the Wickremesinghe government would promise for the future, Sri Lankan polity needs to understand that socio-economic stability with IMF assistance does not come with democracy and space for social development for improved quality in life for all. Sri Lankan polity therefore needs to look around for a pragmatic answer with democratising of society for social development in an economy that would be fair for all, before the "breather" from IMF assistance is over. That demands immediate social dialogue on alternates and nothing else.