---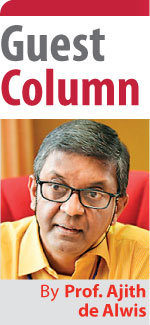 On 9 May 2022 – I am sure everybody remembers the day and maybe in so many ways – I had the pleasant experience of receiving a book delivered to my home from an author unknown to me. The book was a translation of Dr. Verghese Kurien's biography "I too had a dream". The book had additional original contributions from the translator/author too of real relevance to Sri Lanka. Yasasiri Janaka Kumara had sent me the first copy of his new book straight off the press, citing that I was the first person to draw attention to Dr. Kurien amidst the present milk food crisis.

He has indicated that he is quite happy to send the copy though it is a day of shame for our democracy! What I have done to be the recipient of this gift, had been my column to Daily FT after seeing the empty supermarket shelves amidst the agony of the populace who were missing the morning milk tea (https://www.ft.lk/columns/Powders-liquids-empty-shelves-Oh-my-milk/4-722514). I reminisced in my column, on the man who is known as the Milkman of India who had tackled the same issue in India and had succeeded perhaps even beyond his own wildest dreams. He succeeded because he pursued the issue with a single-minded zeal – an attitude alien to most of us, which lands us on different destinations as a result.

Holding the book in my hand on that day I devoured the book understanding how Dr. Kurien won his aragalaya! I really do hope that this book would be read by a majority as Janaka has placed in some really pertinent stories from our own milk saga as well. He has translated Dr. Kurien's story because he had at one stage been taken up by listening on the White revolution by the man himself. I feel the agony in Janaka's writing where he lines up the story of Sri Lanka. We appear to have placed cow dung with the milk with choice.

Reading the book was a treat as I had not read the biography of Dr. Kurien – I too had a dream. It was quite an enriching read and way beyond the picture of the journey that I had in mind of Amul. It is another must-read in my view for those who walk with the concept of living to make a positive impact. It also embeds multiple lessons to many and is of direct relevance as we can quite well see the parallels in our own country. I was reminded of a line quoted from a film – Diner. "If you do not have good dreams, you get nightmares". On 9 May a nightmarish day for Sri Lanka I received a book that nudged me to have good dreams and the possibility of success against odds if you dare.

The life story of Kurien is a book of recipes – how to manage politicians, how to be persistent, how to be responsible, how to give back, how to have a lifelong mission, how to plan, how to do research, and above all the value of believing in yourself and of what you are doing!

We are still gazing at empty shelves but today more so at milk with prices going through the roof! The cuppa for any time is costing a tidier sum and had pushed many to settle for the plain cup of tea minus milk. It is hard to think that this extremely valuable milk comes after eating grass and we are all up in arms over its scarcity! However, plain tea for us is not by choice but due to having no other option. The government of India had identified where and on what they were seeking specialist trained personnel and Kurien had been one selected to go and study dairy engineering.

The story of Kurien is returning to India after completing a scholarship journey to the USA – how many of us have done that? We too have sent many across the world with the same type of expectation. The biography is a life story that also has the touch of romance. Settling down to live inside a makeshift garage to start the working life in a faraway village with significantly fewer amenities is quite revealing of commitment. His wife too settled down there under same conditions. They never left Anand making it the epicentre of all their activities. Anand made its way to the world map as a world-class dairy facility and an operation that many were trying to emulate.

One story that strikes you is the secret visit by the Indian Prime Minister and then his overnight stay with a dairy farmer's family to get answers to the question of how Kurien has done this – the secret sauce! He was seeking an answer to how Anand has done this transformation in dairy when the cows are not different from cows in other places, the grass is also not in any way greener than anywhere else, and the typical farmer is in any way different, soil is not one of quality, the weather too is fickle and not all that helpful. The difference in productivity has been the question that the PM has had.

His way of finding the answer is quite unorthodox but demonstrates the mind of a PM who had been keen to understand issues and solutions than one who plans only the political journeys irrespective of the nation or the needs of the nationals. The fact that India is not without its crony corruption comes out in many an instance but the way Kurien tackled it all with boldness is a treat. Those incidents demonstrate that simply blaming someone corrupt should never be an excuse if you are dead set on a mission. Such efforts are bound to succeed in the end with fortunes favouring the brave.

Giving up without a fight was never an option for Dr. Kurien when he was both young and old. As a metallurgical engineer and with a nuclear physics background taking on developing something that turns sour quite quickly i.e. milk is very much an interesting narrative. An unwavering belief in 'can do' has meant turning buffalo milk into milk powder confounding the statements of international authorities of the day be it from the UK or New Zealand. How he developed the process and selected equipment within perhaps the narrowest of time windows I would be extracting as compulsory reading material for my chemical engineering students in their first year.

Our translator Janaka Kumara has had a strong interest in Dr. Kurien as he participated in meetings when Dr. Kurien arrived in Sri Lanka as an invitee of the Government. His mission had been to enable positioning the same model that he developed for India to come up to that position. However, the Sri Lanka story starts to deteriorate almost from the beginning and the company faces huge issues. Kiriya corporation never made any headway as perhaps forces within and surrounding it never wanted a Sri Lankan success story. Janaka has written on that in the book and laments the leaving of Kurien as a disappointed person.

Well, of course, Dr. Kurien would not have worried much as he was asked to contribute and when he tried in the only way he can, he was effectively sidelined and it is natural he takes the option of going back to his India. One cannot expect Dr. Kurien to have the same zest and zeal in Sri Lanka. This is again a corroboration of Sri Lanka demonstrating its ability to never missing to missing an opportunity!

Propelling Anand from a sleepy farming village in backwaters to a globally preeminent position had been sheer hard dedicated work. Dr. Kurien also has demonstrated how to build winning teams. As the Indian PM Lal Bahadur Sastri, found it was the cooperative movement that had made the difference. Dr. Kurien's employer was the farmers' cooperative and he has had no ego issue over the situation either. Interestingly, his embracing of the value of cooperatives and the power of such a movement has led to his active recommendation and applying the process to other areas including power generation and distribution.

He well-understood business models, the value of positive and caring organisational ethos, and the power of marketing. The story of Amul and the Amul girl is testimony to the latter. A legacy of his contribution is enabling India to emerge as the largest milk producer in the world and the ensuing achievement of lifting the standard of living of millions of dairy farmers by placing technology and professional management in their hands.

Multiple lines of importation of high-yielding cattle, specialised projects, and fund lines, so many foreign tours to see, understand, and replicate best practices could be chronicled to the reader when the dairy issue is discussed in Sri Lanka.

Instead of venturing out with the Milk Man from India who had shown us the way to success by dreaming and dreaming big and successfully achieving the white revolution we failed collectively to listen to him and walk with him down the road that he was ready to guide us. Our journey would not have been that hard as Dr. Kurien has travelled down that road after building it by himself. His destination was available for us to see. Sadly, industry unrest, hostage taking, etc., and with politics of the day playing the usual unproductive 'pandu' we were left to experience the empty shelves and high prices of today.

The line from Diner is clear and I hold the book in my hand and wish to sincerely thank Janaka for sacrificing time and energy to bring out a book that may still spark a young mind even at this late hour to dream for his own billion litres as young Kurien once did.