The construction industry has been depreciating since the Easter Sunday attacks, and as previous Governments did not pay an outstanding amount of about 150 b, there was a shortage of work and the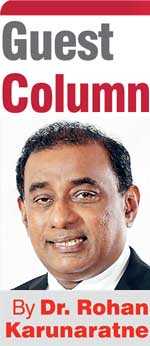 growth rate of the industry, once 21%, declined to roughly 7%. At the cusp of such difficulty, the industry could not bear the subsequent COVID-19 hit, at which point the Government helped with the provision of the moratorium loans and other such benefits. During the COVID-19 lockdown period, with no available work, employees were provided pay without work for about 3 months. Unfortunately, as of yet, payments were not given. This, together with the shortage of work and inability to continue current projects, the inflow to the industry halted. In such a situation, we are unsure of when the industry would stabilise. Nevertheless, expenses remain – for overheads and salaries, and to attempt slowly progressing with work, be it limited. Although the Government introduced a bill discounting system, this does not properly work and is disliked by many people, because the issuance of promissory notes instead of settling payments means we have to pay 4% for the payments we are due. So, people are unsure of whether this system should otherwise be accepted.

It was at a pivotal time in both the construction and leisure industries, that the Sri Lankan Government provided the moratorium loan – which is be largely appreciated, as otherwise, these sectors being two of Sri Lanka's largest industries would have faced ruin. However, the primary issue is yet unresolved and both industries still remain insecure.

Leisure too suffered from the Easter Sunday attacks, and experienced staggeringly low business for a couple of months following, resulting in employers being unable to break even in 2019. In 2020, with the revival of the sector, COVID-19 spread in the island, so 2020 bookings were for the most part cancelled (up to current months). Sri Lanka's tourist arrivals fell by 70.8% from a year earlier to 71,370 in March 2020 amid the COVID-19 crisis, the latest data released by the Sri Lanka Tourism Development Authority (SLTDA) showed. With extremely limited business, and as such limited inflows, leisure, similar to construction, had to continue disbursing for unavoidable expenses like hotel maintenance and salary payments. Hotels need about 40-60% occupancy rates to recover cost, but 2019 and 2020 thus far, we spent for these expenses from loans and other such external methods. Thinking about our future, it is difficult to forecast an economically positive condition for the next year. Though we are better at handling COVID-19, unlike Europe and our neighboring India, which has limited travel in such nations, our best customer base, namely Europe, is halted.
How to recover
As said, the recovery periods for both industries would be challenging, however for the welfare of our country as a whole, it cannot be ignored.

After the new Parliament is established, we anticipate construction sector bills to be settled at the earliest possible date, as well as for new work to be generated and distributed fairly, so everyone can survive and prosper. It is highly recommended that existing loans for both industries are to be restructured, and should be taken out from NPA/NPL classifications. In early 2021, repayments will commence, but we strongly feel inflows to both industries would not happen at a healthy rate by this time. Consequently, people would be unable to pay loans, and loan-takers and banks would both suffer an unfortunate predicament, so it would be in all our best interests to extend repayment periods to approx. 5 years. Both leisure and construction would take time to recover. Until then, these sectors, two of Sri Lanka's largest GDP contributors, should be protected.

Both the construction and leisure sectors contribute to Sri Lankan GDP in enormous proportions: the construction industry employs directly and indirectly approximately 1 million people and, as of 2014, contributed 9.6% to the GDP (Statistics by the Central Bank of Sri Lanka, 2014). The Sri Lankan construction industry is one of the sectors in the group that generates the second highest employment opportunities in the economy (Department of Census and Statistics, 2018).

The tourism and leisure industry is the third largest foreign exchange earner in the Sri Lankan economy, according to an article by CNN Travel, bringing in about $ 4.4 billion annually. An estimated half a million Sri Lankans depend on tourism directly, while 2 million rely on it indirectly.

The leisure and construction sectors would take time to recover. Until then, they should not be allowed to perish and should be protected.
Solutions
Moratorium loan repayment period to be extended
Existing loans to be restructured
Construction/Leisure/Tourism Sector loans to be left out of NPA/NPL
Government promotion of both industries
The writer is Director of the Chartered Institute of Building (CIOB), Pinthaliya Resort and Spa, AKK Group of Companies and HNB PLC.