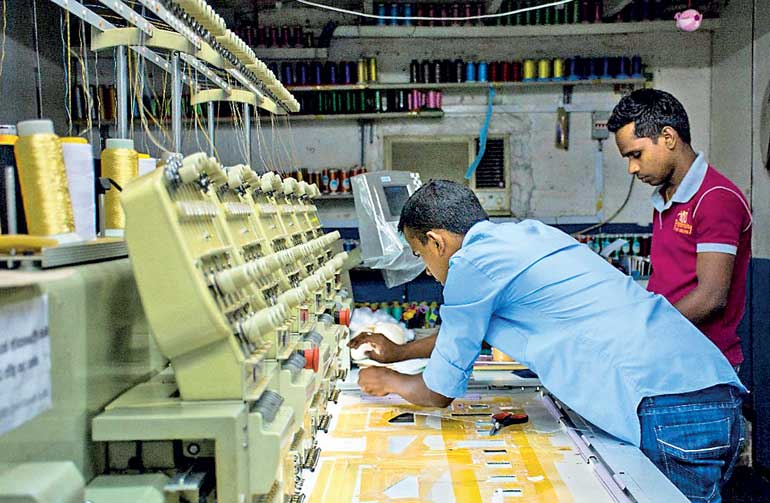 At work in the Selyn Factory
---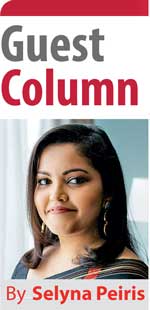 The world will be watching as global leaders gather in Glasgow at the end of this month for COP26 – 2021, United Nations Climate Change Conference. It will be a test for each leader, their nation and peoples commitment to the Paris accord. Whilst these discussions and ideas might seem completely foreign for most, we are not isolated from the consequences of inaction.

As a nation, we know the importance of respecting nature, the environment and people, but somewhere along the way, we lost track. We also have lost the connection to the richness of our heritage and the value it brings to people and, solutions it can provide.

We see the overuse of these words; "sustainable", "empowerment" "circular" and are led to believe it addresses and solves the bigger problems at hand. None of which mean anything or truly give impact, if we aren't transparent about how we achieve these outcomes. In other words, the practice of openly sharing information about how, where, and by whom products are made is critical.


We can't achieve sustainability without being truly transparent

Many businesses are evolving to respond to more socially conscious customers. After the COVID-19 pandemic, consumers increasingly want to make the best purchasing decisions for themselves, for the people and the planet. The fast-growing consumer desire for sustainability – especially from the fashion industry – is increasing demand for blockchain technology that allow brands to demonstrate that their products have been produced ethically and sustainably. Transparency holds brands accountable, leading to more ethical and sustainable industries.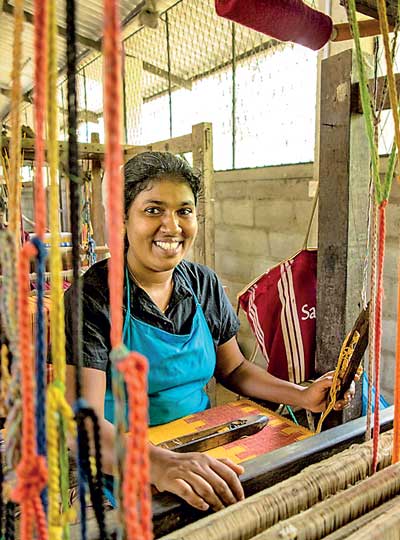 How is this relevant to the Sri Lankan handloom industry?

Handloom: Then vs. now

For over 30 years my family has run a social enterprise, Selyn, which promotes handloom and supports over 1000 rural artisans across Sri Lanka. Before we dive into the relevance of blockchain to the industry, it's important to briefly understand where the industry started and where it stands now.

Sri Lankan handloom has a long and venerable history of over 2,500 years and has been a sustainable industry since its inception: energy consumption in production is low, and the industry has created thousands of jobs for rural artisans and communities across the country. However, despite various efforts, the industry finds itself in a state of deterioration owing to different factors, more recently the negative impact of the degrowth of the tourism sector in Sri Lanka. But the core problem, from my perspective, is that the value placed on Sri Lankan handlooms has diminished in recent years.

Unfortunately, handloom is no longer widely seen as an item of intrinsic value that speaks of our history and culture, and embodies the skills of talented artisans. Our artisans are no longer venerated for their skills, and are too often seen through a charity lens. It is crucial that Sri Lankan handlooms are pitched to premium or even luxury markets, which value quality over mass quantity and speed.

In addition and perhaps more innovatively, increasing the transparency of our production methods with the integration of blockchain technology into our supply chains will be a crucial step to allow us to better tell the Sri Lankan handloom story, addressing the 'green-washing' debate, and providing consumers with verifiable data to inform the purchase of a higher value textile.

Global emerging trends support this hypothesis, as these premium markets and more conscious customers are now craving the stories of heritage and responsibility that fair trade and ethical brands can tell. This is an opportunity, for not just the handloom industry but in my opinion, for many Sri Lankan brands.


Blockchain: Paving the way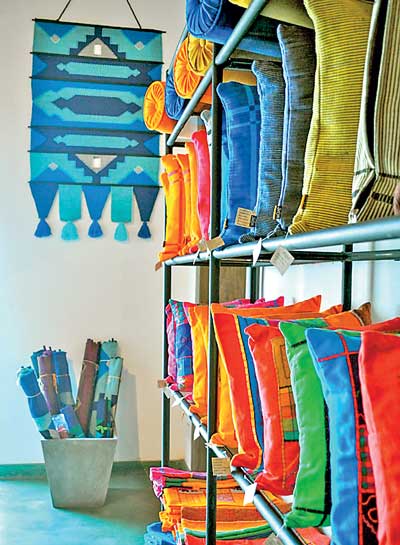 For those companies in control of their supply chains, especially those committed to fair trade and ethical trading practices, blockchain is the perfect tool to validate authenticity and for story-telling. With blockchain integrated from the point of sourcing to point of purchase – from fibre to fashion – with the swipe of a QR code, a consumer can now be fully aware of what goes into their product, and how it is made.

Blockchain technology ensures that each point in the production process is recorded so that consumers can access independently verified, real-time, detailed metadata of what they want to know. And that's not all. Consumers can input their own information to the QR code, whereafter if it is given to a friend or resold, it enables the needed circularity for the product.

For us in the handloom industry and even for the larger apparel sector, this means openly sharing information about how, where, and by whom a product was made. This becomes more than a story-telling exercise, especially since this technology demands that we pay attention to people at all stages of the supply chain: who works for the brand, in what factories, under what conditions, are they safe, are they paid a living wage, how many hours do they work, do they have workers' rights?

It also demands that we be conscious of the waste we reject into the environment – into our forests and our seas and brings our attention to how we may be more carbon neutral as we maximise profit. It allows us to humanise our supply chains and spread the premiums gained fairly among all those involved in the process of taking a product to market.

We work with people, artisans and craftsmen with decades of skill and experience. They are all part of the process, and our end consumer deserves to know what goes into weaving craft into apparel. The dignity of our craft has to be taken back to our weavers.

Of course, this is easier said than done and naturally brands who have already invested in fair trade/ethical trading and operating standards would find it easy to begin the process of integration. Most importantly, this process will require a shift in mindset, away from traditional business approaches of industry competition to one of collaboration and cooperation.

For Sri Lankan handloom to thrive, effective partnerships are required across the sector. Shifting towards cocreation in handloom where all stakeholders enjoy recognition and economic gains, is the only way to protect and grow Sri Lanka's handloom sector. This also holds true for the rest of its craft sector.


Selyn: Embracing blockchain

Selyn is Sri Lanka's only fair-trade handloom company, and our vision is to promote a sustainable business model that grows and empowers the livelihoods of over a thousand women in the country. At 30 years of operations, we are committed to transforming our industry by encouraging full transparency of supply chains, integrating new production technologies, and revolutionising the product we offer. We believe that our purpose-led business model will result in greater economic benefits, better meet sustainability goals, and restore pride and dignity amongst our artisans.

We see a different future for the handloom sector. Having begun the process of integrating blockchain into our supply chain, we believe we can truly walk the talk and present to the world a truly authentic and responsible craft brand. Drawing on our fair-trade foundations and using our social enterprise credentials and with COVID19 accelerating our work, Selyn is repositioning its work in the handloom sector to address emerging market opportunities.

Our aim is to leverage a commitment to ethical and sustainable practices combined with greater transparency, and ultimately carve out a unique niche for handloom as an important part of Sri Lanka's intangible cultural heritage. And, we are working hard to bring the industry along with us. We believe that the concept of blockchain in the handloom sector is an innovative step towards positioning Sri Lanka as an industry and global leader that combines technology and tradition to conquer sustainability.

I am of firm belief that blockchain is the future of handloom, and the apparel sector at large. Many other industries in Sri Lanka can too benefit from accessing this technology. Although there are still challenges to be faced with the widespread adoption of blockchain, the future potential for the technology is unparalleled. The only question now is how ready and able are Sri Lankan brands to embrace this future.
---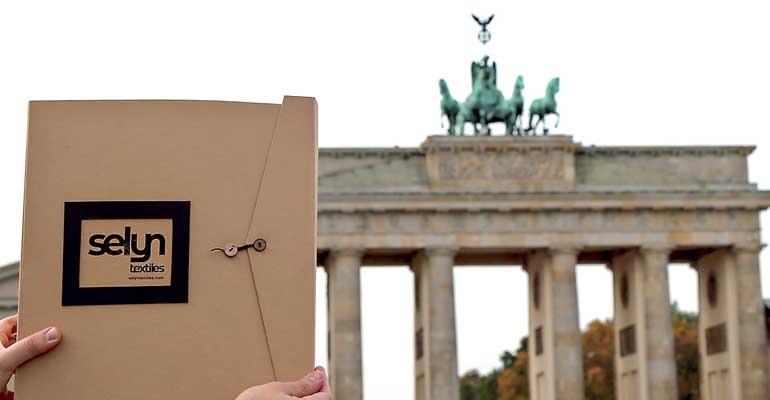 Selyn Textiles arriving in Europe through the Brandenburg Gate, Berlin's famous gates of victory
---
(The writer is the Director – Business Development at Selyn, Sri Lanka's only fair-trade handloom company and one of the country's largest social enterprises. Selyn engages the traditional Sri Lankan community of handloom weavers in bringing products made of 100% cotton and infinite measures of skill and devotion. Founded in 1991 by Sandra Wanduragala, Selyn originated with 15 women in the village of Wanduragala in Kurunegala, Sri Lanka. Selyn now works with a network of over 1000 empowered artisans in rural Sri Lanka.)