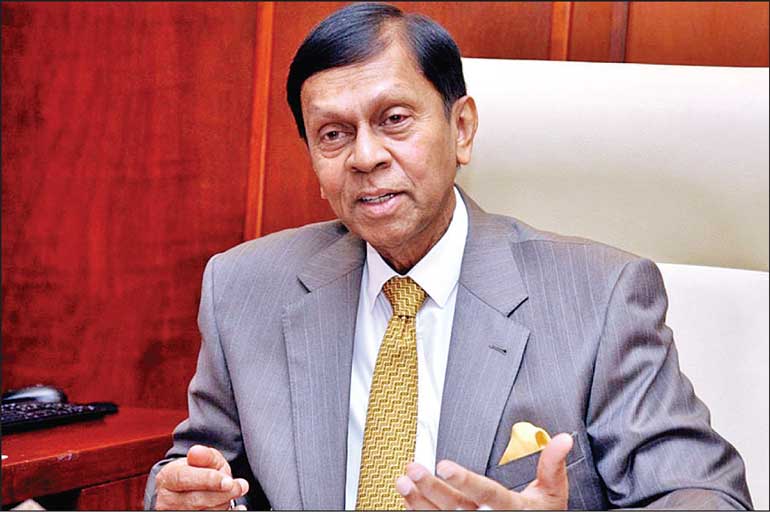 Central Bank Governor Ajith Nivard Cabraal
---
Fitch downgraded forex-strapped Sri Lanka by one notch to 'CC,' citing mounting fears of a sovereign default. Sri Lanka is due to repay close to $ 1 billion worth of (total) debt in January and a total of over $ 7.3 billion for 2022.

Fitch would possibly have panicked according to analysts given that Sri Lanka's economy has contracted by 1.5% year-on-year in the third quarter of 2021, following a 12.3% expansion in the previous period, according to the data of the Census and Statistics Department. The foreign exchange crisis has so far wrecked Lanka's recovery from the coronavirus pandemic.

Fitch justified its view saying: "The downgrade reflected its view of an increased probability of a default event in the coming months as Sri Lanka's foreign reserves slumped to $ 1.58 billion at the end of November."

The CBSL was quick to respond by saying it was a reckless action by the rating agency despite being informed of the imminent inflows as outlined in the Six-Month Road Map and the progress of inflows announced during the week.

All this is well and good. But we have a serious forex crisis that needs resolving. Unfortunately for Sri Lanka, credit rating institution go by global standards and their conclusions are based on hard research and data published in various public domains. And they also do several tests on the capacity of the borrower to honour borrowings and obligations and also the probability of realising projected incomes.

Unlike Argentina, Ecuador or Lebanon, that have defaulted, Sri Lanka has so far never defaulted. So we still have some bargaining power left with the IMF. Why we did not go to the IMF with our heads held high at the onset of the pandemic, like many others did, remains a mystery to many people. The country belongs to the 22 million people who inhabit this country. Not only to the set of bureaucrats or politicians who hold executive authority in trust for a term to take decisions on behalf of the 22 million.

A CEO of a fund that invests in Sri Lankan bonds noted that their HQ internal rating guidelines do not allow them to hold investments in CCC-rated debt and now even worse CC-rated debt. So was the pandemic the 'only' cause of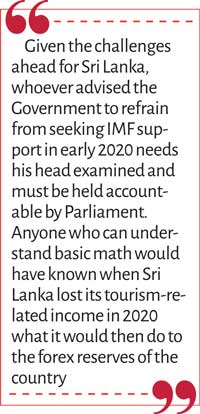 this forex crisis? According to several economists, it is certainly not the case.
Default concerns
Fitch in a statement said: "The downgrade reflects our view of an increased probability of a default event in the coming months in light of Sri Lanka's worsening external liquidity position, underscored by a drop in foreign-exchange reserves set against high external debt payments and limited forex inflows. The severity of financial stress is illustrated by elevated Government bond yields and downward pressure on the currency."

Further the statement said: "We believe it will be difficult for the Government to meet its external debt obligations in 2022 and 2023 in the absence of new external financing sources. Obligations include two international sovereign bonds of $ 500 million due in January 2022 and $ 1 billion due in July 2022. The Government also faces foreign-currency debt service payments, including principal and interest, of $ 6.9 billion in 2022, equivalent to nearly 430% of official gross international reserves as of November 2021."

However Finance Minister Basil Rajapaksa has told Parliament that the country will not default on its debt repayments in 2022 despite being faced with a severe foreign reserves crisis.
Way forward
Last week the newspapers reported the Cabinet is seriously contemplating IMF support. An IMF program would certainly help to unlock concessionary multilateral and bilateral financing, but the IMF would want serious restructuring to bring about future debt sustainability.

On the other hand, if the Government is confident of the forex flows it would not need to engage in any formal debt renegotiation process which technically constitutes a default.

Given the challenges ahead for Sri Lanka, whoever advised the Government to refrain from seeking IMF support in early 2020 needs his head examined and must be held accountable by Parliament. Anyone who can understand basic math would have known when Sri Lanka lost its tourism-related income in 2020 what it would then do to the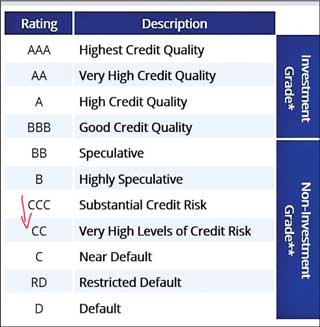 forex reserves of the country.

In fact, CBSL had anticipated in September $ 3.5 billion reserves by the year end, However, Sri Lanka's gross official reserves fell to $ 1,587 million in December, about one month of imports.

Governor Nivard Cabraal, a professional with a decade of experience in the Central Bank, said the CBSL may now draw down on a $ 1.5 billion equivalent swap with the People's Bank of China. Further he is confident Sri Lanka would end the year at $ 3.5 billion. The proposed China swap is denominated in RMB and can be used for payments to China.

The Government should also to look to expedite the paperwork relating to all grants and concessionary funds that are stuck due to bureaucratic delays and fast-track those potential Indian credit lines in the pipeline.

Ironically, some Ministers and many MPs does not still comprehend the serious economic situation and the severity of the challenges faced by the daily wage earners in the country and they continue business as usual, regardless.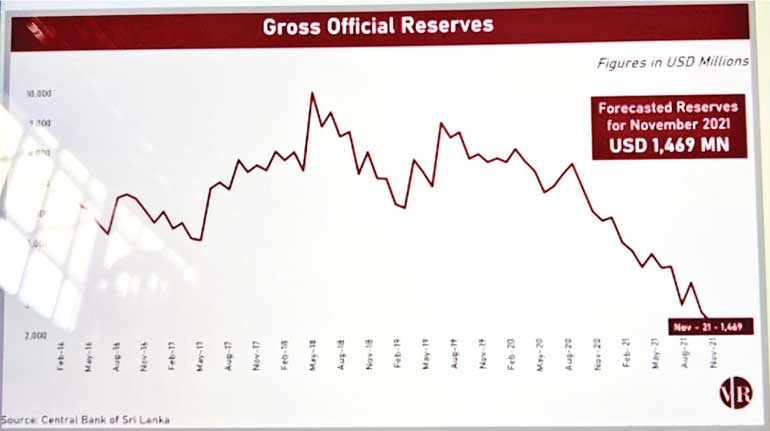 Fitch Ratings has downgraded Sri Lanka's Long Term Foreign Currency Issuer Default Rating to CC from CCC
---