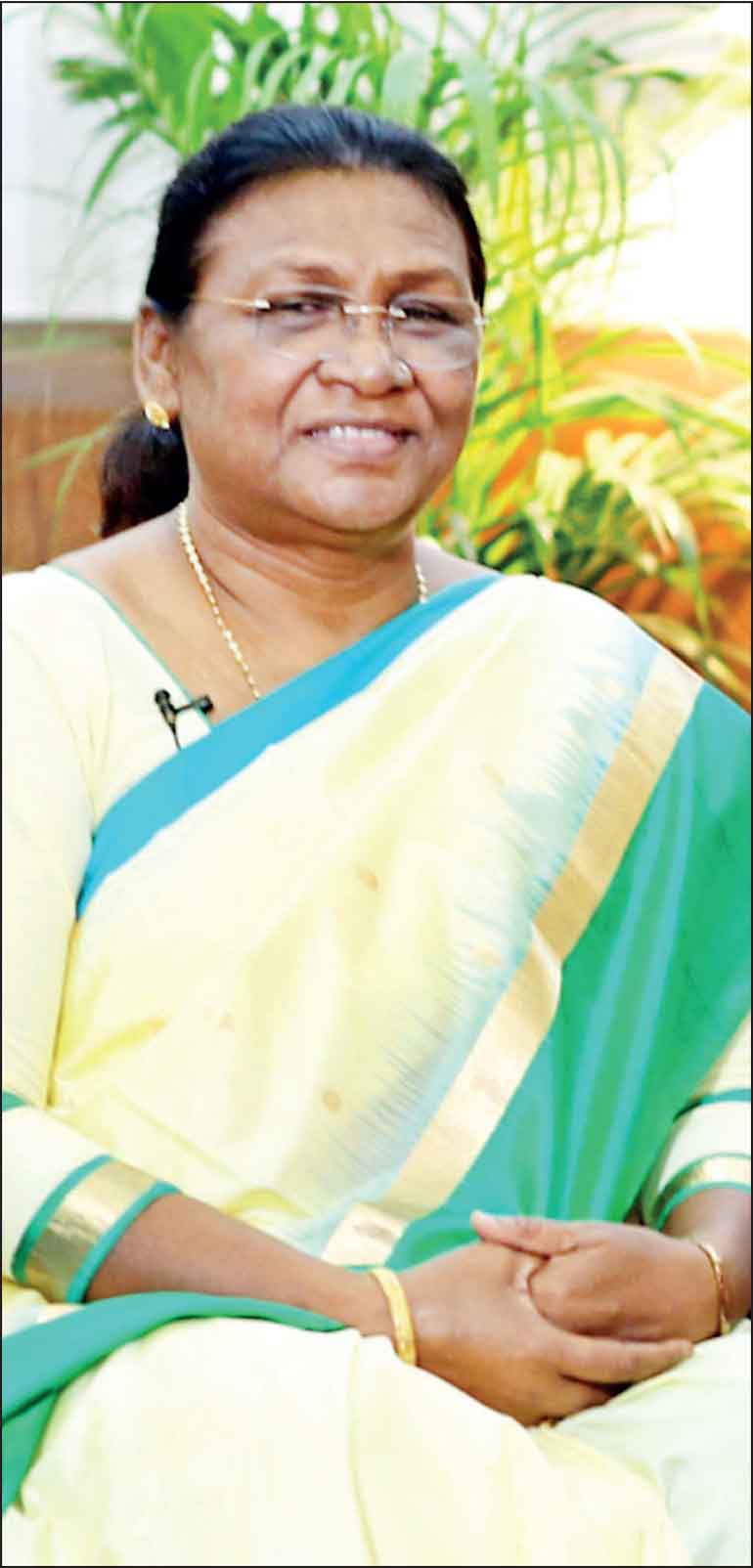 Indian President Droupadi Murmu
---
Sri Lanka's closest neighbour and nearest friend, India celebrated her 75th anniversary of gaining

freedom from British rule on the 15th of this month. "Incredible" India also made history last month by electing a woman from a tribal community as the Republic's 15th President. 64-year-old Droupadi Murmu was sworn into office after being elected India's President last July. She is India's first president hailing from the "AadivaasI" community or people from scheduled tribes. Droupadi Murmu is the second woman and youngest person to be elected president of India.

Droupadi Murmu was born as Puti Biranchi Tudu on 20 June 1958 in the Uparbeda village of India's eastern state Orissa now known as Odisha. She hails from the Santhal ethnic group of India's scheduled tribes. The Aadivaasis or tribal people comprise 8.6% of India's population. Droupadi Murmu worked as a clerk and teacher before taking to politics as a member of India's Bharatiya Janata Party (BJP). She has served as a local authority councillor, member of the legislative assembly and state minister. Droupadi Murmu was also appointed as Governor of Jharkand State by the Narendra Modi Government from 2015 to 2021. She has suffered immense personal tragedies in having lost her husband, two sons, mother and brother within a span of seven years from 2009 to 2015. The only living family member is her daughter.

The Indian Presidency is largely a ceremonial, but symbolically significant post. The President is elected by members of the Indian Lower (Lok Sabha) and Upper (Rajya Sabha) houses of Parliament along with members of the various state and union territory legislatures (legislative assemblies). The votes are graded accordingly and allocated a particular value.

In the July 2022 presidential poll the total number of MPs and MLAs who cast their votes was 4,754, bearing a combined value of 1,072,377. However, with 53 votes being declared invalid, the total number of valid votes was 4,701, bearing a combined value of 1,056,980. Droupadi Murmu nominated by the BJP-led government polled 2,824 (64.03%) of these votes — bearing a value of 676,803 — while the united opposition candidate Yashwant Sinha gained 1877 (35.97%) votes — with a value of 380,177. Thus after 75 years of Independence, India has got its first Aadivaasi president!

As a keen observer of the Indian political scene for many decades, the election of an Indian President is an exercise I greatly admire. What I have been impressed about most is the tradition followed by successive Indian Governments of electing presidents reflecting the mixed population of the country at large. India has through a deliberate process of selection ensured over the years that members of the

regional, religious and linguistic minorities are rotated as Presidents of India. In recent times caste and gender too have become relevant factors. Now the underprivileged scheduled tribes too have got symbolic recognition.

A political tradition of inclusiveness reflecting the plural heritage and ethno-cultural diversity of a country has to be gradually evolved. The practices maintained currently in India with regard to the Presidency was carefully built up over the years. A brief re-run of the history of Indian presidents and the nature of the presidency is worthwhile and necessary at this juncture to understand how this inclusive and broadly representative tradition evolved over the years. I have written on these lines on earlier occasions and would be drawing upon such writings in this article.
World's largest democracy
The Indian Presidency unlike that of countries like Sri Lanka, USA, Russia or France, is not an Executive Presidency. It's more of a ceremonial post like that of the Governor-General when Sri Lanka was Ceylon or that of the Presidency before Junius Richard Jayewardene transformed it as an Executive Presidency. Even though titular, the Indian head of state does have prestige and stature as the President of the world's largest democracy. More interesting and important perhaps is the fact that the Indian presidency has evolved over the years as a symbol of that country's vast diversity and ethnic pluralism.

Despite various challenges from within and without India has remained strong and united. India has fourteen major national languages and over 250 minor languages and dialects. All the major religions of the world are found there. Its regions are widely disparate and unevenly developed. Moreover India is plagued by caste differences. Fissiparous tendencies were galore in the early years of Independence. Many analysts predicted fragmentation within years. The Indian state and elite were so paranoid about divisive tendencies that they downplayed the "federal aspects" of the Indian Constitution and instead emphasised "on its unitary characteristics".

Fortunately "Mother" India was blessed in having enlightened children to lead the nation. The Nehruvian vision of accommodating diversity and forging unity in practical terms laid the groundwork for a strong, united India to emerge. Re-organising states on a linguistic basis, secularism and co-operative federalism were the key elements that went into re-inventing modern India.

It is said in lighter vein that the cohesive bonds keeping modern India together are the Indian civil service, railways, cricket, Hindi cinema, English language and the Institution of the Indian Presidency. The "Rashtrapathy" though a ceremonial post has developed over the years into an institution symbolising pluralism and reflecting diversity. This process has been strengthened not through legislation or litigation but through an interesting on going process of usage and convention. The spirit of accommodation has through practice forged a rough pattern in selecting Presidential candidates.

As stated earlier the idea has been that of giving recognition and representation to all of India's diverse ethnicities, regions and religions. This unwritten procedure has more weight than written laws or rules. The evolution and growth of the Indian presidency and the different strands of society reflected and recognised by that Institution is an interesting tale worth recounting.
First President Rajendra Prasad
After Independence, the first Indian to be Governor-General of the Dominion was a Tamil Brahmin C. Rajagopalschari or Rajaji. Meanwhile the Constituent assembly presided over by Dr. B.R. Ambedkar drafted India's Republican Constitution. India became a Republic formally on Jan 26th 1950. The first President was Rajendra Prasad. He was a Hindi speaker. Prasad was a man of great stature and a political personality on par with Jawarhalal Nehru. In the old days of "left" and "right" Prasad was a "rightist" and Nehru left of Centre. With Prasad's elevation to the Presidency a potential rival to Nehru was sidelined.

Newly elected Droupadi Murmur is the 15th President of India. Actually she would have been the 16th but for Rajendra Prasad becoming President for a second term in 1957. He is the only President to have served for two successive terms.

In 1962 the eminent scholar and philosopher Dr. S. Radhakrishnan became President. He was vice-president earlier. Radhakrishnan though a resident of Chennai was a Telugu by ethnicity. The South Indian Radhakrishnan was the President when Nehru died in 1964 and also when Nehru's successor Lal Bahadur Shastri passed away in 1966.
First Muslim President
After Radhakrishnan another scholar and educationist Dr. Zakir Hussain became President in 1967. He was India's first Muslim President. A member of a regional and linguistic minority was followed by a member from a religious minority. The Prime Ministers up to that time were from the majority Hindi speaking Uttar Pradesh. But the Presidency was rotated to accommodate minority members.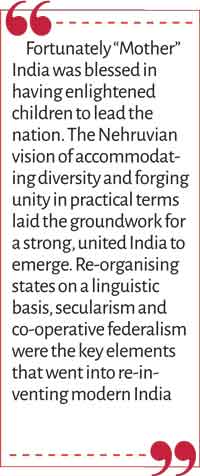 Zakir Hussain died in office in 1969. The Presidential stakes became a power struggle. On the one hand was the "old guard" party hierarchy known as the "syndicate" while on the other was Indira Gandhi attempting to break free of those who had installed her in office. The "syndicate" consisting of people like S. Nijalingappa, Kamaraj, S.K. Patil, and Atulya Ghosh wanted the speaker N. Sanjiva Reddy to be President; Indira wanted the vice-president V.V. Giri to succeed Hussain. The elections saw Indira calling upon Congress members to defy the party high command and vote for the "independent" Giri. There was a third candidate C. Deshmukh fielded by Rajaji's Swathantra party. Giri won. The Congress party split.

V.V. Giri a former High Commissioner to Sri Lanka was a Telugu speaking Niyogi Brahmin. His family hailed from the eastern Godavari district in in Andhra Pradesh. Thus the Muslim Zakir Hussain was succeeded by a linguistic and regional minority member. 1974 saw Giri's term of office ending. He was succeeded by Fakhruddhin Ali Ahmed a North Indian Muslim. He was a cabinet minister and Indira Gandhi loyalist. So India had a religious minority member as President again.

1977 saw Ali Ahmed passing away while holding presidential office just as Zakir Hussain. Meanwhile Indira Gandhi was defeated in the polls. A Janata party-led coalition was in power with Morarji Desai from Gujerat as Prime Minister. Neelam Sanjiva Reddy was made President. He was the man defeated in 1969 by V.V. Giri. Reddy was a Telugu from Andhra Pradesh. Once again a regional and linguistic minority member was President.
First Sikh President
Indira returned to power in 1980. In 1982 Giani Zail Singh was made President. He was a Sikh from Punjab and a devout loyalist of Indira Gandhi. So another religious minority community member was President. 1987 saw the Vice-president R. Venkatraman succeeding Zail Singh. Venkatraman was a Tamil Brahmin from Tamil Nadu and had been a cabinet minister earlier. Thus a regional cum linguistic minority community member was President again. Rajiv Gandhi was killed in 1991. The new Congress government had P.V. Narasimha Rao as Prime Minister. Rao was from Andhra Pradesh. For the first time a South Indian was Prime Minister.

In 1992 it was time for Venkatraman to step down as president. His vice-president was Shankar Dayal Sharma, a Hindi speaking North Indian. With the PM being a South Indian, the North Indian Sharma became President. The prevailing tradition of appointing minority community members was broken. But the Premier was South Indian. In 1996 another South Indian Deve Gowda from Karnataka also became Premier.
First Dalit President
In 1997 K.R. Narayanan the vice-president succeeded Sharma. Narayanan a former career diplomat hailed from the South Indian state of Kerala. Once again a regional and linguistic minority community member was President. Narayanan also set another precedent. He belonged to the so called low caste "Dalit" community. Thus after 50 years of Independence "casteist" India had a "Dalit" as President. Besides Narayanan also had "Christian" links because of his wife and siblings who had converted.

When Narayanan stepped down in 2002 the Bharatiya Janata party led coalition was in power. Jayalalitha Jayaram the actress turned politico was chief minister of Tamil Nadu. She proposed Abdul Kalam the famous nuclear scientist as President. Kalam was a Tamil speaking Muslim from Rameshwaram in the South of Tamil Nadu. Hussein and Ali Ahmed were Urdu speaking Muslims. Abdul Kalam was a celebrity in his own right as the scientist credited with India's nuclear capability. It made political sense for the Hindu rightist BJP regime to refurbish its image by making a Muslim the President. Jayalalitha was happy about a "Thamizhan" becoming President. Tamil speaking Muslims in Tamil Nadu perceive themselves as Tamils observing Islam as a religion. They do not see themselves

as separate from Tamil Hindus or Christians on account of their religion.
First woman president
2007 was time for Abdul Kalam to conclude his term of office. The vice-president was Bhairon Singh Shekhawat a Rajput from Hindi-speaking Rajasthan. He was a former BJP Chief Minister of Rajasthan. The Congress did not want a BJP politician as President. So it selected Pratibha Patil who was then Governor of Rajasthan as the Government candidate with the approval of its allies like the DMK and the Communist and Marxist parties. Shekhawat himself contested as an "independent". The Presidential poll saw Pratibha Patil defeating her rival easily. Pratibha hailed from Maharashtra state and was ethnically a Mahratta. Maharashtra is neither North nor South but in Central or West of India. The Mahrattas are a distinct entity speaking the Marathi language.

Thus a regional and linguistic minority community member became President again. More importantly Prathiba Patil was the first woman to be elected as President of India. This was indeed a commendable milepost. In 2012 the ruling Congress led coalition Government nominated senior minister Pranab Mukherjee as its presidential candidate. Mukherjee was also from a non-Hindi state. He was a Bengali hailing from West Bengal state.

In 2017 Ram Nath Kovind a Hindu Dalit from Uttar Pradesh became president. The BJP has been long accused of being an upper caste (Brahmin and Bania) oriented party. Electing a Dalit as president would help dispel this image. Besides at the 2017 UP polls, a sizable number of Dalits had voted for the BJP. Thus it made sense for the BJP to elect a Dalit Hindu from Uttar Pradesh as president. Kovind has now been succeeded by Murmur. Getting an Aadivaasi woman elected President also helps boost the BJP.
Rotating the presidency
Despite these political considerations the elections have proved to be victories for the accommodative tradition. The celebration of diversity and the conscious effort to recognise plurality lies at the core of India's comparative success in crisis management. The tradition of rotating the presidency among regional, religious, linguistic and caste minorities is a healthy expression of that mindset.

As stated earlier, India elected its first Muslim President in 1967. There have been two more Muslim presidents thereafter in 1974 and 2002.The first Sikh President was elected in 1982. Presidents have been elected from the Southern States of Andhra Pradesh, Tamil Nadu and Kerala as well as the Non-Hindi speaking states of Maharashtra and West Bengal.

The first woman President was elected in 2007. The first scheduled caste (Dalit) president was elected 50 years after independence in 1997. 70 years after independence a second Dalit president was elected. Now a tribal woman is elected president. Thus the Indian presidential elections manifest an evolving tradition of recognising the diversity and plurality that is India in a symbolic manner.
Prime Ministerial office
Even the Prime Ministerial office in India has begun to reflect the multi-ethnic, multi-religious, multi-linguistic, multi-caste society of India over the years. The Hindi speaking people form the largest linguistic group in India. They number about 41% of the population. Other linguistic groups form the rest. Religion wise Hindus form 80% of the population. Muslims are about 15%. In the early years after Independence most Prime Ministers came from Hindi speaking Uttar Pradesh which is also India's most populous state.

India's first Prime Minister Jawarhalal Nehru hailed from Allahabad in Uttar Pradesh (UP) but he was actually of Kashmiri pandit Brahmin lineage. His successor Lal Bahadur Shastri was also from UP. So too was India's third and first woman Prime Minister Indira Gandhi who was Nehru's daughter. Indira married Feroze Gandhi a Parsee. Their son Rajiv became Prime Minister in 1984. He too contested from a UP constituency.

There have been other premiers from the Hindi speaking states like Chaudhari Charan Singh, V.P. Singh, Chandra Shekhar and Atal Bihari Vajpayee. However there have been Prime Ministers from Non-Hindi speaking states too. The first elected non-Hindi Prime Minister was Morarji Desai a Gujarati. The present Premier Narendra Modi is from Gujarat too. Gulzarilal Nanda who served twice as acting prime minister after the deaths of Nehru and Shastri was a Punjabi Hindu. So too was Inder Kumar Gujral, P. Narasimha Rao and H.D. Deve Gowda from the southern states of Andhra Pradesh and Karnataka respectively have also been Prime Ministers. No Muslim has been elected Prime Minister, but a Sikh Dr. Manmohan Singh was Premier from 2004 to 2014.
Reflecting India's plural heritage
The election and/or appointment of Prime Ministers depends on electoral results and political power equations. Though non-Hindi speakers have become PMs, it was not due to deliberate design. However as far as the symbolic Indian presidency is concerned, one is able to discern a definite and consistent method of trying to elect Presidents representing and reflecting the plural heritage of India. The latest election of Droupadi Murmu being an effective example.
(The writer can be reached at [email protected])