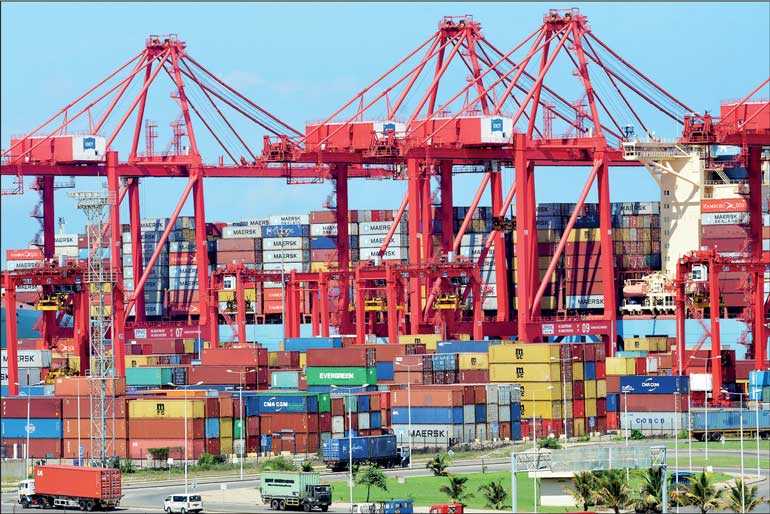 Colombo is among the busiest ports in the world, with a capacity of seven million TEUs – Pic by Shehan Gunasekara
---
The proposal to handover East Container Terminal to the Indian company Adani raised protests among Port Trade Unions and also in and out of Parliament. ECT is not a new subject, which dragged on for over five years, but the protests are a new development.
Meanwhile, the country is facing serious financial issues with loans of billions of dollars needing settlement during every year. The Government has boasted the ability to repay loans, but is expecting financial support from friendly countries. Thus, maintaining friendly relations would be of utmost importance.
The big question is how will the country be run in the future, especially with promises made by President Gotabaya Rajapaksa in his 'Vistas of Prosperity and Splendour' in which people had so much hope?
Country's problems and issues
In addition to financial problems given below are some issues currently faced by the country needing solutions.
1. Promises and agreements already made with India and China
2. Balancing relationships with China, India and Japan.
3. East Container Terminal and the future of Colombo Port
4. Critical nature of electricity generation
5. Supply of petroleum and expanding refining capacity
6. Improvement of income of northerners
7. Indian fishermen in Sri Lankan waters
Promises and agreements with India
Trincomalee tank farm
As consented by Prime Minister Ranil Wickremesinghe, an agreement was signed in February 2003 between Indian Oil Corporation (IOC), Sri Lanka Treasury, and Ceylon Petroleum Corporation (CPC) to lease the China Bay oil tank farm in Trincomalee. The oil tanks built by British prior to second world war idled for 70 years. The deal valid for 35 years, extendable for 99 years. According to the lease agreement, annual payment would be $ 100,000 and IOC paid the rental promptly to Treasury. Currently only 15 out of the 99 oil tanks are used by IOC.
Power plants in Trincomalee
Indian Prime Minister Narendra Modi during his visit to Sri Lanka in March 2015 informed that 'India is keen to develop Trincomalee to become a regional petroleum hub'.
Later in 2015, Indian and Sri Lankan governments signed an agreement (MOU) to establish a 500 MW coal-fired power plant in Sampur, Trincomalee. But when President Sirisena met the Indian PM in India in 2016, wished to change the Sampur coal-fired plant for a liquefied natural gas (LNG) power plant.
Accordingly, when SL PM met the Indian PM at New Delhi in April 2017, the heads of State revised the MOU, for building a 500 MW gas power plant, running on imported LNG.
East Container Terminal
Under Ranil W. Government in May 2019, Sri Lanka Ports Authority (SLPA) signed a Memorandum of Cooperation with India to jointly develop the East Container Terminal. The project was estimated to cost between $ 500 to 700 million to be funded by Japan. For shareholding, SLPA will hold 51% while, 49% to be held between India and Japan. But Yahapalanaya Government failed take further action.
Chinese investments
China was the most favoured country under Mahinda Rajapaksa Government, led to Colombo Port City. The project was suspended in 2015 by Yahapalanaya Government, but recommenced faced with contractual issues. MR Government developed Hambantota port with Chinese assistance, but inability to make required loan payments resulted in handing over the Port for 99 years.
The Colombo South Terminal developed and run by the Chinese Company CICT, owning 80% shares been in operation since August 2013, has heavily contributed in raising the Colombo Port among the top 25 in the world.
But projects constructed by Chinese contractors with Chinese loans especially around Hambantota, give poor economic returns, and contributed heavily to the current foreign exchange mess.
Of the country's electricity requirement, a large percentage is supplied from three Chinese coal power plants in Norochchalai each with 300 MW capacity. But plants break down frequently forcing to purchase thermal power at high costs. High cost of power and pollution concerns requires coal power be replaced by renewables and gas-based power.
With the Government decision to avoid foreign-funded projects, future Chinese projects will reduce. But investments and projects expected in the Port City and Hambantota would see continuous activity by Chinese contractors.
Japanese in Sri Lanka
Japan maintained excellent relations with Sri Lanka since J.R. Jayewardene, then Finance Minister's speech at San Francisco Peace Conference in 1951. After the 1973 riots when the entire world boycotted Sri Lanka, Japan still maintained normal relations.
When RDA commenced Baseline road development, Japanese funded the flyovers over railway crossings. Even today, the massive bridge over Kelani River and the complex of flyovers are funded by Japan.
In 2016, Japan offered to build a 500 MW coal power plant and the Government accepted. Also, when the Government wished to shift from coal to gas, Japan agreed to the change. In July 2017 Cabinet accepted the proposal, but no further progress.
In March 2019, Japan International Cooperation Agency (JICA) signed a loan agreement with SL Government for a loan of 30 billion yen to establish Light Rail Transit System to ease Colombo Malabe traffic. But Gotabaya Government cancelled the contract claiming unable to continue. A notable feature of Japanese loans is the long-term payback period with extremely low interest.
Colombo Port
Colombo is among the busiest ports in the world, with a capacity of seven million TEUs. CICT-managed South Terminal with three 18 m deep berths is capable of accommodating the biggest container ships. Privately-owned South Asia Gateway Terminal (SAGT) has 15 m deep three berths. SLPA-owned Jaya Container Terminal (JCT) has two berths also 15 m deep. In addition, two other berths in JCT are 12 and 13 m deep could handle only small ships. But most cranes at JCT are 20-30 years old work far below their capacity.
Colombo Port handles over 75% of Indian export and import containers and India is concerned of their containers being handled by Chinese and are developing their own ports.
Future electrical power generation
The country's electricity supply is in a critical situation. Since 2015 not a single major power plant was constructed. The only plant awarded is Kerawalapitiya 300 MW natural gas plant tendered in 2016 and awarded only few months ago. The existing natural gas plant also at Kerawalapitiya has been running on petroleum for nearly five years, as no gas supply is available, delivering electricity at nearly double the price. Even today, LNG supply is not in the pipeline. None of the proposals received from various sources were accepted.
Petroleum supply
Our sole oil refinery in Sapugaskanda is 40 years old and refines 20% local requirement. The petroleum storage facilities at Kolonnawa and Muthurajawela can store only three weeks requirement. The pipeline delivering fuel to Kolonnawa is old and rotted, thus fuel is pumped at low pressure, taking a long time to deliver. The pipeline route is occupied by squatters, making installing new pipeline troublesome. Thus, an expanded refinery, with supporting storage is an urgent requirement.
Improvement of income of northerners
Most important lapse in Gotabaya's program is the neglect of development of the north. Moragahakanda project was basically expected to deliver water to the north who receives the least rainfall in the country. Although basic project construction was completed long ago, water delivery structure was neglected. President Sirisena who boasted of commencing the project was interested in supplying water to Polonnaruwa region, which already possessed the most comprehensive water storage and distribution system in the country.
Indian fishermen in SL waters
Indian fishermen having exhausted fish stocks in their own region with devastating fishing methods, have moved over to Sri Lankan waters. Although fishermen in the north have protested, the Government has discussed matters with Indian Government, but failed to achieve progress.
Financial crisis
Many do not realise the financial crisis faced by the country. The Government needs to settle over $ 6 billion foreign loans next year and similar payments over the following years as well. The Government has declared not to accept foreign project loans. As for local expenditure, Government staff salaries were paid with loans obtained from EPF, ETF and Government banks. Daily FT reported that Central Bank printed a record Rs. 650 b in 2020. The treasury warned Government organisations that no additional funds would be allowed beyond the budget allocations. Meanwhile the country's forex reserves fell by $ 306.4 m to $ 5,549.3 in November 2020 from a month earlier.
The Government has contacted India, China and Japan help for settling foreign commitments. New Delhi provided $ 400 m currency swap in 2020, and SL has requested further $ 1 b currency swap with Reserve Bank India and further $1 b debt moratorium on loans Sri Lanka owes India. China has pumped in $ 500 m in 2020 out of a $ 1.2 b syndicated loan through China Development Bank. Sri Lanka has approached Beijing for further $ 1.5 b currency swap. Above shows the critical nature of our relations with India and China. But let's see our past relations especially with India.
Transition of India from enemy to a friend
When Indian Air Force dropped dhal to Jaffna, followed by signing the Indo-Lanka Peace Accord of 1987, training and arming LTTE with escalating ethnic war made Sri Lanka look at India as an enemy. But when Rajiv Gandhi was killed by a woman LTTE cadre, Indian government's attitude changed. During the final years of war, India gave military and diplomatic support to defeat LTTE.
After ending the war, India assisted Sri Lanka with rehabilitation of railway, housing for war victims, ambulances countrywide and educational scholarships. But for Gotabaya and Mahinda Rajapaksa who led the war, it may be difficult to change their attitudes towards India.
The two countries signed a number of agreements over the years, but only working arrangement was the transfer of oil tanks in Trincomalee. Even there, further investments proposed were ignored. Today more than ever Indian help is essential, we can start with the East Container Terminal agreement signed by the previous government.
East Container Terminal
The development of ECT commenced in 2013 and first 400 m of the 1,200 m long jetty was completed and tenders were called for container handling cranes. With the government change in 2015, Minister of Ports and Shipping Arjuna Ranatunga cancelled the tender claiming that previous management was corrupt.
Under Ranil W. Government number of proposals surfaced to develop ECT, but nothing materialised. Under these background in May 2019, SLPA signed a Memorandum of Cooperation with India to jointly develop the East Container Terminal.
During the previous regime the Cabinet accepted extending JCT and importing container handling cranes. Although JCT was not extended, cranes arrived in Colombo that were ordered by the previous Minister. The cranes were unloaded at ECT and SLPA workers demanded ECT should start operations with arrived cranes. When the government was reluctant, SLPA workers stopped work bringing port to standstill as container movement got disrupted. With the general election around the corner, PM had discussions with Trade Unions and the strike ended. ECT commenced operations with the arrived cranes. Trade Unions claimed the PM agreed not to hand over the ECT to India, but no comments from PM.
When the port workers struck work, also when workers were infected with Corona virus, Port was unable to handle the container traffic resulting ships in queues and bypassing Colombo, indicating the critical handling capacity of Colombo Port.
Trade Unions' love for ECT
Public would recall the days prior to private investments in Colombo Port, when all operations were handled by SLPA. Strikes, go-slows were rampant with ships queuing outside the harbour for long periods was the norm. Trade Unions were powerful and called the shots. They love to get back their lost power and getting ECT under SLPA would fulfil their dreams. Their selfish needs are beyond their love for the country and are supported by JVP politicians who lost their voice in parliament. Thus, SLPA taking over ECT would be a big blunder.
India to assist Sri Lanka
India is concerned of Chinese influence over Sri Lanka and wish for joint ventures with SL balancing Chinese. Thus, in addition to joining hands with ECT, India wishes to develop Trincomalee as a regional petroleum hub as proposed by Indian PM on number of occasions.
The country needs several investments urgently, but lack finances to implement. The country expects assistance from friendly countries to overcome payment issues. But extending current payments and new loans would extend payment needs for a foreseeable future. Thus, investments need to be joint ventures.
Developing
Trincomalee oil tanks
Oil tanks in Trincomalee numbering 99 were built by British during late 1930s, each with 12,100 metric ton capacity. Only 15 tanks are used by Indian Oil Corporation (IOC). The remaining 84 tanks are unutilised and refurbishment would cost around $ 2 million, yielding 1.2 million metric tons of storage, far in excess of domestic requirement. The refurbished tanks with spacious sea and land would allow establishing South Asia's energy hub, as proposed by Indian PM.
The proposed energy hub would include
a. Crude and refined oil storage
b. An oil refinery
c. LNG import, gassification plant and storage
d. Gas based electricity power generation
The size of each plant could be based on local requirement and export capability. Establishment would allow stabilised fuel supply from world oil price variations, cheaper gas-based electricity, also supplying gas to existing generating plants.
Establishing above projects would be extremely expensive, but Japan has indicated to fund the projects sponsored by India and some were proposed by Japanese earlier. In addition, other prospective investors too could be invited to participate.
All above would-be joint ventures and foreign investments would help to stabilise foreign currency levels and operations would bring in foreign exchange, technical know-how and employment to locals.
Development of Trincomalee would balance involvements between China, India and Japan. In addition, with close corporation of USA with India and Japan, would result USA looking at Sri Lanka in more favourable terms.
Indian Minister's visit
Indian Minister of External Affairs Dr. S. Jaishankar visited Sri Lanka few days ago. He urged the Sri Lankan Government to satisfy the expectations of the Tamil people and fulfil the Government's commitments on the 13th Amendment to the Constitution. He stated, "It is in Sri Lanka's own interest that the expectations of the Tamil people for equality, justice, peace, and dignity within a united Sri Lanka are fulfilled."
Better late than never
Gotabaya Rajapaksa during the presidential election was silent on ECT issue. Few days ago, he called a meeting with port trade unions and explained that ECT will not be sold or leased to Indians. But he failed to inform that he is honouring an agreement reached by the previous government with India and
Adani group was selected by the Indian Government.
Developing the north was neglected by successive governments and current government is same. Moragahakanda scheme's most expensive infrastructure is already complete, but collected water is wasted. Meanwhile, northern citizens suffer without water for cultivation. If water from the south is delivered, hard-working northerners will cultivate onions, potatoes, chillies etc making the country self-sufficient. If northerners are given the option between water or Provincial Councils, they would definitely select water from the south. When the Government wishes to construct infrastructure to deliver water to north, foreign governments as India, Norway and US will help financially.
Development of ECT and Trincomalee Port with Indian assistance as number of joint ventures with funding from Japan, will balance foreign relations with China. Moragahakanda water will satisfy the economic needs of Tamil people and Provincial Councils would become irrelevant, allowing the government to revise the Constitution. The contended India would take action to end poaching by Indian fishermen in our territorial waters. The actions will help the country a financial turnaround with Indian assistance, a win-win situation, better late than never.