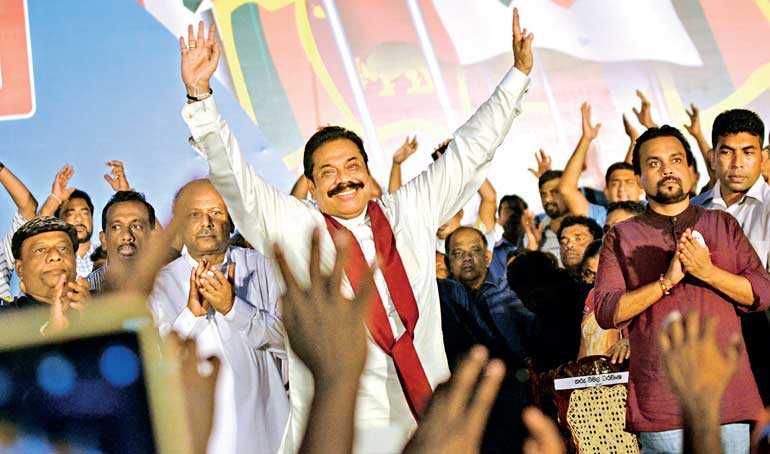 Mahinda Rajapaksa's return to the seat of power as Prime Minister (albeit under the President) is a political success story – Pic by Shehan Gunasekara
---
Mahendra Percy Rajapaksa known to the world as Mahinda Rajapaksa has been sworn in as Prime Minister of Sri Lanka for the fourth time at a grand ceremony held within the precincts of the Kelaniya Raja Maha Vihara.



The Kelaniya Buddhist temple is venerated by Sri Lankan Buddhists who believe Lord Buddha visited the place during his third and last journey to the island. Besides the belief of being hallowed by the Buddha's visit, the Kelaniya Raja Maha Vihara has also acquired a certain amount of political significance in recent times due to its linkage with leading families in the hierarchy of the United National Party (UNP). In the current situation where the UNP led by Ranil Wickremesinghe has been electorally vanquished by the Mahinda Rajapaksa-led Sri Lanka Podujana Peramuna (SLPP), the swearing in ceremony being conducted at the Kelaniya Vihara is somewhat symbolic of that political triumph.

Mahinda Rajapaksa was sworn in as Premier for the first time in April 2004 under President Chandrika Bandaranaike Kumaratunga. It was that premiership which paved the way for Mahinda's elevation as President in November 2005. Mahinda's second shot at being Prime Minister in 2018 was an ignominious fiasco. He teamed up with President Maithripala Sirisena who ousted the legitimate Prime Minister Ranil Wickremesinghe and appointed Mahinda Rajapaksa in his place as PM. Mahinda could not cobble together a majority while many of his MPs ran riot in Parliament. Finally the eight-week-long illegitimate Government was put out of its misery by conclusive verdicts from the Supreme Court as well as the Court of Appeal.

Mahinda Rajapaksa's third stint as Prime Minister began in November 2019 after his younger brother Gotabaya Rajapaksa was elected President. Gota's success was in a sense Mahinda's victory as he had campaigned effectively for the former. Mahinda himself was unable to contest the presidential election due to the 19th Constitutional Amendment which prohibited persons who had been President twice from contesting again. As is well-known, Mahinda Rajapaksa was elected to Presidential office in 2005 and again in 2010. He contested for the third time in 2015 and lost. Mahinda himself ushered in the 18th Constitutional Amendment earlier to enable his contesting a third time. Thereafter the new 'Yahapalanaya' Government brought in the 19th Amendment and re-imposed earlier limits.

When Mahinda was appointed PM in 2019, he did not have a majority in Parliament. Though the incumbent PM Ranil Wickremesinghe seemed keen to continue relying on 19 A provisions, he was once again undercut by Sajith Premadasa and accomplices who began resigning their ministerial posts. This led to Ranil quitting and Gotabaya in tandem with Mahinda formed a new Government. PM Mahinda's position was insecure as the opposition had the Parliamentary majority. The Rajapaksas bided their time until dissolution of Parliament by the President was constitutionally possible. President Gotabaya dissolved Parliament on 2 March and fresh elections were scheduled for 25 April. Polls were postponed twice due to the COVID-19 pandemic threat and finally held on 5 August. The SLPP spearheaded by Mahinda Rajapaksa registered a sweeping victory winning 145 of 225 seats in Parliament. Mahinda was sworn in as Prime Minister on 9 August. The new cabinet is likely to be sworn in today (12 Aug).
Political success story
Mahinda Rajapaksa's return to the seat of power as Prime Minister (albeit under the President) is a political success story. After Mahinda lost the Presidential Election and leadership of the Sri Lanka Freedom Party (SLFP) to Maithripala Sirisena in 2015 there were calls for him to quit politics. This was reinforced further after Parliamentary Elections in August 2015 when the 'official' SLFP formed a coalition Government with the UNP and Mahinda was denied Leader of the Opposition status despite having the most number of supportive MPs in the opposition. On the other hand Mahinda loyalists headed by Dinesh Gunawardene, Vasudeva Nanayakkara, Wimal Weerawansa and Udaya Gammanpila held a series of political rallies urging the return of Mahinda.



There were many in the 'Yahapalanaya' camp who were cock-a-hoop at this state of affairs and were predicting a 'retirement' by the Lion of Ruhunu. This writer in an article written in November 2015 – on the occasion of Mahinda's 70th birthday – for the 'Daily Mirror' stated that Mahinda Rajapaksa would not opt for retirement and would plunge into politics zestfully and seek a comeback. I outlined three main reasons for such a stance by Mahinda then. Here are the relevant excerpts:

"Why is it unlikely that Mahinda Rajapaksa would quit politics at this point of time and retire? There are three reasons. One is the combative personality of Mahinda Rajapaksa. In the words of Dylan Thomas, Mahinda is one of those who would 'rage against' what he may consider as 'the dying of light'. One cannot imagine him going out 'gently into that good night'.

"The second and more important reason is that he cannot retire from politics at present even if he wants to. He cannot afford the luxury of retirement as J.R. Jayewardene, D.B. Wijetunge or even Chandrika Kumaratunga. Ghosts of the past haunting him at present would not leave him and/or his extended family alone in the future. There is a Chinese saying that the winds will not let a tree remain still even if it wants to. That aptly sums up Mahinda's present situation."

"The third reason is Mahinda Rajapaksa's self-perception of being the chosen guardian of Sri Lanka and divinely sanctioned saviour of the Sinhala Buddhists. There is no denying that the separatist threat posed by the Liberation Tigers of Tamil Eelam (LTTE) was defeated militarily due to the political leadership provided by Mahinda Rajapaksa. In his mind, he was the one who defeated the perceived enemies of Sinhala Buddhism and restored the majority community to its rightful place in the country. Yet he was defeated at the presidential elections by the votes of the Tamils and Muslims. Nevertheless it was he and not Maithripala who gained greater support among the Sinhala voters. This Sinhala vote base got further eroded at the parliamentary elections but analysts say the UPFA got more 'Sinhala' votes than the UNFGG at the 17 August polls. It is this third reason that will provide greater impetus to Mahinda Rajapaksa in continuing to be in politics." Those words stated in November 2015 were subsequently proven true. Mahinda not only remained in the political scene but also actively engaged in politics. Though Mahinda had won handsomely in the Kurunegala district, he had been somewhat lackadaisical politically. But he began to be more active gradually. Mahinda's brother Basil Rajapaksa regarded as a master political strategist floated the Sri Lanka Podujana Peramuna. The new party swept the polls in the seven provinces outside the north and east at the 2018 local authority polls. This altered the political power balance in the country. After the short-lived October 2018 Government episode ended, Mahinda became the accredited leader of the opposition. Finally Mahinda Rajapaksa took over the leadership of the SLPP formally in August 2019. Gotabaya Rajapaksa was proclaimed as the official SLPP presidential candidate at the same event. The rest as they say is history!
Why did DA name his second son Mahendra?
Mahinda's father Don Alvin (DA) Rajapaksa was the younger brother of Don Mathew (DM) Rajapaksa. DM Rajapaksa was elected to the State Council from Hambantota in 1936. He passed away in 1945 and was succeeded by DA Rajapaksa who was elected uncontested at the by-election.

Don Alvin Rajapaksa married Dona Dandina Samarasinghe Dissanayake of Palatuwa, Matara. They had nine children – six boys and three girls. Their names in the order of age are Chamal, Jayanthi), Mahinda, Tudor, Gotabaya, Basil, Preethi, Dudley and Gandini. Though called Mahinda by family and friends, his given name at birth was Percy Mahendra. Why did DA name his second son Mahendra? Former Secretary-General of Parliament and Ombudsman Sam Wijesinghe who was also related to the Rajapaksas revealed the answer..

Delivering the DA Rajapaksa memorial lecture in December 2005 Wijesinghe stated as follows: "After D.M.'s death in May 1945 and the entry of his brother, D.A. into politics, I took George (DM's son), who had just passed the entrance examination, to the University hostel (Brodie), which was then at Ward Place. D.A. as a new Member of the State Council used to come to the hostel to see his nephew. On one occasion, I was reading from Nehru's book 'Discovery of India', when he dropped in, I left the book aside and was talking to him. He casually mentioned that his wife was expecting another baby. I told him, 'Uncle, that will be a son of the Member of the State Council'. But he said that he already had a son and a daughter and then I humorously suggested to him that they were born before he entered State Council, but this one will be the son of the State Councillor."

"Then I showed him the page of Nehru's book, which I was reading when he came in and read out: 'Emperor Ashoka's messengers and ambassadors went to Syria, Egypt, Macedonia, etc. conveying his greetings and Buddha's message. They went to Central Asia and Burma and Siam and he sent his own son and daughter, Mahendra and Sangamitta to Ceylon in the South'. I asked him rhetorically – 'Why don't you call him – Mahendra?" Several months after, when he met me, he said, 'I gave that name'.
The mischievous child
DA Rajapaksa's eldest Chamal and second son Mahinda were extremely attached to each other as children. Chamal and Mahinda were admitted by their father to his alma mater Richmond College, Galle, run by the Methodist Church then. According to information provided by Buddhika Kurukularatne in his eminently readable series of articles published in 'The Island' under the column 'Men and Memories,' Mahinda was a naughty child but quite studious. The brothers were initially boarded at the residence of Weeraketiya village council chairman Bandara.

Mahinda then six years old had cried when his father and mother left after leaving him with the Bandaras. He had also refused to go to school the following morning. Mrs. Bandara however had dressed him up and taken him to school. After a few days Mahinda and Chamal together with other students in the vicinity began walking to school and back.

Mahinda got well-noted for his mischievous ways then. He would often shake his little suitcase from side to side while walking. Another habit was to keep kicking stones like playing football. He was also fond of walking on the railway track and would place coins on it before a train approached. Mahinda was apparently delighted by the sight of flattened coins after the train ran over them.

Another amusement was to climb a rock by the rail track and hoot at passengers. Mahinda also liked to play 'Tarzan' at times. There were large 'pusbatri' creepers hanging from two huge mango and breadfruit trees near a junction. Mahinda, like the Tarzan of Edgar Rice Burroughs, would jump and hang on to the creepers, swinging wildly like the ape man did.

A dangerously interesting encounter was with a tame elephant tethered in the compound of a house. Excited by seeing the pachyderm at close quarters, young Mahinda ran up to it and hit the jumbo on its legs and challenged it. Fortunately the good-natured elephant took no notice of the tiny brat who was pulled away by grownups (perhaps Mahinda's anti-UNP tendencies came to the fore when he saw the elephant).

Mahinda's stay with the Bandara family did not last long. Young Mahinda's mischievous conduct made Mr. Bandara often resort to the cane in a bid to discipline the 'Manthrithumage Putha'. Naturally Mahinda resented it. He would often run away before the elderly Bandara could reach him with the cane. Matters came to a head when Mahinda threw a stone at Bandara and drew blood. The boy ran away to another house and refused to return.

Finally Mahinda's mother had to move to Galle and rent a house and live with her children Chamal, Jayanthi, Mahinda and Tudor. The house was known as 'Singapore House'. This helped things and soon Mahinda began studying well. He took away the class prize when in the upper kindergarten and in standard two for two years in succession.
Climbing high and making demands
There was a small playground nearby which was close to the railway station. The boys used to play cricket there in the evenings and weekends. Once young Mahinda wanted to bat but was not allowed to do so. Peeved by the refusal, Mahinda went near the railway station and climbed the steel ladder to the top of the signal post, refusing to climb down unless he was given a batting chance.

It appears that Mahinda had often resorted to climbing high and making demands. According to a story related by Chamal Rajapaksa to Buddhika Kurukularatne, Mahinda had once climbed a huge cashew tree in the Medamulana house compound when their father had attempted to cane him for some prank of his. Mahinda had run away and climbed to the very top of the cashew tree. He demanded that his father should throw the cane away if he wanted him to get down from the tree. With a lot of support from a very frightened and concerned mother, Mahinda won his first demand, with the father meekly giving way by acceding to his son's ultimatum.

Another story about mischievous Mahinda lingering in the collective memory of his Medamulana household was about how a missile thrown by D.A. Rajapaksa's second son collided with Sir John Kotelawela. D.A. Rajapaksa had gone to see the laird of Kandawela at Ratmalana. Chamal and Mahinda were in the car. While the loku putha remained in the vehicle, podi putha had got down and plucked a mango. He was happily chewing on it when Sir John and his father came out. Seeing Mahinda and the mango, Sir John had humorously asked the boy who gave him permission to pluck and eat the mango. Angry at being questioned, the enraged boy had thrown his half-eaten fruit at Sir John hitting him in the chest. An embarrassed D.A. apologised profusely, while an amused Sir John chuckled at the boy's impertinence.

Mahinda's parents moved to Colombo in the mid-fifties. While Chamal and Jayanthi were placed in the hostels of Richmond and Southlands respectively, the younger kids including Mahinda were taken to Colombo. Mahinda was enrolled at Nalanda College. After a few years he was moved to Thurstan College in 1957. After a few years Mahinda's mother went back to Medamulana and D.A. Rajapaksa began staying at the Shravasti MP hostel. Mahinda was first boarded at a home near Thurstan College but later began residing more and more at Shravasti itself than in the boarding. Often he would travel to and from Shravasti to Thurstan.

According to contemporaries at Thurstan, Mahinda was an impish student in College who often fell foul of the master in charge of discipline – the late Kingsley Fernando. Mahinda played cricket and rugger. He was good in batting being a 'polladiya' but was a horrible fielder known for repeated 'bokkus'. In rugger he played in the pack as both prop and lock forward. He was good in athletics also and was the putt shot champion. Mahinda also ran in the 4x400 relay team. He was also a good orator and debater in Sinhala.
Enamoured of left-leaning politics
Mahinda left school after sitting for his A/Level examination and worked as an assistant librarian at the Vidyodaya Oirivena later to be made the Vidyodaya campus and now the Sri Jayewardenepura University. Colleagues remember him as a jovial, fun-loving person. 'Kana bona minihek' (eating, drinking man), described one. (Of course nowadays he is both a teetotaller and a vegetarian.) It was during this time that Mahinda got enamoured of left-leaning politics. He became a card carrying member of the Ceylon Mercantile Union (CMU) and was elected CMU branch secretary in 1967.

Meanwhile elder brother Chamal Rajapaksa joined the Police force as a Sub-Inspector. Their father D.A. Rajapaksa who had lost elections in 1965 passed away on 7 November 1967. SLFP Leader Sirimavo Bandaranaike offered the post of party organiser for Beliatta to Chamal after D.A. died. Chamal however declined and recommended his malli Mahinda instead. Initially Mrs. Bandaranaike was hesitant thinking Mahinda was too young and somewhat irresponsible. Later on she relented and appointed Mahinda as Beliatta Organiser in 1968.

This brought about a marked change in Mahinda. He buckled down to the task and strove to meet the challenge. He gave up his Assistant Librarian job and relocated to Medamulana. He began working with the people at grass roots level. All the Rajapaksa brothers had been nurtured and brought up in a simple, down-to-earth lifestyle by their parents. Thus it was quite easy for Mahinda to capture the hearts and minds of the ordinary people. Besides, the name Rajapaksa casts a magic spell on the denizens of Giruwapattuwa.

The 1970 elections saw the United Front sweeping the polls with the SLFP getting 91 seats and the LSSP and CP winning 19 and 6 seats respectively. Percy Mahendra Rajapaksa defeated his rival from the UNP, Dr. Ranjith K.P. Atapattu. Mahinda got 23,103 votes and Ranjith 16,477. In 1977 the roles were reversed with Ranjith Atapattu winning with 24,289 votes while Mahinda Rajapaksa got 17,896.

Interestingly Mahinda's father D.A. Rajapaksa and Ranjith's father D.P. Atapattu had been rivals contesting Beliatta in each election from 1947. Sadly both fathers were not alive to see their sons become Beliatta MPs.

Mahinda Rajapaksa from Beliatta and Edwin Wickremaratne from Mahiyangana were the youngest MPs in the newly-elected Parliament. It is widely-claimed that Mahinda was the youngest MP then, though there are some who say Wickremaratne (who is no more) was younger by a few months.

Those were the days when ministers were proportionately few and the fresher Mahinda remained a backbencher throughout the life of the 1970-'77. Mahinda celebrated the golden jubilee of his entry into Parliament on 27 May 2020.


(D.B.S. Jeyaraj can be reached at dbsjeyaraj@yahoo.com.)