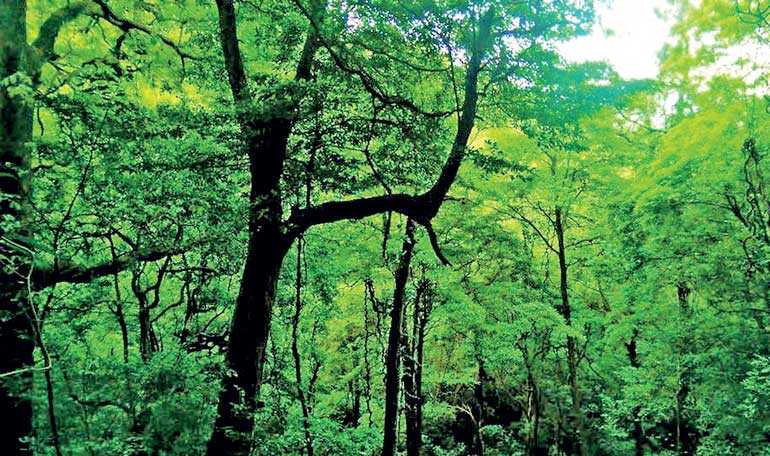 The value of natural resources in Sri Lanka such as Sinharaja, the wetlands or the mangrove forest, which are world heritage sites, cannot be monetarily assessed
---
The rape of the natural environment in Sri Lanka
Newspapers in Sri Lanka are replete with references to many incidents of deforestation, illegal logging and other natural disasters across the country. Incidents were reported in Hanthana in Kandy, Kalpitiya Mangrove Forest, Knuckles Forest Reserve, Negombo Lagoon Mangrove Forest, and Lankagama village in Sinharaja. The clearing of more than 200 acres of forest land in the Eluwankulama Mangalapura in Wanathawilluwa felling more that 400-500 years old trees and the clearing of the Anawilundawa Wetland Sanctuary (RAMSAR site) with unique mangroves are other cases in point.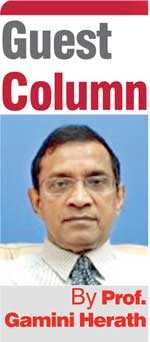 Forests in Sri Lanka sequester carbon dioxide and improve air quality, biodiversity, and contain over 50% of the country's endemic species of mammals and butterflies, and many reptiles and rare amphibians. In the 1920s, Sri Lanka had 49% forest cover, but by 2010, 28.8% or about 1,860,000 hectares of Sri Lanka was forested. Wetlands act as a natural habitat and refuge for hundreds of species of water birds, threatened fish and mammals. According to reports made in 2010, Sri Lanka had about 12,000 ha mangrove cover, which has fallen to about 8000 hectares due to mangrove clearance.

Another clear case of mismanagement is Sri Lanka's cascaded small tank system that drought proofs paddy cultivation but poor maintenance of the tanks led to water scarcity and abandonment of paddy cultivation by farmers. Recently, President Gotabaya Rajapaksa ordered rehabilitation of 5,000 tanks scattered across the island to cultivate 120,000 abandoned paddy lands. Over 14,000 rural tanks will be renovated this month, according to Irrigation Minister Chamal Rajapaksa to increase paddy production.

But the network of small tanks in Sri Lanka represents a socio-ecological system with deeply interactive relationships between water resources and social systems. Rehabilitation of tanks must be done in an ecologically sustainable manner which takes into account all aspects of the tank environment including the catchment area and forests. Recently President Gotabaya Rajapaksa strongly criticised tank rehabilitation because ancient techniques and scientific methods of water retention were not used. Such shortcoming should be avoided and rehabilitation should proceed in a manner specific to each area and tank under a common criterion. Here the President has hit the nail right on the head on tank rehabilitation.

Sri Lanka already has more than 10,000 hectares of oil palm but biodiversity decreases by about 85% in Southeast Asian oil palm plantations when contrasted with unchanged habitat. President Gotabaya Rajapaksa recently banned any extension of oil palm in Sri Lanka which is a favourable decision for the environment.

The brief narrative above reflects the collapse of environmental consciousness among the Sri Lankan population and policy makers. Growing scarcity of freshwater, climate change (CC), frequent droughts and floods, loss of biodiversity, are the consequences of the destruction of critical natural resources. The COVID-19 pandemic is the latest—but certainly not the last—emerging infectious disease. According to scientists, these diseases result from pathogens being transmitted from animals to humans. To protect against zoonoses, we require an end to deforestation and protection of conservation areas.
Why and how is the Sri Lankan environment destroyed?
The short termism of government, holistic and interconnected nature of natural resources, ignorance about the nexus between economic development and the natural environment, difficulty of assigning monetary values to nature, disjointed decisions, absence of stakeholder participation and consultation and most importantly, political interference and connivance at all levels are some of the reasons for this state of affairs which I elaborate below.


Short termism of governments
Policy making and planning should transcend narrow political perspectives to address environmental issues. Current governments are short term and are held accountable only in the here and now, while environmental issues and economic development are long term phenomena. Policy decisions are based on short run political opportunities and the more easily quantifiable economic parameters such as logging, agriculture and non-timber forest products etc. This dissonance between short run political gain and long run sustainable development of tropical forests is a serious hindrance to forest conservation. Recently a brother of a Minister was remanded for clearing a wetland (rule of law must prevail).


Holistic nature of the environment and the interconnections
Better management of the environment depends upon an appreciation of the holistic nature of the ecological system. Policy makers however, conceptualise environmental policy by focusing on only one or two specific environmental problems—e.g., deforestation, water pollution). The truth is that no part of the environment can be considered in isolation from any other part. An ecological approach must treat the natural environment as an integrated system to promote a holistic model of the environment with broader interdisciplinary relevance. The approach is multi-dimensional and involves ecological, socio-economic, and political processes and making difficult tradeoffs among these multiple objectives.
A holistic approach in the use of land, soils, vegetation, would enhance land and water productivity, community welfare, flood control and conservation of the resource base to ensure sustainable use. Ecosystems such as forests, wetlands, mangroves, village tanks, irrigation ditches have complex interconnections. Forest clearing for example, may cause water scarcity for paddy cultivation, extinction of species and CC. It can cause major fluctuations in annual rainfall patterns and water shortages threatening food security.

Hence paddy cultivation, forest clearing, CC, and food security are intrinsically linked and cannot be separated. The emphasis on meeting human needs of food and fibre done at the expense of the environment will thus not be effective for sustainable development. Many policy opportunities present themselves to reduce poverty by protecting the ESS. We need serious rethinking of our environmental, political, economic and social systems in consultation with intelligent, well recognised-researchers (Prof. Nimal Gunatilleke and Prof. Savitri Gunatilleke of the Botany Department of Peradeniya University spent most of their life in Sinharaja researching on biodiversity) to promote the need for a holistic view of environmental policy.

Proper planning frameworks are needed where the multiple issues in of management are objectively, critically and comprehensively assessed. Sri Lanka has too many ministries dealing with the environment to help people to organise their interactions with nature. This is highly unscientific because environment is one holistic entity and it does not recognise artificial ministerial boundaries. A wide range of ministries and government agencies has jurisdiction over the environment and this overlap of responsibilities has created cross-jurisdictional problems and inter-ministerial tensions in certain areas further facilitating the destruction of nature. Creating one ministry for the environment will internalise the externalities leading to a more sustainable environment.


Common property and the 'tragedy of the commons'
Environmental resources are called 'common property resources' because there are no individual property rights. In 1968, ecologist Garrett Hardin wrote, "Ruin is the destination toward which all men rush, each pursuing his own best interest in a society that believes in the freedom of the commons". This is called the 'Tragedy of the Commons'. In Sri Lanka where fisheries, forests, and wetlands are threatened by selfish individuals taking what they can, even though they know the resource will be wiped out if everyone does the same. Lacking any higher authority to rein in the selfishness of people, Sri Lanka's natural environment is doomed. The sad irony is that even politicians are involved in this rape of our natural resource base.
Late Prof. Elinor Ostrom of Indiana University USA, who received the Nobel Prize for economics in 2009 suggested that commons pool resources such as forests can be managed better by local communities or collective action. Farmer-owned irrigation systems did better than government-owned irrigation systems despite generally being low-tech constructions, in contrast with what Ostrom called the 'fancy engineering' of the government systems. Forests in South Asia where local users are involved in rulemaking, forests tend to be healthier in ecological terms, with high biodiversity.

The recent circular by the Government soliciting applications from squatters to legalise their plots was highly unwise because it opens the floodgates for further encroachment with the hope that these new plots will also be legalised. This is legalised 'tragedy of the commons'. Fortunately this circular has been withdrawn by the President. Big bang decisions are not the best choice in circumnavigating the complexities of natural resources management. Expert opinion, consultation, deep introspection and collectivity in decision making are critically important.


Stakeholder participation in decision making on the environment
The weak standards of governance of nature elicited a cascade of unsustainable actions across the country with little planning. This storm of development policies brought financial returns for specific sectors (e.g. tea, oil palm, large corporations, etc.) but caused extensive modifications to landscape structure, vegetation cover, and aquatic ecosystems (e.g. major rivers now have a cascades of dams where natural flow regimes have changed.). Moreover, the loss of ecosystems and biodiversity has impacted economic well-being due to the spread of diseases and pests; noxious invasive species or the loss of extractive and touristic resources, freshwater, and arable land.
In Sri Lanka stakeholder involvement in natural resources management decisions has been inadequate. Participation of civil society, private sector, academia and the professionals can play a pre-eminent role in implementing an ecological approach. The Sri Lankan Government must prioritise goals with in-depth consultation with experts and stakeholders, Governments must create a common language and approach across sectors, fostering cross-sector collaboration. It will focus on the synergies to develop cross-cutting coordination mechanisms, facilitate research and innovation and build capacity to respond to emerging environmental issues.


Value of natural resources
The value of natural resources in Sri Lanka such as Sinharaja, the wetlands or the mangrove forest which are world heritage sites cannot be monetarily assessed. Lack of proper values of natural environment lead to agricultural expansion, commercial use, higher consumption, and exploitation creating unsustainable ecosystems. Value of nature consists of the value of clean air, clean water, biodiversity, peace and quiet and even cultural elements. The inclusion of the benefits of nature such as the aesthetic experience, spiritual and religious values, cultural heritage values, beauty, the peace and isolation would allow incorporation of ecological, social and economic factors into management decisions. Such an approach would lead to environmentally benign and acceptable trade-offs between economic, environmental, and social values and an effective balance between the different uses of nature. The forest Ecosystem services is the pillar of Bhutan's Gross National Happiness.

Despite rapid development of valuation methodologies for nature, there no evidence of these being used in Sri Lanka. Economists have estimated the value of global ecosystem services to be around $ 33 trillion/year. Costanza et al (1997) also estimated the annual losses due to land use change to be between $ 4.3 and $ 20.2 trillion a year of losses to ecosystem services. The Arunachal Pradesh forests in India, covers more than 81% of the state's geographical area provide Rs. 518 billion per year of ESS in 2015. For example, pollination services by insects have monetary value and it helps to feed the world which is worth around $ 200 billion per year
International development initiatives ‍
Many global environmental agreements have been initiated to ensure that the global commons is protected for future generations. Sri Lanka is a signatory to many international agreements on environment and development over the last few decades. We have failed to fully implement these agreements. The Millennium Ecosystem Assessment (MEA) of 2005 is a significant initiative which brought ESS into the mainstream of conservation and sustainable development (SD). In 2010, 196 countries met in Aichi, Japan, to initiate a 10-year plan known as the Aichi Biodiversity targets. Sri Lanka is a participating country in the UN Biodiversity Convention and operates through the Biodiversity Secretariat set up in the Ministry of Mahaweli Development and Environment. The IPBES (Intergovernmental Platform for Biodiversity and Ecosystem Services) of 2012 highlights the importance of linking people to biodiversity, ecosystems, and non-living natural resources such as deep aquifers, mineral and nature's benefits to people. The Environmental Sustainability Index (ESI) which relies on more than 20 'elements of environmental sustainability', and the Ecological Footprint Index (EF) which relies on bio-physical measures of sustainability are very useful guidelines for governmental action.
Another broader initiative for development is the United Nations Sustainable Development Goals (SDGs) of 2015 which promoted 17 sustainable development goals (SDGs) and use resilience of forests and other terrestrial ecosystems, and biodiversity loss included in SDG 15 and 13 which is most appropriate for Sri Lanka's environmental health.

President Gotabaya Rajapaksa addressed the United Nations Summit on Biodiversity on 30 September. He stated: "Sri Lanka is home to two UNESCO Natural Heritage Sites: The Central Highlands, and the Sinharaja Rain Forest Reserve. We are also proud of our six sites recognised under the Ramsar Convention on Wetlands. Sri Lanka firmly stands committed to protect and sustainably manage these natural assets that contribute to our unique and rich biodiversity." President Rajapaksa told the virtual gathering held under the theme of 'Urgent action on biodiversity for sustainable development'.

"There is a critical need for a transformational change in the relationship between nature and people and contemporary global environmental governance," he remarked. But where is Sri Lanka in actually following these international agreements still remains an open question. Our concurrence with these regulations is woefully inadequate and in fact we have a lot of thunder but no rain.
Policies for environment and development: Some new perspectives ‍
Sri Lanka needs a new development paradigm to face the challenges of the 'new normal' post COVID-19 where we should achieve environmental conservation, build climate resilience and empower communities. An ecological approach should be fundamental in this thinking. The Ecosystem thinking enlarges the focus beyond one's immediate needs and a willingness to participate in collective good of the greater society. The care of the environment cannot be exercised as and when convenient.
The focus must shift to non-consumptive uses of nature, more with wildlife and vegetation scenery, bird watching limiting unacceptable environmental impacts but with added economic benefits to communities such as nature tourism which can preserve species and habitats, and provide revenue to the local community. Sri Lanka may have potential to attract such nature tourists if planned innovatively.

We can facilitate ecotourism in the National Namal Uyana which only place in Sri Lanka with the largest number of Na trees. National Namal Uyana, was made a National Heritage Site in 2005. Ven. Rahula Thero in charge of this Uyana proposed a cable car project but this will destroy the pristine purity of Namal Uyana and it should never be implemented. Similarly a lift to reach the top of Sigiriya rock was proposed which may sound exciting but I totally reject this idea because simple walking to the rock and climbing it with others is more exciting. Any lift will lead to further infrastructure slowly surely will destroy its romantic pre-eminence.


The Precautionary Principle
The 'Precautionary Principle' (PP) should be applied to all projects. The PP can be used when 'complete' scientific evidence of damage to the environment is not available. The PP focuses conservation policy away from the current generation to future generations and changes the burden of proof to the resource developers and users. A motorable road may be considered for the poor but if it destroys protected forest areas causing irreversible damage, say to Sinharaja. But this decision is not that simple. Development policies must achieve balance between meeting the needs of people and sustainable forest management and at the very least we should have ordered a credible environment impact assessment (EIA) before any action.


Carrying capacity concepts for nature conservation
Social carrying capacity (SCC) is the maximum number of visitors allowed which combines real biological impacts as well as social impacts to minimise the impact of human activity on nature. Good examples are the national parks in Sri Lanka. Recently, the newspapers highlighted how fast moving vehicles at the Horton Plains National Park cause serious problems to many animals including Sri Lanka's dull-blue flycatcher, an endemic bird. This species has been already identified as Near-Threatened (NT) by the International Union for Conservation of Nature (IUCN), meaning it faces the risk of extinction in the near future. This concept applies to all national parks in Sri Lanka.
An important question is whether Sri Lanka is responding appropriately to protect their wildlife, forests, wetlands, waterways and other natural resources by maintaining ecosystems. Perhaps not because Sri Lanka has serious socioeconomic problems (e.g. poverty, starvations, poor health, lack of basic services), and environmental issues have been pushed into the backburner. It is critical to note that the ongoing loss of natural capital will thwart the achievement of all developmental objectives in the long term. Political systems are vulnerable to weak governance and wrong decisions which leads to failed policies, and the persistence of social problems and the destruction of ecosystems.
Innovative use of ecosystems for development
Ecotourism or nature tourism ‍
Innovative thinking on the use of ecosystem value, recreation and ecotourism can generate synergies to strike a win-win strategy between environment and development. There are many examples in Asia where ecosystems have been innovatively used for tourism. The recreational value of the bamboo and pine agroforestry systems and the rice, fish farming and bamboo and pine homestead agroforestry systems in Himachal province in India have increased. The indigenous bamboo and pine system and the rice and fish culture of the Apatani tribe of Arunachal Pradesh in India was recognised as a UNESCO World Heritage Site as a unique way of preserving the ecology.
Japan's 'Satoyama' is a response to the decline in village agriculture supporting hiking, bird-watching, wildlife photography, and even helping farmers with their work in the fields and forests. The Kandyan homegardens, or forest gardens of central Sri Lanka are socio-ecological systems with environmental functions associated with high species diversity. The spice gardens in Sri Lanka is a modernised version of tourist attraction which emerged after globalisation in the 1980s.

The rice terraces in Bali, Indonesia often in steep mountainous terrain, provide critical conservation areas for migratory fish, birds and flooded rice within a hydrologically-based ecosystem.


Ecological approaches to the human-elephant conflict ‍
The potential of the ecological approach to the human-elephant conflict was recently discussed by Eng. Mahinda Panapitiya who worked in the Mahweli project since the 1970s. He argues that in the 1970s, elephants were living in harmony with the farming communities dependent on village irrigation tanks but elephants were chased them away to lay the modern canal network. The villagers had also built forest tanks (kulu wewa) exclusively for wildlife and also to replenish ground water aquifer with rains. However, modern commercial-farming methods, destroyed thousands of those storage tanks and pitted ourselves against nature. According to Panapitiya, we can co-exist with elephants if we handle the eco system for food production in an environment friendly manner. Live fences using plants such as lemon, palmyra and bamboo and even bee keeping can be used to prevent elephants from roaming in residential areas which is practiced in Kenya which can be initially implemented in the Right Bank area of Maduru Oya as an experiment. ‍‍‍
Cautionary note for Sri Lanka's future and the environment
The spectre of environmental destruction will continue to haunt Sri Lanka until we integrate environment and development to respond in time to future environmental disasters. Sri Lanka's experience offers a grim cautionary tale of how bad policy, poor governance, primacy of politics, chronic drought and CC, etc. can decimate future economic potential of the country. The complementary nature between ecological systems and economic development which are two sides of the same coin must be fully recognised in all planning models. Such an enlightened vision will help Sri Lanka steer the deeply troubled waters to emerge as a decent country respected and recognised by the global community of nations.
---
(The writer can be reached via: [email protected])
---