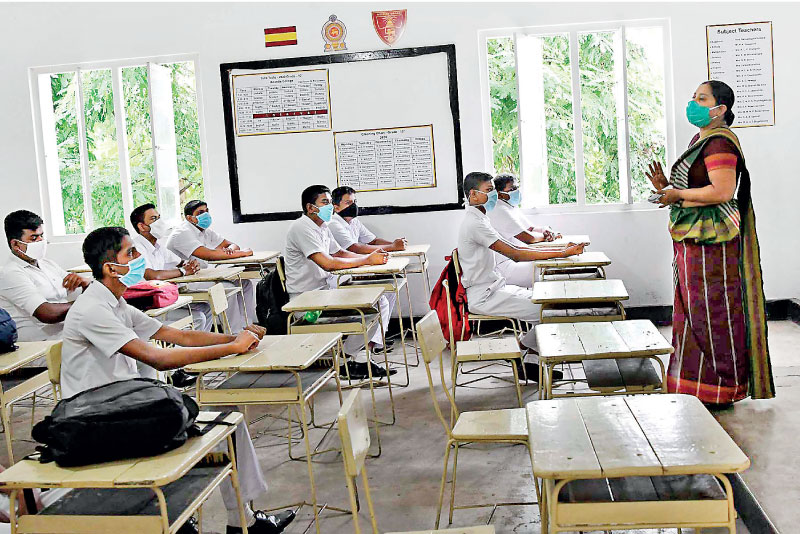 It is time to wake up to reality. Education is the pillar on which the future of our society should be built. At present the system is crumbling – Pic by Shehan Gunasekara
---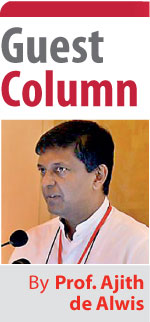 It was Tony Blair who made this call with his education manifesto when his labour party was running for office in 1997. He indicated that he had three priorities in coming to the office and all three had one word – education! He indicated his passion to support this vital sector for the betterment of the UK economy and society as a whole.

It is interesting to note that those who were going to be direct beneficiaries had no vote – Blair's initial funding went to primary education – and we know usually that politicians count votes, not values. Hence definitely this would have been a breath of fresh air. The reason for picking on this line of education to this column is due to the vital importance of this thinking for Sri Lanka at present.

Voters may not be particularly inclined on the importance but I dare say the country is in need of this intervention. The vital importance of education to the wellbeing of a society had been described by many in many ways. Ancient sage Alagiyawanna Mukeveti (1564-1625) expressed what is required for a society: Guna nana balen yuthu puthumaya itha garu.

In the same time Amos Comenius (1592-1670) who is considered as the Father of Modern Education articulated in the same way: A good and wise man is the treasure of a nation. You realise this through the process of education and there is no substitute or an alternative to this process – Education it is!


Extremely worrying situation

The current dataset or the report card as the case may be of the process of education in Sri Lanka is extremely worrying. As we head for the Budget it is hoped that this sector is not forgotten for some meaningful investment and we are at a crucial juncture.

The expenditure in education as a percentage of GDP is quite low and you observe that to be around 1.7% of GDP. When you plot the amount allocated for education over the years the shape of the curve – quite jagged, wayward and overall low the inconsistent policy is obvious. That decent results cannot come from such an investment need not to be argued upon.

The country has a 2.5 lakhs of teachers in the public sector. As per the data the practitioners of the noblest of all professions – teaching – receive the lowest remuneration in the region. Our teachers represent the lowest paid public servants in whole of Asia.

Teaching is held in such high esteem as they mould the future leaders. We expect leaders to come through the process of education. Of course if they appear from outside the process then obviously there is trouble. In Sri Lankan education today there is not the principle of 'one country, one system' – There is a public system and a private system. There is also a thriving tuition system.

Multiple divides have enriched the system – from different school types to resources and services disparities. The participants in the established private education moved through in a timely fashion in a system which is technically well endowed. They managed to be two to three years ahead of those who are in the public system.

Three years in a young life has significant meaning and the public education system appears to be robbing a significant part of one's life due to this. This also deprives someone from energetically contributing back subsequent to learning. This is where the cost of prolonged disinvestment has hurts the economy. Multiple social conflicts are possible when two systems or more exist to serve one objective – education.


Investments in education

That there is a significant issue with investments in education is known. What is perhaps less well known is that Sri Lankan parents spend more money in trying to send their children for overseas education than the sum total the State spends on public education. We also hear that of the budget allocated for education, 95% is spent on salaries. One should again be reminded here that one is not richly rewarded here as salaries. How can one improve on quality with the remaining 5%?

Subsequent to the completion of the tertiary education with free education, a sizeable number leaves the shores almost immediately never to return. What is sad is most of them have their parents almost indicating to them 'please do not worry about coming back, you do not have a future here, we would be quite happy to see you doing well outside'. We appear to be heading for interesting times with such attitudes and practices in place.

Such sentiments are also an indictment of the leadership. It is important to be reminded of the value of the concept – no country is richer than its human capital. We are allowing haemorrhage of human capital, especially the value added segment, without any qualms whatsoever. When the education system is running without establishing the value of life within the student, there is no opportunity to realise responsible citizens at the end of the journey who would aspire to give something back to their own community.

The sad truth is one cannot blame anyone in particular either. We have collectively allowed the degradation of the system in multiple ways over time. Yet interestingly education still is the best performing SDG goal (SDG 4) for Sri Lanka.

We have just passed the anniversary of one of the most important social innovations in education in Sri Lanka – the free education policy brought in by Dr. C.W.W. Kannangara on 1 October 1945. He had to struggle for over a decade to realise this under the rule of the British. However, under our own rule what have achieved going beyond what he has initiated has to be examined.

Thanks to his action, Sri Lanka today can demonstrate decent performance indicators when it comes to scenarios such as school enrolment, literacy and movement across the lower secondary. Take a closer look just ahead of the lower secondary and then you begin to see the issues surfacing.


Education and technology

With multiple industrial revolutions happening right now, education itself has to be responsive to ensure the next generation workforce to support the emerging world. Though this may sound quite simple, this concept has won a Nobel Prize in Economics for Jan Tinbergen. He identified that there is always a race between education and technology.

Industry 4.0 has spawned Education 4.0. However, when we see children having to climb trees and on rooftops trying to capture signals to support their education, we understand the gap that we have to overcome. The system is crying out for focused investments.

The satellite 'Vision' that was put into orbit by Rwanda in 2019 with the aim to connect schools and their ability to benefit from such interventions when COVID-19 descended demonstrates the importance of investments made with long term in mind. When Dr. C.W.W. Kannangara established Central Schools with each one having a science lab, it is sad to observe that well into 2021 still out of 11,000 schools only about 1,500 are having science labs to support the teaching process.


The noblest of all professions

I did indicate teaching as the noblest of all professions. The fact alone would not get the job done as teachers should understand their role and responsibilities well. We know switching the online teaching in COVID times most of the teachers had to learn and adjust by themselves as no training programs were available.

Many did quite well adjusting themselves showing their internal values as well as capabilities. However, not all the rank and file are of similar mindset and therein lies the problem. I was once aghast to listen to a teacher in the Western Province who got up and stated quite forcefully that we do not need these technologies and we are doing quite well with what we have. There was no push back on that comment from the rest of the teachers present as well.

The incident demonstrates the challenge that one has in trying to address the needs of the present with what is more appropriate for the future. Identifying and fighting only for rights of the position especially in a job function as a teacher is not quite acceptable. The mindset is still moulded from the past. This calls for a frank dialogue with all stakeholders in the education system in realising consensus and for moving ahead. I see issues in many places and not only in places where we usually point our fingers.

It is time to wake up to reality. Education is the pillar on which the future of our society should be built. At present the system is crumbling. When one sees the assessments over SDG 4 there appears to be still a little window of an opportunity. Any more delay and we would be in dangerous territory. Incremental changes at lower levels are now too late. It is time to take the defective system head-on and bring about change.