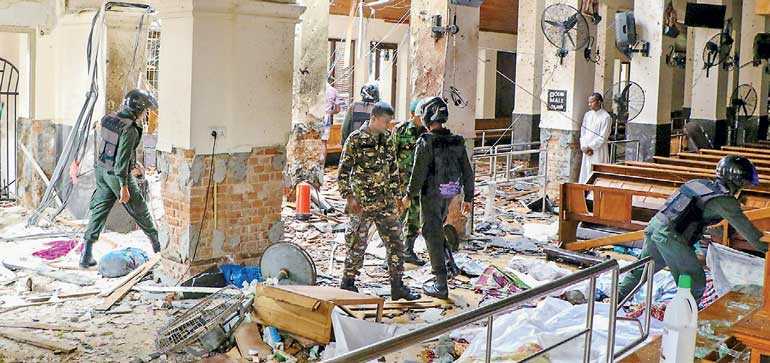 Members of all communities in Sri Lanka denounce and condemn the Easter Sunday carnage - Pic by Chamila Karunarathna
This is the most important day of the year for Christians – the Peaceful Easter Sunday or Easter Day was shattered by deadly explosions in several Christian churches throughout the country; and we excoriate such hatred in our beloved country.

We the members of all communities in Sri Lanka, denounce and condemn this carnage. We deplore and censure these disgraceful murderous, cruelly rapacious, savage scum that are terrorising this country.

These filthy, ruthless and tyrannical riffraff and all their supporters, sympathisers and protagonists should be shown no mercy whatsoever and extremely severe punishments should be meted out. These punishments must be so horrifying that it would serve as a deterrent to other scum of the earth, who are even contemplating such brutal, heartless attacks on any community or religious places.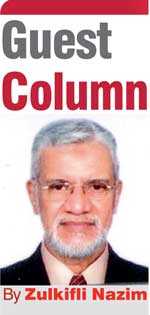 We are all completely devastated by the sudden snatching away the life of innocent harmless men, women and children who had gone to church with peace and happiness in their hearts.

It is heartrending to see the sufferings of the injured and the families of those whose lives have been brutally, barbarically and savagely snatched by these vulturous predators. We wish to convey our heartfelt condolences and deepest sympathies to the bereaved and grief-stricken families.

But all these condolences and sympathies will not heal the heartache and intense sorrow of the lost or the injured loved ones. At this moment of time, we should all rally round and do something so that there is no recurrence of such senseless brutality in this country.

Having conveyed the expressions of our bleeding hearts, let us see as to who is responsible for the prevention and protection of this country against tyranny, terrorism, deliberate destruction, defacement, damage of public and other property. It goes without saying that it is none other than the one who is responsible for the maintenance of law and order – and in this case it is none other than our President Maithripala Sirisena.

He should be held responsible for this carnage for failing to take precautionary measures prior to his pilgrimage and shopping spree to Tirupathi. In that, he had not appointed any person in the Defence Ministry to act in his absence and the Deputy Minister too has not been given instructions by the President.

This shows his total lack of experience and incompetency in the field of law and order.

The whole country was clamouring that he appoint Field Marshall Sarath Fonseka as Minister of Law and Order.

A very sound and intelligent request, as the former Commander of the Armed Forces, he as the expertise, experience, ability and experience in national security with global expertise to maintain a high level of security for citizens; whereas President Sirisena has none.

We could see that the elaborate system in which coordinated attack after attack took place shows activities typically depicting individuals specifically equipped with reconnaissance tasks who then pass information on to those who conduct the violent attack within hours.

In order to make this attack successful, they have had to plan weeks ahead, maybe have an op on the shelf waiting for the right circumstances, to launch the attacks.

If the intelligence unit has been properly mobilised, increased surveillance by the security services would have been instituted and these moves by these inhuman terrorists would have been detected weeks ahead and neutralised before the occurrence of this butchery, slaughter and savage massacre of the innocents.

They did nothing of the sort and this clearly shows that the security services and their intelligence have been lying dormant and hibernating without any care whatsoever on providing the much desired security to the citizens of Sri Lanka. Why? Because the head of law and order, President Sirisena, knows nothing of security. He did not know how to protect the country from danger or destruction. Now they are closing the stables after the horses have bolted.

So, it is high time that Law and Order is handed over to someone who knows what law and order is and to conduct operations so as to investigate the credibility of all organisations and to search and destroy all these terrorist oriented organisations, associations, Jama'aths and Foundations ASAP, without any delay, because it is these institutions that brain-wash the future generation with regard to everything and anything.

Once identified, such terrorist cells, their members and these fraternities should be completely eradicated and annihilated. They are those who insist on women covering their faces to perpetrate their extremism and this is done through intimidation, coercion and instilling fear. Terrorists invariably use this face-covering as an advantage to impersonate women to gain access to places for their chicanery and by the use of trickery to deceive.

The covering of the face is totally un-Islamic – The reason we say it has nothing to do with religion is that when on a pilgrimage to Mecca, they are forbidden to cover their faces and all men and women perform their rituals together. If that is the case – that is the norm.

If the prohibition of covering faces is not implemented by law, we are certainly going to have a chaotic future and endless mayhem.

The time has come for all of us to join hands for the total obliteration and complete destruction of every trace of terrorism in our beloved country.