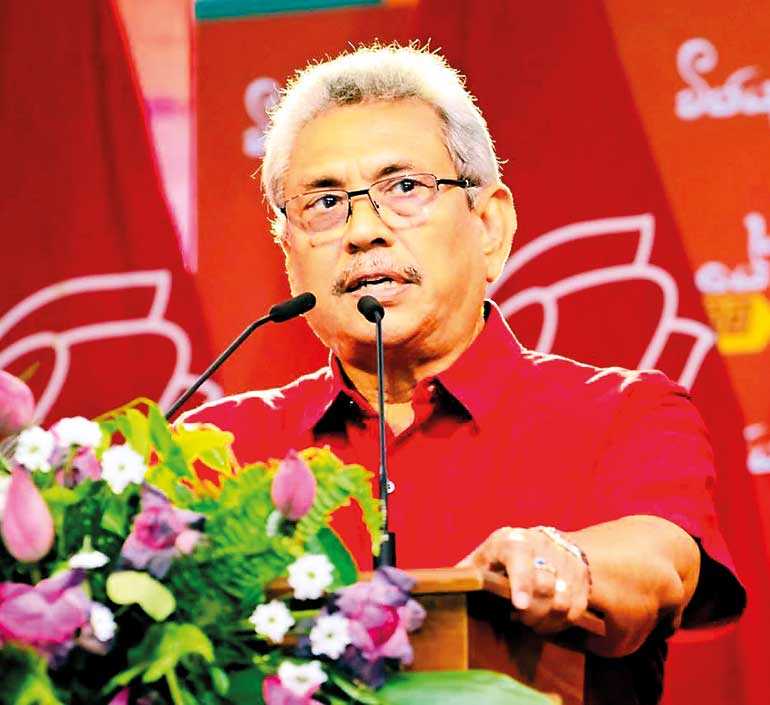 President Gotabaya Rajapaksa
---
According to election manifesto of Gotabaya Rajapaksa, Government foreign debt had increased by 38% from 2014 to 2018, doubling the total tax burden of the general public and businesses in 2019 compared to 2014. The Government resorted to borrowings to repay old debts, increasing debt volumes.

The new Government's immediate problem would be the Rs. 5,000 salary increase promised to Government staff from January, clearly aimed at the election and placing the responsibility on the newly-elected President. My personal opinion is the decision over the salary increase needs to be postponed until after the General Election, when the country's ability to pay would be better known. But the settlement of salary anomalies recommended by the Presidential Commission could be implemented.

Meanwhile, the current short-term interim Cabinet needs to implement urgent measures to correct blunders of past administration to prevent crashing of the country's economy. I wish to highlight some urgent problems and possible solutions.


Law and order

At the swearing-in ceremony the new President declared: "I consider national security as our primary responsibility."

With Gotabaya at the helm, citizens need not worry about country's security. But for the general public, law and order signifies what they encounter during their daily life. Getting on to the road, it's a struggle for survival, none seem to care for road rules. Pedestrians jaywalk with no regard for vehicles; meanwhile, TV news regularly shows pedestrians on road crossings being run over by vehicles.

Driving on the road, vehicles from by-roads barge into the main road, forcing the main road vehicles to slow down or stop to accommodate the intruder. Motorcycles, three-wheelers and even cars have no respect for other road users or in parking their vehicles. Most fail to understand that the main road user has the right-of-way.

The Government could start with educating the public over the media, followed by Policemen on the roads warning the misbehaving motorists. A couple of weeks of Police warnings followed with spot-fines will force everyone to understand. When the public learns to behave on the road and respect others, they would behave better in other areas of life too, leading to a more respectable society.


Colombo Port City

The Port City commenced during the last Rajapaksa era. But deliberate obstructions by Ranil Wickremesinghe delayed the project by over three years. The project was suspended and PM had to give in faced with massive penalties, but resulted in the Government granting five hectares of reclaimed land as compensation. The gazetting of reclaimed land as part of the country took nearly two years. The legislation over the Financial Centre is yet to be presented to Parliament.

The Port City seminar a couple of weeks ago highlighted needs to be addressed. Now GR has assumed power, issues would be settled amicably early. Settlements of issues would result foreign investments in the country. The construction activities would require local materials and generate local jobs. The completed Financial City in Port City is expected to create 80,000 new jobs, with a high percentage of foreigners. If they are allowed to invest in the apartments they occupy, a major part of their salaries would remain in the country. Thus immediate decisions on Port City policy matters would help to accelerate investments and create jobs.


Hambantota Port

The Hambantota Port is currently owned by a joint company with majority Chinese shares. The port agreement, in addition to the Port, includes 15,000 acres earmarked for an industrial complex. But PM Wickremesinghe refused to release the land and the industrial complex got halted. With American President Trump placing restrictions on Chinese imports, a large number of Chinese industries shifted overseas. If Hambantota industrial had been land released, large numbers of Chinese industries would have moved in, giving jobs to thousands of locals and increasing local exports.

The export of production and raw material imports would have made Hambantota Port operational, with staff movement and import of urgent materials making Mattala Airport active. Even under unfair conditions the Chinese managed to invite investors and 95% of the massive administrative complex had been rented by prospective investors as offices. Now, with GR in power bottlenecks in Hambantota Port would get cleared early. Attracting investors will require special incentives matching those offered in other countries especially to Chinese investors.

After the election results China's Foreign Ministry stated "China is committed to work with high quality cooperation under the Belt and Road Initiative with the new President" and Chinese investors would rush to invest in Port City and Hambantota.


Accommodation for workers

With the establishment of port activities and the industrial complex in Hambantota, senior, supervisory and technical staff of companies involved would require accommodation close to the industrial estate, preferably in a series of apartment complexes.

While some skilled workers would be Chinese, others would be recruited locally from Hambantota, Monaragala and Matara Districts; when they get settled in their new employment they too would prefer nearby accommodation, saving travel time and costs. Thus accommodation of large number of staff and families would require a support town.

The construction of apartment complexes would be undertaken by the private sector, but would depend on new policies and incentives offered, especially for lower-level employees on rent purchase basis. The movement of workers to new apartments would release lands they occupy, releasing pressure on agricultural lands.


Impending electricity shortage
The country faced electricity power cuts during March to early April 2019 and to overcome the urgent power shortage, the Cabinet accepted recommencement of three private power plants generating 171MW of power for two years, also re-commissioning of the 30MW northern power plant. The Easter Sunday attacks made tourism crash, lowering power demand by hoteliers, saving the country from further cuts.

Sri Lanka was fortunate to receive high rains from July to date, enabling enhanced hydro-power generation with lower costs. However, with rains ceasing by December-end, a similar situation in 2020 is a high possibility, as the long rainy period would be followed by a similar dry period. Thus from early January hydro-power needs to be used sparingly, depending maximum on thermal power.

The current insufficient electrical power generation is a result of non-construction of even a single new major power plant or being awarded during the past five years. The tug-of-war between the CEB, the Public Utilities Commission and the Ministry resulted in the situation. The CEB and the Ministry officials were happy to purchase power from private power producers at extremely high prices for personal benefits, resulting in our electricity costs being the highest in the region and CEB is running at a massive loss, while struggling to supply the country's power needs.
Next to hydro-power, LNG is the cheapest and also an environmentally-friendly fuel for power generation. In the last CEB tender, LNG-based power was offered at Rs. 15 whereas coal-based power cost Rs. 17.50. In February 2010 the Kerawalapitiya 300MW power plant owned by LTL Holdings (a subsidiary of CEB, but independent) commenced operations. The power plant capable of running on LNG was forced to run on diesel as the CEB was unable to supply LNG.

According to the CEB's long-term power generation program, other LNG-based power plant constructions too are delayed as no LNG is available – a situation messed up by CEB engineers. With another power crisis on the horizon, CEB would be certain to recommend barge-mounted emergency power at exorbitant prices as proposed in last April.

According to the President's Report on 'Underperforming Ministries,' the second lowest efficient ministry was the Power and Energy Ministry at an efficiency of 8%, indicating the extreme inefficiency of the important ministry. The new President would need to revamp the CEB and have continuous surveillance to ensure continuous electricity supply to citizens and reduce massive losses of CEB.


Solar power to rescue

Meanwhile, there are over 600 applications from small-scale solar producers (under 5MW) having registered by paying over Rs. 1,000 million for over three years, capable of supplying 1,500 MW of solar power. However, the CEB refuses to accept, quoting a conflict in regulations. The last Government was aware of the situation, but failed to take action.

The tariff approved for solar power below 5MW is Rs. 23.10 per kWHr, but CEB engineers claim the rate offered need be reduced as solar panel costs have come down in the world market. A possible way forward would be to request solar-power producers to implement their proposals immediately and meanwhile remove conflicts in regulations.

In addition, without reducing the agreed rate, request solar power producers to incorporate five-hour storage batteries to allow solar power to handle peak demand during 6 to 9 p.m. If half of the proposed solar-power joins the grid early, the country would be able to tide over the power crisis until LNG power plants come into stream.

The President's election manifesto claimed: "Steps will be taken to abolish agreements entered into by the present Government to purchase electricity at exorbitant costs and the advantages accrued out of such action will be passed on to the consumer through a reduced electricity bill."

Abolishing agreements apart, the greatest challenge before the new Government is to ensure continuous electricity supply during 2020.


Garbage disposal

Currently, garbage collected in Colombo is being transported to Aruwakkalu in Puttalam and Colombo Municipal Council approved exuberant rates for garbage trucks. But everyone seems to have forgotten the three contracts that were awarded for electricity power generation using garbage.

When the Meethotamulla garbage mountain collapsed, the Government panicked and the UDA called international bids for waste disposal for Colombo and others. Of the bids received four were accepted by the Government – three in Colombo and the other in Kandy and agreements were signed.

The companies accepted were Western Power Company processing 700 tons of waste daily in Meethotamulla and the foundation stone was laid by President Maithripala Sirisena in the presence of Minister Patali Champika Ranawaka. The second, a PPP with Korean company K.C.H.T Jang, was expected to invest $ 95 million to install a processing plant consuming 630 tons of unsorted waste per day. The third company, Fairway, proposed a similar plant in Karadiyana near Boralesgamuwa.

The Cabinet also approved setting up a garbage processing facility in Gohagoda in Kandy. Each proposal was expected to generate 10MW of electricity and the CEB agreed to pay Rs. 23.10 for a unit of electricity (same rate as solar power).

As power generation with garbage is less efficient than oil or coal, after negotiations and based on recommendations, the Cabinet revised the purchase price to Rs. 35.10 per unit. The UDA which facilitated the contractor selection agreed to supervise the construction of plants and be responsible for the provincial authorities. All plants were expected to be completed within a two-year period.
If these proposals are brought to the notice of the new President and implemented soon, the country would be saved from impending power cuts, accelerated Port City and Hambantota Port would bring investors and prosperity to a respectful society, and the northerners would patiently await water for their cultivation
Unfortunately, work on all contracts stopped as the UDA failed to get garbage producing agencies to agree to bear the cost difference (Rs. 12 per unit) between Rs. 35.10 and CEB agreed price of Rs. 23.10. At stoppage Fairway had spent a sum of Rs. 1,312 million on the project.

But CMC is willing to pay hundreds of millions for transport garbage to Aruwakkalu. When garbage was taken to Aruwakkalu, the staff were unprepared to accept, finally handling of garbage was handed over to a Chinese company at a cost of hundreds of million rupees. In addition a garbage transfer station is being constructed close to Wanawasala railway station, costing $ 100.9 million to convert received garbage into compressed blocks for convenient transport.

The entire garbage issue is smelly and the contractor Fairway, which was awarded to build the garbage to power project and already spent Rs. 1,312 million, will be meeting the new President soon.


East Container Terminal

As per the master plan of the Colombo Port Expansion Project, the East Container Terminal was expected be a 1,200m-long quay wall, water depth of 18m and a yard capacity of 2.4 million TEUs. The first phase of the 440m single berth ECT was completed by SLPA by early 2015 at a cost of $ 80 million.

Arjuna Ranatunga, who became the Minister of Ports and Shipping in 2015, cancelled the cargo handling equipment order, claiming that the previous management's action was corrupt. He in a low-key ceremony opened the 400m first phase of SLPA developed ECT in April 2015. In June 2015, the Cabinet approved calling tenders for gantry cranes and handling cranes to make the terminal operational.

In May 2017 SLPA was brought under Minister Mahinda Samarasinghe. The new Minister making a statement claimed: "SLPA during the last two years has lost approximately Rs. 4 billion due to the delay in completing the ECT." In August 2017 President Sirisena informed that ECT would not be privatised but would be run by the SLPA.

Without funds to continue Phases 2 and 3 in May 2019, the SLPA negotiated a concessionary loan of $ 500-800 million at 0.1% interest from Japan, and signed a joint venture together with Japan, India and Sri Lanka for the development of balance works in ECT, but without further progress. The new President needs to make an early decision on East Container Terminal.


Moragahakanda Project

At the swearing-in ceremony, the new President expressed disappointment at the Tamil and the Muslim vote. But he stressed that as President, he represented all Sri Lankans and pledged to create an inclusive country. The best way he could honour his pledge is to give the northerners what they need most – water.

The Moragahakanda Project was proposed in the 1960s to supply water to the region receiving the least rainfall in the country, i.e. north of Medawachchiya. But currently with the modified project under implementation, only 10% of Moragahakanda water will reach Iranamadu tank near Kilinochchi.

President Sirisena under whom the Mahaweli Ministry remained was only concerned over supplying water to the Polonnaruwa region. The new President could be fair by northern citizens by implementing the original Moragahakanda project. The Mahaweli Authority which carried out the feasibility project should have the original proposal.

The water transfer project currently under construction is expected to deliver water to Yakalla, south of Anuradhapura, by 2024, an extremely slow progress. The project could be accelerated to complete balance work to supply water to Iranamadu by 2024, considering that the canal route beyond Yakalla is generally flat. In addition, water for farmers in Jaffna Peninsula could be pumped from Iranamadu, solving irrigation water problem of the Peninsula farmers, suffering from loss of farmlands due to salt water intrusion.

Modifications to existing designs would only involve increase in canal capacities. Funding the project would raise no issues and could be awarded to a number of contractors to be completed simultaneously. If the initial arrangements can be made immediately and the Government plans be made public, the changed attitude of the northerners will be visible at the next General Elections.

When the arid north is provided with Moragahakanda water as originally envisaged, hardworking northerners would make the country self-sufficient with onions, potatoes and others to be sold in the south. With improved incomes and lifestyles with ample water from the south, northerners will no longer be in a position to demand separatism. But northern politicians may not like the idea.


Conflicting regulations

GR's manifesto claims: "We will review all redundant laws, regulations and 'red tape' hampering the effective performance of State sector employees and replace such laws and regulations with legal instruments that would speed up the delivery of public services."

A large number of regulations are in conflict with each other, restricting forward movement and revenue and creating an impasse. The first such conflict to be solved would be what prevented small-scale solar power producers implementing over 1,500 MW power production, which would have solved the electrical power crisis and saved the country many billions.

Conflicts in import and tax regulations allow importers with conniving Customs officials to pay low import duties, resulting in the Government losing billions. Senior Government officers are aware of hundreds of such conflicts and if they were corrected immediately, revenues would increase substantially.

During the run-up to elections Rohan Pallewatta's team came up with nearly 800 such conflicts needing correction. If the President requests, Pallewatta would be sure to oblige, saving time and effort, for immediate implementation. The correction of conflicting regulations would result in substantial savings and increase revenue, which could be used to reduce taxes on consumer goods reducing cost of living, which would result in workers not demanding higher salaries, encouraging foreign and local investors.

If the above proposals are brought to the notice of the new President and implemented soon, the country would be saved from impending power cuts, accelerated Port City and Hambantota Port would bring investors and prosperity to a respectful society, and the northerners would patiently await water for their cultivation.