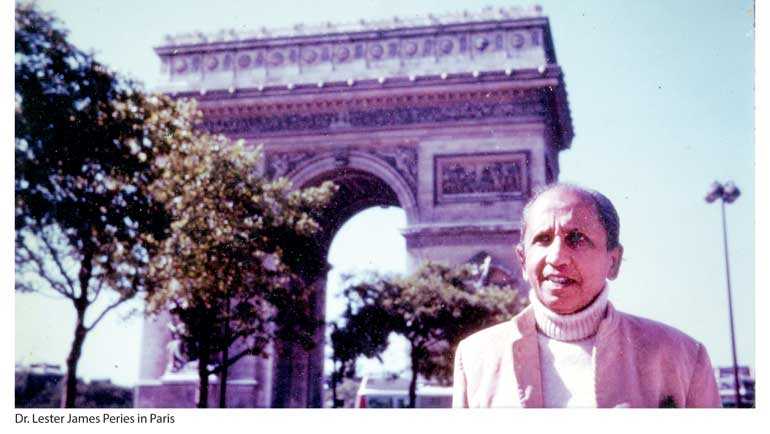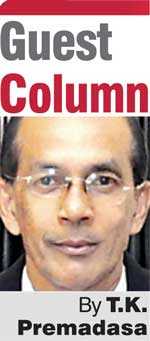 Lester James Peries, the pioneer who dedicated his wide knowledge of cinematography for amelioration of cinema industry is no more with us. The cinema fans of the entire international community are profoundly grieved by the unbearable loss of the Giant of Sri Lankan cinema. He passed away at the age of 99 years on 29 April 2018.

The inestimable contribution made by this great son of Sri Lanka to bring Sinhala cinema to the pinnacle of its glory is historical. At the time Indian film industry had the influence in Sri Lanka monopolising their power of technology on production of Sri Lankan films, the cultural background was almost South Indian. Sri Lankan producers were inclined to produce films on commercial basis caused by the want of technical infrastructure. It was this young auteur contemplated to exert his cinematic know how toward resilience of the film industry by his influence of productions depicting indigenous culture. He is the world acclaimed cinematographer Dr. Lester James Peries who established the global image of Sri Lanka in cinema industry.

Lester James Peries was born to a well reputed Roman Catholic family in Dehiwala on 5 April 1919 residence of which was known as 'Sinhagiri'. His father Dr. James Francis Peiris (1882-1961) was a medical doctor graduated in Scotland. Ann Gertrude Winifred Jayasuriya (1887-1971) a student of St. Bridget's Convent, Colombo was his mother who became the first girl to pass the Senior Cambridge Examination from the same school. He had two brothers Ivan and Noel and a sister Erica. He started his preliminary studies at St. Mary's Primary College, Dehiwala later known as Holy Family Convent and later joined St. Peter's College, Bambalapitiya.

He was more attentive towards lectures on Arts inspired by the films he was fortunate to watch through projectors found available to him. He was 11 years old when he was awarded an 8 mm Kodasco projector by his father. He started writing to the blue pages of the Ceylon Daily News at the age of 17. In 1939 he joined Times of Ceylon newspaper and displayed his skills under the Indian Editor Frank Moraes and also reviewed books in Radio Ceylon (now SLBC). "The Teacher" and "The Saree" are two short stories written by him. In view of Prof. Sunil Ariyaratne the young Lester enjoyed the presentation of the book called "Cathedral and a Star" authored by him to Pandith Sri Jawaharlal Nehru, the first Prime Minister of India.

His brother Ivan reputably a skilled painter was a close associate of the internationally renowned artist George Keit and Lionel Wendt who were knowledgeable on medium of cinema with their experience in world recognised documentary film "Song of Ceylon". In 1943 a movement called '43 Group' consisting of modern independent artists in Sri Lanka as proposed by Ivan Pieris was established at Lionel Wednt residence now known as Lionel Wednt Theater.

The objective was to introduce their expertise to the international world community. George Keit, Manju Sri, Lionel Wednt, Aubrey Collette, Ivan Peries and Justin Deraniyagala were the leading members of this '43 Group'. Lester James Peries was one of the pioneer members. Lester's life was significantly influenced by association of professional artists of '43 group.

Creation of this movement influenced the establishment of various societies on various sectors in culture and arts. The establishment of Colombo Film Society in 1945 by Lester James, Anton Wickramasinghe and few intellectuals was to promote media of cinema in Sri Lanka as a result of this new awakening.

Lester travelled to England in 1947 as advised by his mother to join his brother Ivan who was on a scholarship in London. This young journalist of competent skills in journalism wrote articles to Ceylon Daily News column from London on the request of the Editor Moraes under the heading "Letter on Arts from London".

Lester's debut in production was the "Farewell to Childhood" in 1950 a short film based on the story written by him called "Saree". The Amateur Cine World Silver Plaque was awarded to this experimental film among the ten best films produced in Great Britain. His second film was "A Sinhalese Dance" and the final film "Soliloquy" was produced in London in 1951 a 20 minute short film based on threefold love story. The Mini Cinema Cup for short films was awarded to this production for its best technical proficiency by the Institute of Amateur and Experimental Film Makers Festival-Great Britain (1951).

On his return to Sri Lanka Lester joined the Government Film Unit (GFU) and worked with Ralph Keene who was the Director of GFU. In the first instance Lester assisted Keene to make a documentary film "Nelungama". Later two documentary films "Conquest in the Dry Zone" (1954) on Malaria epidemic and "Be Safe" or "Be Sorry" (1955) were produced for the GFU by his own creation. The film "Conquest in the Dry Zone" won the Diploma of Honor at the Venice Film Festival in 1954. He left the GFU in 1955 after his ambition for production of Sinhala films on his own.

Significantly the year 1956 became historic by the revolutionary changes took effect on political, social and cultural fields in Sri Lanka in the interest of the entire nation. "Rekhawa" the debut of his production disporting his extraordinary knowledge in the technique of film industry by Lester James Peiris in December 1956 earned him a commendable reputation as the best production of Sri Lankan Cinema. Starting from his masterly production "Rekhawa" this great Cinematographer accredited with an abundance of knowledgeable skills in film industry has elevated the Sri Lankan cinema to the zenith of its glory by a numerous production of films winning international awards, an inestimable honour to the nation.

Dr. Lester James Peries has featured about 20 films during the last 50 years of his experience in film industry enlivening Sri Lankan cinema with accolade after accolade both locally and abroad. Sri Lankan nation owes him a debt of gratitude for his immeasurable account of high quality productions of international acclaim namely Rekhawa (Line of Destiny 1956), Sandeshaya (The Message 1960), Gamperaliya (Changing Village 1963), Delovak Athara (Between Two Worlds 1966), Ran Salu (The Yellow Robe 1967), Golu Hadawatha (The Silence of the Heart 1968), Akkara Paha (Five Acres of Land 1970), Nidhanaya (The Treasure 1972), Desa Nisa (The Eyes 1975), The God King (1975), Madol Duwa (Enchanted Island 1976), Veera Puran Appu (Rebellion 1978), Ahasin Polowata (White Flowers for the Dead 1978), Pinhami (1979), Baddegama (Village in the Jungle 1981), Kaliyugaya (The Era of Kalli – The Changing Village Part II, 1983), Yuganthaya (The Changing Village Part III, 1985), Awaragira (The Sunset 1995), Wekande Wallauwa (Mansion by the Lake 2003) and Ammavarune (Mothers 2006).

In addition to his contribution of documentary films to the GFU Lester has produced 10 documentary films on requests by various other institutions. Among them were "Too Many and Too Soon" (1961), "Home from the Sea" (1962), "Forward into the Future" (1964), "Steel" (1969), "Forty Leagues from Paradise" (1970), "A Dream of Kings" (1971) and "Kandy Perahera" (1971).

Giraya was the only teledrama directed by Lester in early '90s on a story written by Somasiri Senanayake.

His final contribution to film industry is 'Vaishnavee'(The Goddess) directed by Sumithra Peiris initiated in 2012 on the script written by Tony Ranasinhge. This film which is the concept and story by Lester was screened on 5 April 2018 in coincidence with Lester's 99th birthday.

Appreciative expressions on perceptive vision of Dr. Lester James Peiris have been articulated by world renowned professionals invariably on many occasions. It is related in the book authored by Ronald Fernando that the world popular Indian Super Star late Raj Kapoor highly impressed by the movie "Rekhawa" had recommended to Sri Lankan Producer K. Gunaratnam to utilise the talents of this consummate cinematographer Lester in his future productions. In consequence Gunaratnam offered the direction of his film "Sandeshaya" to Lester James who excelled a marvellous spell of innate skills in his performance as the Director to bring the film to the pinnacle of its international acclaim.

Remarkably a number of books have been written by various scholars on the biography of this reputable character and his award winning productions. In addition a documentary film by the name "The Foot Steps of an Asian Master" was directed by Neil I. Perera in 1985 and another film "The World of Peries" directed by Bickram Singhare on behalf of the Ministry of External Affairs, India.

He not only won the First International Award to Sri Lanka in London in the early 50s but also achieved the Golden Peacock Award presented by Delhi International Award and Golden Head of Palenque Award from Mexico World Film Festival for "Gamperaliya" a story turned a new page in Sri Lankan cinema as the Best film. It was Lester who represented Sri Lanka with his film "Rekhawa" first at the Cannes Film Festival in 1957. The number of local awards won by him from Rekhawa to Amma Varune is a patent estimation of his exemplary contribution to Sri Lankan Cinema. Recognition of his productions at high degree of excellence by the International Cinema not only demands absolute technique but involves tremendous amount of dedication and determined effort. In appreciation of his invaluable contribution to cinema he was honoured with the title Commander in the Order of Arts and Letters by the Government of France in 1997, The Lifetime Achievement Award and the Golden Lotus by the Government of India at Delhi International Film Festival and the Asian Cinema Person at Cannes International Film Festival. He has also discreetly performed an extraordinary service as a member of the jury at the International Film Festival with distinctive responsibility. The entire nation is profoundly delighted by the global tribute of high regard extended to this indomitable personality over his intellectual expertise on film industry.

He was felicitated by his own nation with title Kala Keerthi in 1980 Issue of a stamp to mark his birthday in 2002, highest honour of Sri Lankabhimanaya in 2007, naming Dickman's Rd. as Dr. Lester James Peiris Mawatha and an Orchid flower named after Lester James Peries by Lakmalsala. It is significant that he was honoured with the Doctorate by the Universities of Colombo and Peradeniya in 1985 and 2003 respectively.

The latest facilitation for this doyen of Sri Lankan cinema is honouring of UNESCO, the world's most presage institution for culture for his Gamperaliya production.

Dr. Lester James Peiris Sonduru Minisa has exalted the image of Sri Lanka in the global cinema with a high degree of respect. He is regarded a leading cinematographer along with world renowned Satyajith Ray of India and Akerawar Korusowa of Japan. The brilliancy of resplendent contribution made by Lester to Sri Lankan cinema will be etched in the memories of the citizenry of Sri Lanka.
(The writer is the retired former Head of Corporate Affairs and Communications – Sri Lanka Export Development Board and Ex-Director of Sri Lanka Trade Centre in Maldives. He can be reached at t.k.premadasa@gmail.com.)