---
Remembering Lalith Athulathmudali 30 years on
Government must act now to avoid disaster and disappointment in the future
---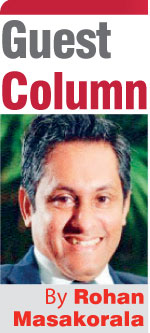 I write this article in remembrance of the late Minister of Trade and Shipping Lalith Athulathmudali's 30th death anniversary which fell on 23 April 2023.

I joined the export industry inspired by the late Lalith Athulathmudali who used to come to my neighbourhood in the late 1980s/early 1990s when he used to visit late journalist Richard De Zoysa's residence very often. Just out of school and doing my undergraduate studies he wanted me to look at joining the export industry and also used to talk of shipping as an important pillar for exports to succeed. I did join the export industry in 1992 as a management trainee but interestingly late D.S. Jayasundera, then Chairman of Hayleys PLC was keen to take me to the Export Shipping Department (ESD) of the company. That opened my horizons to learn about shipping as a key offshoot of exports.

But looking back, unfortunately after 30 years in the industry, the country has not progressed much beyond the original Lalith's vision to be a transhipment hub. The country has failed to become a maritime hub due to many reasons, including protectionism and delays in policy reforms.


Time to stop bragging about the location

Every forum one attends, every policy statement since late 90's, what do we hear about the Lankan shipping industry? What a great location we are! Yes indeed it is true, and it will be true. However, the location has failed us to mature beyond the transhipment business and even today the only focus seems to be the transhipment business. The aspiration should be to become a maritime and a logistics state. Transhipment is a volatile and highly fluid business and to retain it we have to be one step ahead of competition, and therefore relying on transhipment alone is simply a bad policy.

Dubai is not in the main east west shipping route. Today, it has developed into a global maritime and logistics capital where the Jebel Ali freezone alone has a turnover of $ 100 billion. The reason being the vision of its leaders who understand the fundamentals of the need for rapid change to create the required environment for investments, knowhow, and trust of business partners to transform a location into a real buzzling hub. The Indian Ocean nations (IO) are fast developing, and the Indian Ocean Rim (IOR) littoral states are all aspiring to be transport and logistics hubs as trade volume increases. The competition is so high that the six major transhipment nodes of the IO are now challenged by new and evolving locations who will increasingly see the opportunities as they reform plans fast.

Within South Asia, India is aggressive in its maritime and transport reforms which it started in the late 1991 with fully liberalising the sector by 1995 for foreign investment and now slowly but steadily enjoying its benefits being the regional choice for global ship and logistics operators to set up headquarters and pumping resources into infrastructure projects. Among many, Dubai's DP World has committed $ 3 billion to India's logistics industry. Prime Minister Narendra Modi last year launched the logistics policy of India which is under the ministry of commerce and not shipping.

All Indian major ports are now landlord models and the last was JNPT to adapt it. Whereas after a successful SAGT and CICT PPPs, Sri Lanka has gone back on ECT which was taken over by the Government to do business once again under pressure from trade unions. It's simply a debacle and the loss to the economy where over the last three years itself SLPA lost billions as the project is stuck due to lack of funds in the country and will come into full operation only by 2025 which might have many challenges by then as possible potential clients, investors can move away to other locations. Many have highlighted why Colombo needs to be a landlord port and the last document published on this was the National Export Strategy (NES) of 2018 which has become yet another document without action. I will discuss the past, present and future as I see it in part 2 of this article next week.


Developing north port

Last week SLPA unveiled the ambitious north port development project that would kick off after 2030. Having plans is good, but my numbers on the region and the plans certainly do not speak in line with the developers of the plan. However, the issue more concerning to me is that the long-term plan is still to focus only on transhipment rather than creating a maritime hub by 2050 either. Sri Lanka has been way behind capacity development and that is probably 5 years behind as per JAIC numbers of 2012 report. We have paid the price for that and our number one customer, the ship owners and global logistics companies, have only an insignificant footprint in the country due to protectionism.


President's key point and vital message

President Ranil Wickremesinghe made a vital and the key point as the Chief Guest at the launch of the north port project. He said, "We need to look at the region and see what is happening around with competition and trade before we speak of projects and forecasts." Every educated and not so citizen of this country by now knows the debacle of Hambantota port project which did not have a business feasibility and a plan to develop it, but every politician was talking of the 200-300 ships that were passing Hambantota to make their business case. But they never spoke to the real customers who are the ship owners and got their point of view on the expensive infrastructure project which has had no proper ROI for well over ten years now.

Similarly, trade growth in the Indian Ocean or India becoming the second largest economy by 2050 is no guarantee that Sri Lanka or its ports will be the preferred choice for the ship owner or logistics companies to set operations here if the climate for business is not rectified and remove protectionism. Thankfully we have now decided to liberalise the energy and power industry after 60 years. I do not know if we have already missed the bus to become a regional energy hub competing with Singapore, Dubai along with India.

Late Lalith Athulathmudali's vision to compete is well known to President Ranil Wickremesinghe, and he is a knowledgeable leader among the extremely very few in Sri Lanka who will understand the larger issues that we are facing as a country in the maritime and logistics industry. Sri Lanka now needs to fully open up the sector before planning costly infrastructure projects beyond the horizon. We need to focus on the south harbour targets first to make sure its terminal operators are getting the business volumes we need. The threat of sinking among the competition by wasting time only talking of location without strategic business plans, will only lead regional players attracting shipping and logistics business that could have been ours, and once lost these key investments pulling them back would be only a dream.

Next week I will write my view on the future with the regional shipping and maritime business with analysis of the Indian Ocean with numbers and of course with a preamble of the policy blunders we did and still keep doing.
---
(The writer is the founder of Shippers Academy International, a graduate in economics and was the Chairman of the Logistics Advisory Committee (NES – Export Development Board 2017-2021). Full details on LinkedIn.)