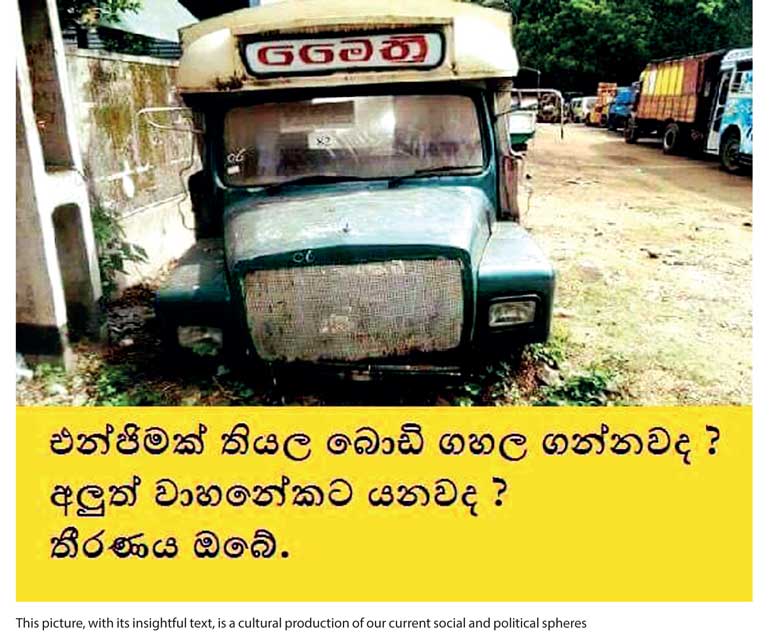 This essay is about cyberbullying or cyber defaming that President Maithripala Sirisena recently alluded to at the memorial event for Venerable Maduluwaee Sobhitha Thero.

The picture, with its insightful text, is a cultural production of our current social, political spheres. The writer received it on something called WhatsApp installed on the tab by a daughter determined to expose her father to digital literacy and feel and touch technology. A technology that has made a new world where earlier values are no longer taken for granted.

This picture is an eloquent expression of our present popular zeitgeist. President Maithripala Sirisena, at the second death anniversary of venerable Maduluwawe Sobhitha Thero, informed us that a small faction within the Government has unleashed a campaign of cyberspace calumny against him. This miniscule faction is enraged over the appointing of the Presidential Commission probing the bond scam in the Central Bank.

Additionally, the President said something significant. It has not received the accent and emphasis it deserves. In his indignant exasperation he said that this "bond atrocity" was committed within the first three months of his swearing-in as the new President at the Independence Square.

Therein hangs the tale of a miserable journey of three years. A convoluted crossing that did not approach even a semblance of a disposition towards a 'just society' or 'good governance'.

This picture was sent to this writer by a CEO of a listed public company. The writer was suitably impressed that the Sinhala idiom had registered with that otherwise dense mind indifferent to what is called the pulse of the people. By forwarding the picture he was mocking this writer's pronounced partiality to this dull-witted consensual coalition that replaced the Mahinda monolith.

President Sirisena must realise that the 6,217,162 votes he polled had two principal components. Those who seriously wanted a just society and good governance and those who wanted Mahinda Rajapaksa evicted for them to bundle the boodle.

President Sirisena cannot do what the Sinhala Sangha seems to be doing with great élan – running with the spiritual hare and hunting with the political hound. They are successful because they promise to deliver in the next world.

Deliver here and now

You, Mr. President, are in a different ball game. You cannot run with the good governance hare while hunting with the pack of wolves who ravaged and hocked the land in cahoots with the Rajapaksas.

Take Susil Premajayanth. His heart is with Mahinda. His derrière is glued to his seat in the Cabinet. His brainpan is in New Jersey. We have forgotten the rotten petrol that ruined vehicles during his watch. Thanks to Ranil's bond boondoggle, he waxes eloquent on process integrity in governance. W.D.J Seneviratne under whose watch as Minister of Justice court records evaporated is another ditto.

Mr. President, you are expected to deliver here and now and in the next two years. You were elected to unite the country and not to unite the SLFP. Uniting the SLFP under your leadership is desirable. Yet, it is not the top priority in the next two years.

Your Prime Minister is damaged beyond repair. He has lost believability – the imperative of political leadership. He may or may not have been wise to the 'bond boondoggle.' The term 'boondoggle' is the appropriate term – an unnecessary, wasteful, fraudulent project. [Oxford Concise 10th edition]

That said, Prime Minister Ranil Wickremesinghe singlehandedly and unilaterally installed Arjun Mahendran as Governor of the Central Bank. At the first whiff of scandal, he put a process in place to bury it and bury it deep.

What it did achieve however is different. It demonstrated the resilience of an involved, unfettered civil society and the ingrained decency of a core cadre of professionals in the Central Bank, who helped lift the shroud the Prime Minister's three-member lawyers committee attempted to cover it with.

Professor Sarath Wijesuriya now leads the Movement for a Just Society to keep the 'Sobhitha Idea' alive. At the recent second anniversary of the passing of the monk and saintly savant, he informed the President that the Minister of Law and Order impeded investigations and protected wrongdoers. The President agreed. He assured the good professor, who now leads the movement to keep the 'Sobhitha Idea' of a just society afloat, that he would raise both hands in support of his proposition.

That raises a consequential dubiety – a state of doubt. The President has agreed with the good Professor's opinion of the Minister of Law and Order. It also happens to be the popular perception of those privy to the doings in Temple Trees.

Surely, the President should know that the Minister of Law and Order is also the Chief of Staff of the Prime Minister's Office. Why blame the monkey? The organ grinder is obvious to any dumbo who can spell 'Royal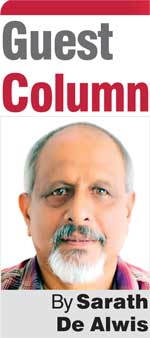 College.'

Surely, the President should know how the Prime Minister has made it comfy for the politically-tarnished former Minister of Finance. Before the President can say 'bond,' he can now hop from his penthouse to his office in Temple Trees!

We need a new constitution. That said, political horse trading will not produce a principled constitution. Robert Mugabe and Morgan Tsvangirai tried in Zimbabwe. This is Mahavamsa land, not bush country.

The only positive seems to be that our James 'Jayampathi' Madison has got himself a duty free four-wheel drive which he is alleged to have disposed. This writer can only wish Godspeed to him to ride with his boodle, in to what Leon Trotsky described as that radiant future, in which man, strong and beautiful, will become master of the drifting stream of his history and will direct it towards the boundless horizons of beauty, joy and happiness!

A long way since

those dark days

The President must not listen to advisors who may tell him that the internet can be contained. Gotabaya tried it and failed. We have now come a long way since those dark days.

A website has been blocked. It is also reported that the measure has been taken on a court order. Unless the Government sets up an office of the internet as in China, it cannot be done. China is a one-party state. Xi Jinping has been consecrated as China's most powerful leader since Mao. His political thoughts and his name have been incorporated in the Chinese Communist party's constitution.

We rejected the 'Mahinda Chinthanaya' which was our de-facto constitution for 10 years, thanks to two people – Velupillai Prabhkaran and Gotabaya Rajapaksa. Mahinda now rides bicycles. In power he was riding many things desirable but not on two wheels. He is not a deliberate villain. He relied on his brothers for villainy. Give the man a break.

This is not about right and wrong in reporting news, making commentaries or expressing opinions. This is about exponential changes that have turned the world topsy-turvy making the virtual and real indistinguishable. There is an irony in this. Politicians in the past hid the real and got away with the virtual. It is now their turn to be paid in the same coin.

Cyber humour and social media

The choice of a 'lorry' that is 'kota uda' is either an elitist aberration or an authentic satirical device. It conveys a powerful message. Can the President deliver? The President promised good governance and a path to a just society. The Prime Minister promised a million jobs to the youth and has given jobs to young Paskeralingam, a younger Charitha Ratwatte, and hip-hop young pony-tailed Saman Athauda whose ITN TV did not telecast the full proceedings of the event that brought the 'Yahapalana' regime to a vital crossroad.

Director of the Institute of Behavioural Science and Professor of Psychology of Singapore Management University David Chan explains why cyber humour is infectious. Cyber jokes go viral because they are incredibly creative, incisively sarcastic and people are amused with something funny. The first impulse then, is tap the machine and forward it to another.

Popular humour should not be dismissed as an irritant. It should be regarded for what it is – a signal emanating from the people, a sharp expression of public sentiment.

The innate strength of social media is its strong connectivity among users. With social media, it is easier than ever to share news, focus on social issue, and exchange opinions in real time to with a massive audience. Internet anonymity should be discouraged by ignoring it. Banning, brings it to focus, driving the curious to reach for proxy servers. Social media does not circumvent censorship. Social media subverts censorship.