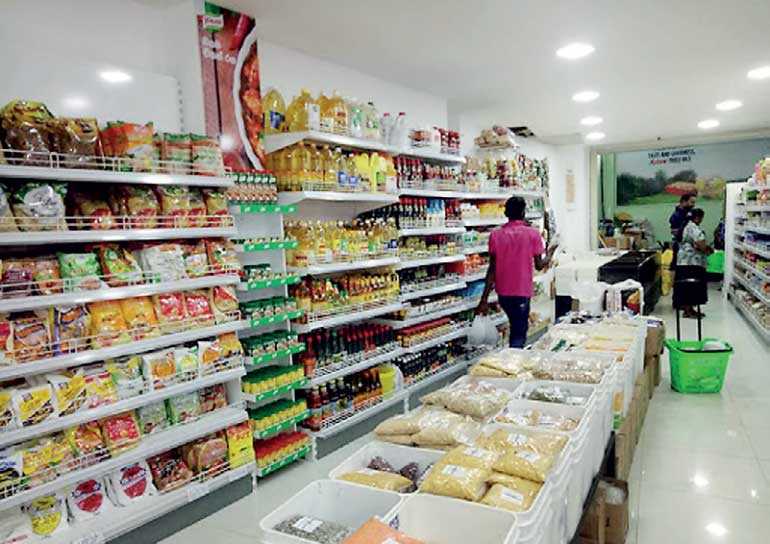 Coop City outlets numbering more than 700 play an important role in providing essential food items at reasonable prices
---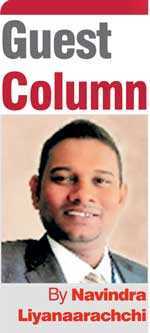 Multipurpose Co-operative Societies (MPCS)
My previous two articles related to the subject were published on 15 January and 11 February. Since the co-operative subject is a vast area, I have decided to write on different marketing aspects of the co-operative business model in coming articles. Today we discuss about the most popular model called Multipurpose Co-operative Societies popularly called in the abbreviation MPCS in the Sri Lankan context.


Historical developments

As I explained in previous articles, the origin of co-operatives in Sri Lanka began with thrift and credit co-operative societies way back in 1906. In Europe, Rochdale pioneers started the Rochdale Society of Equitable Pioneers. Founded in 1844, it was an early consumer co-operative specifically serving for their low-income members. It is one of the first to pay investment dividends, forming the basis for the modern co-operative movement. Rochdale Pioneers' Co-operative became the model for co-operative societies in Great Britain at that time.

The model of the Rochdale Pioneers is an important concept in the studies of Co-operative Economics. On 21 December 1844, Rochdale started their store with a very small selection of butter, sugar, flour, oatmeal and a few candles. In the next three months, they expanded their selection to include tea and tobacco. Eventually their store was known for providing high quality, wholesome goods. By 1900, the British co-operative movement had grown to 1,439 co-operatives covering almost every area of the UK. All these co-operatives focus on consumer services for their members.

In the mid-20th century during the time of World War II, co-operatives became an indispensable service to communities including in Sri Lanka. Foods and other consumer goods were scarce in wartime. Import and export among countries become bottleneck. At that time Ceylon under colonial rule was also in severe stress due to the waging war in Europe. There was a threat to the British Empire from the Japanese front in Asia. In the meantime, an independent movement across India also created internal issues in colonial administration.

The situation led British colonies to suffer economic hardships and people in Ceylon also suffered from severe food shortages. To tackle that situation, they introduced food rations through co-operative shops established island-wide. In fact, these co-operative shop societies were used by governments at that time to distribute food rations rather than develop them into economic units. This led to the popularity of consumer co-operative shop societies among Sri Lankan communities.


Origin of MPCS in Sri Lanka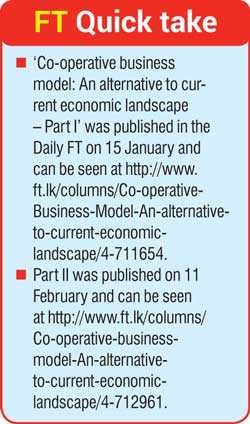 The era of Multipurpose Co-operative Societies (MPCS) in Sri Lanka started with the concept initiated by Late Philip Gunawardena, Minister of Agriculture, Food, and Co-operatives (1956-59). This was an important juncture in Sri Lanka's co-operative movement (1958) where 'multipurpose' amalgamated co-operative shop societies into large co-operative societies that could provide various services as the name implied. These MPCS gradually built up as regional economic units providing all-around consumer affairs. Village peasants and members of MPCS could sell their vegetables, fruits, etc. to MPCS and resell to members and the public creating successful economic models for the region it served.

In the meantime, other co-operative societies also emerged such as Wood Workers Co-operatives, Fisheries Co-operatives, Agriculture Co-operatives, etc. contributing to a substantial portion of the local economy.

Eventually, MPCS become a one-stop place for people to get their day-to-day consumer requirements. Some of the MPCS served funeral parlour services and remain today as well. One of the leading MPCS at that time was Sadalankawa MPCS led by Vincent Subasinghe who became founding chairperson of People's Bank. People's Bank was also founded from 51% capital from the co-operative federal banks.


Current context of MPCS in Sri Lanka

Currently, Sri Lanka's MPCS provide consumer/retail (supermarkets, medical/pharmacies, funeral services, restaurants, hotels/tourism, transport, fuel service stations, agency services etc.), financial services and many other services that members and the public require. MPCS had introduced the 'Coop City' supermarket-type experience for members and the public in 2007. This project was initiated by Sri Lanka Consumer Co-operative Federation Ltd., which is the apex organisation for consumer affairs in the co-operative movement.

The project focused on revitalisation of MPCS amid severe competition from the private sector. Coop City outlets numbering more than 700 play an important role in providing essential food items at reasonable prices. The Government considers it important that there should be a fair competition among private, public and co-operative sectors, so that the private sectors would not be able to monopolise the market and the price of products would be stable. Coop Cities provide a helping hand for government whenever there is natural disaster, so that people could access essential goods through its network along with other government supply chains.

Therefore, Coop City became a flagship service under MPCS. On the other hand, we should remember that these MPCS are not governed under a single management; different boards and different statutes according to provincial co-operative departments regulate them. This is a major disadvantage due to co-operatives becoming a provincial subject according to 13th Amendment to the Constitution since 1987. Therefore, implementation of a comprehensive business plan for all MPCS is difficult.

Currently there are 309 registered MPCS in Sri Lanka, but only 303 are currently functioning as active societies. These societies comprise of 5.2 million members, which is close to a quarter of the population. If we take it as an economically active community, it has nearly one-third representation. In simple terms, one of every three economically active persons is a member of MPCS knowingly or unknowingly. Membership is evenly distributed among men and women, about 2.6 million each. There are 21,826 employees in MPCS island-wide showing how much MPCS contribute to the job market in Sri Lanka. Out of them 13,725 (62.8%) are female employees.

The given table shows the economic contribution of MPCS in Sri Lanka during the year of 2017. Unfortunately, there is a lack of updated information in the sector.

Still the numbers shown speak a lot about the business of MPCS. Most importantly, its members, the people of the country, own MPCS so that any benefits derived from the business belongs to themselves rather than accumulating wealth in business oligarchs. This is the most important feature of the co-operative business model.

MPCS have been facing severe marketing competition due to opening up of the national economy after 1977 under President J.R. Jayawardena's Government. Imported consumer goods were creating setbacks in the MPCS consumer sector, and people and even members tend to seek new and cheap products inflowing from abroad. The private sector also actively engaged in the consumer market and several supermarket chains like Cargills, Keells, LAUGFS, Arpico, etc. were established. Having all conditions MPCS are thriving with their various services to the local economy.

Still the essential items may be bought from a Coop City at bargained prices. Therefore, Coop Cities are tabooed as poor people's stores. However, this is not the same if you see in the developed countries. Consumer co-operatives like REWE Group – Germany, ACDLEC – E. Leclerc – France, had $ 63.8 and $ 55.07 turnover in year 2020 listing in the top ten co-operatives in the world according to Co-operative Monitor published by International Co-operative Alliance (ICA).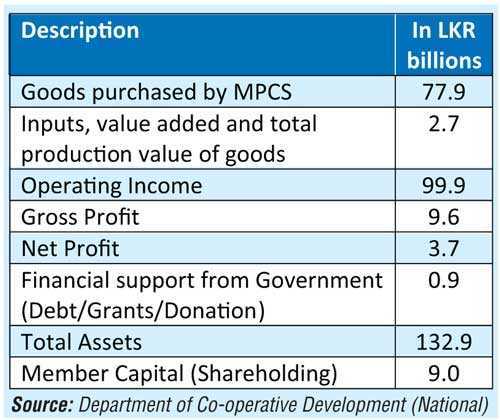 What are the prospects for MPCS?

International evidence proved that co-operative enterprises could play a major role in national economies. Unfortunately, the policymakers, economists and researchers do not understand it properly. On the other hand, skilled professionals are lacking in the sector to take the leadership in the board levels and corporate positions. Regional politics in the co-operative elections when electing boards play a negative impact in economic and social wellbeing of co-operatives particularly in MPCS.

In spite of having negative perceptions, the business model of MPCS has better prospects under professional leadership. There are vibrant MPCS that currently exist in the country, providing excellent service for members and the public. Its readymade membership, government support in tax concessions, financial support from government, knowledge on local business environment and sense of ownership by the members, are important prospects for MPCS. Following are suggestions to develop MPCS' overall outlook and the business.

Improve member attraction through a loyalty program.

Improve the governance of the MPCS (currently there are compliance issues for many MPCS. To tackle that holding timely AGMs, financial reporting, and audits are necessary).

Discontinuation of loss-making centres and incorporating viable businesses required by members.

Refurbish the Coop Cities in line with modern amenities in par with supermarket concepts that attract the public.

Digital presence (card/QR/online orders/social media marketing).


Integrated marketing approach for all MPCS

Best use of government tax concession for co-operative movement.

Capacity building for present employees and appointing and training fresh graduate as management trainees.

Increased payment for trained/professional staff to retain workforce.

The above suggestions are based on the general scenario of MPCS in Sri Lanka. In fact, there may be different requirements based on the member communities and geographies of the MPCS situated. It is very important to strengthen people's businesses such as MPCS to tackle issues we are facing in the VUCA (volatility, uncertainty, complexity and ambiguity) world.
---
(The writer is a professional in the microfinance and development sector who has served at CEO/Director level in co-operative enterprises and banking. He can be reached via navindra.work@outlook.com.)
---