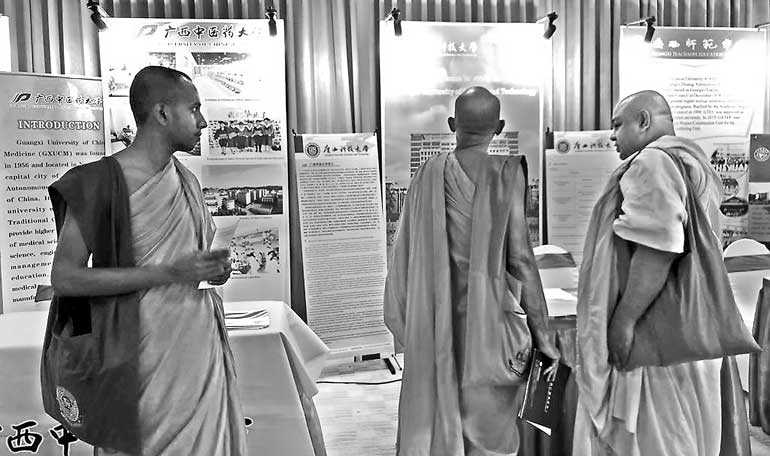 Sri Lankan monks explore possibilities of studying in China – Pic courtesy Tang Lu
As China came out of its shell to be an economic power with global ambitions following the launch of the Belt and Road Initiative (BRI) by President Xi Jinping, there was a crying need to make people across the world aware of China, the Chinese language and Chinese culture. The isolationist policies of the Maoist era had made China a strange place and its people seem inscrutable.

It was to "open up' China to the world's eyes, to inform the world about the cultural underpinnings of the BRI, and to give the BRI a universal appeal, that President Xi chose to project China as a country based on the thoughts of Confucius (551 to 479 BC).

Confucius' social philosophy was based primarily on the principle of "Ren" or "loving others" while exercising self-discipline. Confucius believed that "Ren" could be put into action using the golden rule: "What you do not wish for yourself, do not do to others."

According to Ven. Dhammajothi Thero, Director of the Confucius Institute at Colombo University, Confucius wanted to make people "gentlemen" and not "sages." This was because it was practicable to be a gentleman and not practical to aim to be sage. Therefore, Confucianism is a practical and implementable philosophy which can be accepted across cultures, an ideal basis for making China and its BRI acceptable across the world.


Twelve years ago, the Xi Jinping regime set up Confucius Institutes (CIs) and Confucius Centres (CCs) across the globe primarily to teach the Chinese language, the philosophy of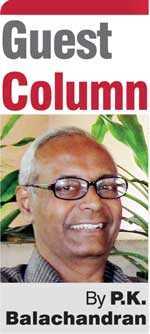 Confucius, and many aspects of Chinese culture. According to Yu Yunfeng, Deputy Chief Executive of the Confucius Institute Headquarters and Deputy Director General of Hanban, there are now 525 CIs and 1,113 CCs in 146 countries. And the numbers are growing as the BRI expands its reach constantly.

As Pang Chunxue, Charge de' Affaires at the Chinese Embassy said, most of the CIs are in countries in which are on the BRI route. Justifying this, she said: "The CIs' goal of bringing people together matches the goals of the BRI which are to narrow gaps in development between countries."

CIs and CCs have been growing in numbers in Africa with China's increasing economic presence in the continent. In South Asia, they have acquired a firm foothold in Pakistan, Bangladesh and Nepal and have two in Sri Lanka – at the Colombo and Kelaniya Universities. They have only a marginal presence in India because of New Delhi's entrenched suspicions about Chinese initiatives.


The CIs and CCs are funded by the Chinese Government, which also sends teachers. Each CI or CC is attached to a Chinese University and each CI has two Directors, one from China and the other from the host country.

The courses in the CIs and CCs are primarily designed at the Confucius Institute Headquarters in China called "Hanban". But in response to demands from the host countries, the courses have been expanded beyond language and culture to include subjects of local interest.

For example, in Pakistan, the CIs at the Agriculture University in Faisalabad, has tied up with an engineering and an agricultural university in Lahore to teach Chinese useful to agriculture and engineering students.

In Nepal, locals are taught vehicle maintenance not only to learn the trade but to be able to work in Chinese infrastructure projects in that rugged country said Prof. Wang Shengli of the CI in Kathmandu University.
Controversies
But the CIs and CCs have become controversial in some countries. They are suspected to be insidious institutions primarily meant to brainwash people of the host countries to wean them away from their entrenched beliefs, and make them think and act like the Chinese, in much the way as Thomas Babington Macaulay wanted to "Anglicise" Indians in mid-19th Century to make them the backbone of British rule in India.

In the context of present-day China with the BRI being used by Beijing to expand its economic, political and strategic hold on Asia and Africa, there is a fear that the CIs and CCs could be trying to do what Macaulay wanted to do in India. The fear is entrenched in some ex-colonies which are zealous about guarding their sovereignty and national identity. They do not see the CIs as equivalents of the British Council or the American Center which are seen as being "benign".

This is because of China's sudden rise and its rush to dominate the globe with its economic muscle. The mushrooming of CIs in the last decade is seen as part being part of a hurriedly-pursued expansionist project.

Speaking at the 2018 Joint Conference of Partial Confucius Institutes in Asia held in Colombo on 27 and 28 June, Ven. Dhammajothi Thero Director of the CI in Colombo University said: "The CI headquarters should make their objectives clear so that there is no misunderstanding and suspicions which are voiced in many countries, as in Vietnam. For this, there should be greater localisation of teaching material and teaching personnel. There should also be a two-way flow with the course content being 50% Chinese and 50% local."

The monk, who is a fluent Mandarin speaker, said that he opposes all kinds of globalisation, whether Western or Chinese, if that would mean the obliteration of indigenous cultures and thought.


India has allowed CIs but they are not encouraged by the Government, even though there is a growing demand for learning the Chinese language from people trading with China, said Shikha Pandey, Asst. Professor of Chinese Studies in Mumbai University. "The Sino-India standoff is standing in the way of the development of China-studies in India," Pandey said.

But most Asian delegates, who came from countries with BRI projects in them, saw the CIs and CCs as being useful as job providers in BRI projects. As Ven. Dhammajothi said: "People learn a language to get jobs and people in Sri Lanka need jobs."

Prof. Lakshman Dissanayake, Vice Chancellor of Colombo University noted that it is useful to learn Chinese given the growing presence of Chinese in Sri Lanka, thanks to the massive infrastructure projects. With a Free Trade Agreement on the cards, Chinese and Lankan businessmen would need to communicate with each other and with Chinese tourists pouring in, there would be a need for Chinese knowing interpreters and guides, he said.

Yu Yunfeng, Deputy Chief Executive of the Confucius Institute Headquarters and Deputy Director General of Hanban, said that CI top brass are not against improvisation and localisation.

"We are open and broadminded. The CIs are integrating with local communities and are attempting to use local teachers and local teaching material," Yu said.

Another official from the CI headquarters, Zheng Menglin, said that the "CIs belong to all. They help others to understand China and the Chinese to understand other countries and cultures. Towards those ends changes are being made."


Asking people to be patient, Zheng said: "The CI is only 12 years old and is therefore a teenager experiencing growing up pains."

Backing up Yu Yunfeng and Zheng Menglin, Prof. Ashfaq Ahmad Chattha of the University of Agriculture, Faisalabad, Pakistan, said that the China-Pakistan Economic Corridor (CPEC) has created enormous job opportunities for Pakistani youth, thanks to a bilateral agreement between China and Pakistan which enjoins Chinese companies to employ qualified locals.

But another Pakistani delegate from Karachi said that Pakistan had to "fight hard" to get the Chinese companies in CPEC to employ local skilled workers because the companies preferred Chinese workers. G. Jimpei, from the CI in Karachi revealed that Chinese companies are not interested in interacting with the CIs. Another Chinese delegate said that while CI might agree to making changes, it might take some time for the rigid Chinese bureaucracy to begin to think differently and creatively.

But there is flip side to job oriented courses in the CIs and CCs. As Kumar Priyanka Jayasooriya, Professor of Chinese at Kelaniya University, said, students who pass out do not come back to teach, even as volunteers, because they get well-paid jobs in the Chinese companies in the island.

"The reason is that university teachers are poorly paid. Because of a lack of qualified teachers we have to make do with teachers without a post-graduate degree. We also have to depend on part time volunteer teachers. One way to get round the problem is to make it mandatory for those who go to China on scholarships to come back and teach," Dr. Jayasooriya said.