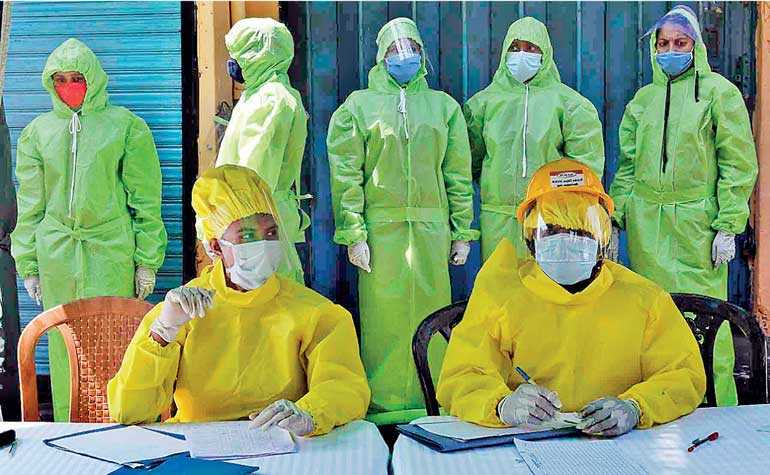 The need for effective and digitised record-keeping and contact tracing has become paramount. This is especially critical within health systems – Pic by Shehan Gunasekara
---
With the rise in COVID-19 cases and potential community spread with increasing evidence of new clusters of cases,1 Sri Lanka once again reverted to initially instituting quarantine curfews in select

police divisions, culminating in a Western Province-wide weekend curfew2, in an effort to contain the virus and aid in contact tracing, given that Colombo has now been identified as a high-risk area for
COVID-19.3
Many workplaces have re-instituted work-from-home arrangements in response to the sudden spike in cases; however, a significant number are still functioning as normal, owing largely to the detrimental economic costs associated with locking down, as was observed during the first wave of the virus. The Government has also re-issued an updated timeline for the recommencement of activities.4 Accordingly, select shops and restaurants are still open, with social distancing guidelines in place with varying levels of enforcement.

Against this backdrop, the need for effective and digitised record-keeping and contact tracing has become paramount. This is especially critical within health systems. Under the current system of contact tracing, as soon as the first and second level contacts are identified and traced, they are required to undergo testing and then enter a period of quarantine in a State facility or are advised to quarantine at home under the supervision of local health authorities.

Contact tracing mostly relies on the potentially exposed individuals' recollections of interactions, after which extensive support via intelligence is used. Given that the numbers of positive cases are increasing by the hundreds, daily contact tracing using these methods can leave room for errors, and further spread of the virus. Moreover, public health responders may be unable to cope with individual contact tracing, leading to such efforts needing to be scaled up.

Effective digitised record-keeping could significantly reduce the effort required and increase the efficacy of this process. In most Government hospitals, health history is, for the most part, still collected and recorded manually. It is therefore vital that maximum efforts are made to identify and utilise the most effective methods of contact tracing possible, not only to ensure that less people fall sick, but also to foster trust in State prevention methods, which in turn will encourage greater compliance to restrictions.

Recently, all institutional heads were asked to update employees' personal records5 within three days to support the efforts towards ascertaining present locations in the event of an outbreak. The nature of the pandemic has demonstrated that collecting and maintaining such records should be mainstreamed as a vital practice within all institutions.

Members of the public have also been asked to individually keep track of places they had been to and transportation modes used to track people as required. In recent days, several public announcements were made imploring citizens to contact their respective health officials and identify themselves if they had used certain bus routes or trains on specific days. However, these efforts are voluntary and there is a high chance that people will opt to not report themselves due to the stigmatisation of COVID patients.

Various institutions are also taking measures to collect the contact information of visitors. Most of the time, this is carried out through a paper form, that requires the visitor to use a pen provided by the institution. In some cases, these pens are marked as either sanitised or safe for use, or used pens that shouldn't be touched; however, more often than not, there is only one pen. This type of record collection leaves room for further spread of the virus, particularly after reports of the virus being able to remain on surfaces for 48 hours.

Moreover, sorting these physical records out at the end of the day is likely to be time-consuming. There are also concerns about a lack of data privacy with regard to contact information provided, leaving room for potential misuse of such personal data. It is also worth noting that this form of record collection is very difficult to implement in supermarkets, open-air markets and shopping malls, and in some instances, is not happening at all in such larger public spaces.

Another aspect of contact tracing that needs to be considered is the reliability of information provided. Officials have reported a few incidents where people did not disclose their full history of visits, making contact tracing efforts more cumbersome, but far less effective.
Is this working in other countries?
Countries around the world have employed various contact tracing mechanisms, in line with their existing digital capabilities and infrastructure and institutional capacities. Taiwan, China, Vietnam and Germany, for example, were able to utilise their existing systems in an integrated manner to support containment and mitigation measures.

The digitising of records and integration of systems across institutions should not only support preventative efforts related to the virus but, could also potentially allow for the collection and analysis of accurate, quality and updated data, which could form the basis for more informed policymaking. For instance, it could allow for the identification of areas with a higher concentration of people with pre-existing conditions, indicating that differentiated measures should be taken in such areas. It could also allow for the identification of financially vulnerable patients in need of support, or to even identify potential cases before an outbreak.6
Data privacy and security
It is vital that should contact tracing efforts be upgraded using technology, data privacy and security concerns are taken very seriously, so as not to compromise the confidentiality of not only medical information, but also contact information and current locations. The effectiveness of using such digital tools is predicated on how many citizens are willing to utilise them; ensuring data privacy and security will increase public trust in using such tools for contact tracing, which should allow for an increase in their uptake and therefore, effectiveness.

While other countries have introduced digital contact tracing tools, efforts are still ongoing around identifying frameworks that can ensure that data sharing and security go hand in hand. Amnesty International's Security Lab, for instance, has expressed concern about rushing to embrace digital tools which have not yet been proven to be effective and could put individuals' privacy at risk.7

Australia could be viewed as a case study on positive efforts taken towards ensuring that these concerns are addressed. For instance, given initial concerns of 'function creep', whereby data collected through Australia's COVIDSafe App could be utilised for other law enforcement purposes, it was demonstrated that amendments to the country's legislation ensures that it is an offence to do so. Furthermore, the app underwent a cybersecurity review to ensure that personal information collected is limited, and the Australian Government released the app's complete source code for public inspection.8
Can Sri Lanka upgrade its contact tracing systems?
Having digitalised and integrated record-keeping systems therefore would only support the smooth and rapid execution of containment efforts, as Sri Lanka pushes against community spread. However, as articulated by Bernardo Mariano Junior, the Director of the Department of Health and Innovation and the Chief Information Officer of the WHO, digital tools cannot exist in a vacuum – while they have the 'potential to optimise traditional contact tracing purposes', this can only happen if they are 'integrated into a comprehensive public health response'.9

Moreover, it is vital to remember that digital tools will only truly benefit the sub-set of the population that has access to devices and Internet connectivity – at present, this is far from universal in Sri Lanka.

In order for the country to start setting up such mechanisms, a few questions must be tackled first:
Do we have enough systems that have been digitised so far, to rely on past experiences?
Are institutions willing to adopt these systems and learn to use them effectively?
Are institutions willing to share their information and operate in an integrated manner?
Do we have enough technical, physical, financial and human resources at hand to set up these systems?
Does Sri Lanka have sufficient legal and regulatory frameworks in place on data privacy and security?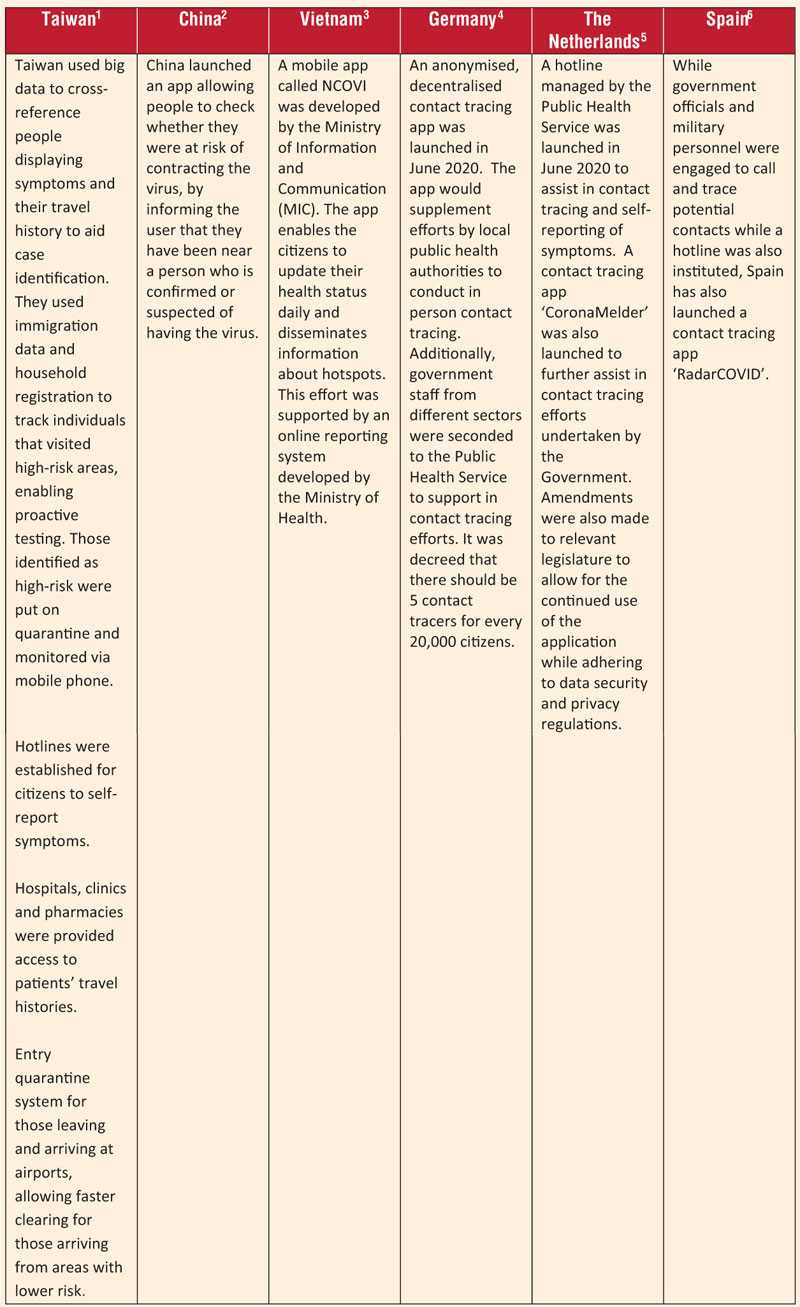 ---
[Ayushka Nugaliyadda is the Economist and Systems Design Lead, Bhagya Maheshi, the Data Scientist, and Sarika Warusavitarana, the Sociologist and Solutions Mapping Lead of Citra Social Innovation Lab. Together with the Citra team, they have previously written related pieces on the crucial next steps in responding to a second wave of COVID-19 in Sri Lanka, the impact of COVID-19 on Sri Lanka's economy, environment, society and governance, and conducted a comparative analysis of global responses to COVID-19, accessible at www.citralab.lk. Citra Lab is a joint initiative of the State Ministry of Skills Development, Vocational Education, Research and Innovation and UNDP in Sri Lanka.]
---


Footnotes

1 See http://www.ft.lk/news/74-new-cases-identified-71-linked-to-Divulapitiya-cluster/56-707586

2 https://www.newsfirst.lk/2020/10/07/update-quarantine-police-curfew-for-multiple-areas-with-immediate-effect/

3 See http://www.dailymirror.lk/breaking_news/Colombo-identified-as-high-risk-area-for-COVID-GMOA/108-197988

4 See https://www.hpb.health.gov.lk/en/covid-19

5 https://www.newsfirst.lk/2020/10/13/update-details-of-workers-govt-requests-employers/

6 Mapping the Disparities That Bred an Unequal Pandemic https://www.bloomberg.com/news/articles/2020-09-30/mapping-the-disparities-of-chicago-s-unequal-pandemic

7 https://www.amnestyusa.org/press-releases/contact-tracing-app-security-flaw-exposed-sensitive-personal-details-of-more-than-one-million/

8 https://www.nortonrosefulbright.com/en-me/knowledge/publications/d7a9a296/contact-tracing-apps-a-new-world-for-data-privacy

9 https://www.who.int/news-room/feature-stories/detail/tracking-covid-19-contact-tracing-in-the-digital-age

10 Response to COVID-19 in Taiwan Big Data Analytics, New Technology, and Proactive Testing https://jamanetwork.com/journals/jama/fullarticle/2762689

11 China launches coronavirus 'close contact detector' app https://www.bbc.com/news/technology-51439401

12 Here are 4 ways Viet Nam has managed to control COVID-19 https://www.weforum.org/agenda/2020/05/vietnam-control-covid-19/

13 See https://www.bmj.com/content/369/bmj.m2522 and https://www.nortonrosefulbright.com/en-me/knowledge/publications/d7a9a296/contact-tracing-apps-a-new-world-for-data-privacy#Germany

14 See https://www.government.nl/documents/publications/2020/06/08/coronavirus-how-does-contact-tracing-work and https://iapp.org/news/a/the-gdpr-catch-22-in-the-dutch-covid-19-contact-tracing-app/

15 See https://www.reuters.com/article/us-health-coronavirus-apps-spain-idUSKBN2680SF