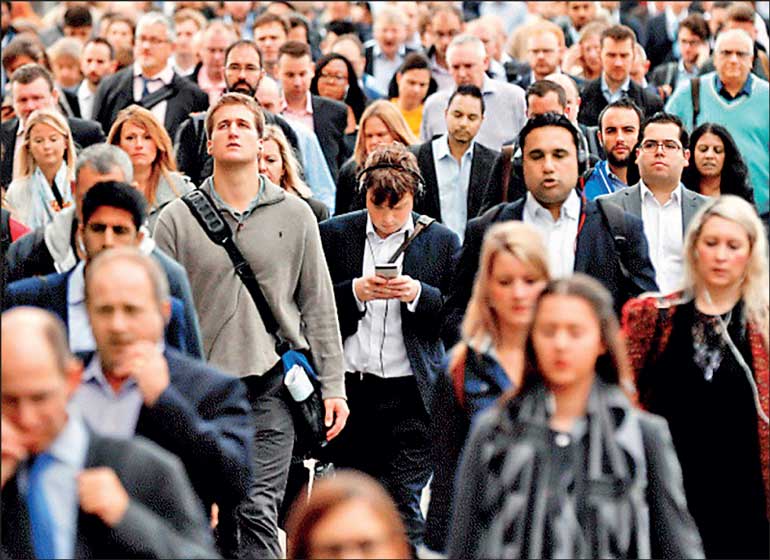 The police did not have evidence to prove the allegation. Even if they did, was it such a serious crime, that they should ruin the young boy's life? Think about the horrendous crimes committed by white individuals. Their horrific offences had been tolerated and/or covered by the police and/or authorities because they were white
By Rajasinghe Bandara
---
Recently China accused the British of racism against Asians, but former Prime Minister Boris Johnson categorically denied it. But what is the truth and the reality?

Last March, a young Sri Lankan student, 21, was arrested by Milton Keynes Police, on the charges of assaulting his young sister, 14. He was compelled to punish her for her misbehaviour. The girl was very bright and enthusiastic when she was in the primary school, and had won several gold medals for her achievements. But her behaviour had changed since she was admitted to the current secondary school. Some girls, her friends, had given her marijuana, also called 'weed', to try out. She had tried it out at home and self-harmed by cutting her wrist with a blade. When her brother noticed it, he had punished her for the behaviour. Not only is it typical in the Sri Lankan culture but also in other Asian cultures. In Asian cultures, adults punish their children to discipline them when they misbehave. But in this case the boy became the victim of the British culture.

The student was later released on police bail. Some bail conditions were beyond any justification. He was warned that if he failed to comply with the conditions his name would be published on the sex offenders register. There was no evidence to link him to sex offences. Since then, he has been under police surveillance.

In November, last year, he was arrested again by Milton Keynes Police. They had claimed that about two years ago, he had downloaded a video clip in which a man was having sex with a young girl. This time he was released on evil, harsh, bail conditions. The low-ranking police officer had told the student, "The bail conditions are just cautions; nothing serious, you can continue with your education, day-to-day life, work, etc." But the devil was in details. When the college he attended saw the conditions, they refused to accept him as a student.

According to the conditions, he is not allowed to have any unsupervised contact with anyone under the age of 18 years. All colleges have students under 18, which means no college is going to accept him as a student or for employment. He cannot even work in a supermarket under those humiliating conditions. It is not practical to have a supervisor every time he wants to talk to a teenager. This means his whole life is going to be ruined unless he gets a fair trial and a court order.

The police did not have evidence to prove the allegation. Even if they did, was it such a serious crime that they should ruin the young boy's life when we think of the horrendous crimes committed by white individuals? Their horrific offences had been tolerated and/or covered by the police and/or authorities because they were white.

Here some of the best examples:

Jimmy Savel was one of the most celebrated TV presenters in the UK. He gained his popularity with BBC's Top of the Pops television series. Top of the Pops was the brightest, shiniest show on television and also was a breeding ground for sexual abusers, including Jimmy Savile.

"Savile, according to a U.K. National Health Service investigation …., was a prolific paedophile. The health service investigation only confirmed behaviour described in several earlier probes since his death. In all, Savile is believed to have abused at least 500 girls and boys, some as young as two, most between 13 and 15, as well as countless adults ranging up to 75 years old. With unfettered access to Leeds General Infirmary, the health service report said, he raped and fondled boys, girls, men and women in offices and corridors. He also allegedly committed sexual acts on dead bodies, and even told several hospital workers that he made jewellery out of one man's glass eyeball" – The Washington Post

Investigators believe the late Top of the Pops host preyed on vulnerable victims at institutions including the BBC's broadcasting studios, 14 hospitals and 20 children's hospitals across England although his sexual abuses had been reported to the police since 1955.

Savile used his popularity to raise funds for charities including hospitals while abusing children and patients. To some, he was Saint Jimmy, who raised £ 40 million for charity. In 1990 he was knighted. He also was made a Knight Commander of St. Gregory the Great by Pope John Paul II for his charity work. Since then, he became Sir Jimmy Savile.

He enjoyed a lavish, flamboyant lifestyle until his death. His crimes came in the public eye only after his death. The punishment for all those crimes: His Knighthood was stripped after he went to 'Heaven'.

Ian Huntley, the evil child killer, known as a 'Soham Murderer' was appointed as a school caretaker although he had been reported to the police about the sexual offences prior to the appointment.

"The Soham case exposes serious failings within the vetting system which is designed to prevent people who may pose a threat to children from getting jobs in schools.

Though Ian Huntley had no convictions for sex offences, he had been reported to police in his native Humberside on six occasions over sexual assaults or sexual relationships with underage girls.

In addition social services in the north east investigated four relationships between Huntley and schoolgirls, one only 13, and an alleged indecent assault on an 11-year-old girl.

But checks made by police on Huntley when he was appointed caretaker of Soham Village College failed to unearth these details of his past." Source: Guardian UK

While working as the school caretaker he killed two school girls Holly Wells and Jessica Chapman, just 10 years old, most probably after a sexual attack.

According to the Sexual Offences Act 2003, it's a criminal offence for any kind of sexual activity to take place between two people where one or both participants is under 16.

During my graduate teacher training I had a placement in a London secondary school. When I entered the library, I saw a girl around 12 and boy around 14-15 kissing passionately on the library sofa, they were both white. I thought this was not appropriate in a public place and asked advice from the teacher trainer, who was a head teacher (School Principal) and white, the action a teacher could take in such situation. He said, "Just keep a blind eye on them."

In the UK, children as young as 12 are being offered free condoms and sexual lubricants by schools and the NHS without their parents' knowledge because underage pregnancies in schools has been alarming.

It was reported UK has the youngest fathers in the world, around 14 years, some were just 13. Many teachers had been sacked for having sex with underage schoolboys or girls. Some were deported by the court orders.

Incest is an unspeakable realty in the UK since the Victorian Age, many young girls in the mental hospitals had been sexually abused by their fathers. To cover up this culture, to show the 'professionalism' of the police, is it right to ruin the life of a young Asian student? Why was the law applied differently to the innocent Sri Lankan boy on the allegation of downloading a sexual footage?

It is extremely difficult for Asians to get a voice in the British media to tell their stories. Former Metropolitan Chief Commissioner Sir Ian Blair accused the media of 'institutional racism' over its reporting of murders. He said murders in minority communities appeared "not to interest the mainstream media", while middle-class, white victims attracted much more coverage… "That death of the young lawyer (referring to 31-year-old white lawyer Tom ap Rhys Pryce, who was stabbed to death for his mobile phone and bank cards) was terrible, but an Asian man was dragged to his death, a woman was chopped up in Lewisham, a chap shot in the head in a Trident murder – they got a paragraph on page 97."

The Steven Lawrence murder case has been a horrific reminder of institutional racism in the British police. Steven, the black teenager, was murdered by two white teenagers on 22 April 1993 in an unprovoked racist knife attack in Eltham, South London.

But the Police had been unwilling to carry out proper investigation and produce sufficient evidence to the court for many years to convict the criminals. The inquiry into his murder led by the late Sir William Macpherson uncovered major failings in the police investigation, institution racism in the British police. The scale of Mark Duggan (Black man who was shot dead by Tottenham police) protests sent shock waves to the world on how black people feel about the racist discrimination against them. The cost to the taxpayer would be £ 133 million in policing and compensation for businesses hit by the violence.


Here is my lived experience:

Around 20 years ago, I was mugged, on a lonely road in Gravesend, in Kent, by two white teenagers while I was coming after receiving two weeks' wages. It was night. One was very tall and strong, the other was short. The stronger, immerged from a bus and held me by the collar. I turned back to see whether there were other men. I saw the short guy was running to me. I thought they were going to kill me. I screamed for help, no one came. They said, "Give money, give money." I realised they were after money. When they were trying to grab my shoulder bag with money, I resisted. Then the strong boy hit me hard on my face, so I fell on the road. My face was bleeding. Then they ran away with the bag.

After coming home, I rang 999. After about one hour, the police arrested two boys according to my description and asked me on the phone, "We arrested two boys, one had a bank card, is this yours?" I said yes. The following day the tall boy came to my workplace with his father or guardian. I couldn't believe this criminal was released without an ID parade. D.C. Fowler who investigated the robbery said to me the other had told the police while searching him, a policeman had put the bankcard into his pocket. This was clearly a police fabrication to protect the whites. If the police were serious, they could find the truth with fingerprints and/or with DNA evidence. I was informed there was no sufficient evidence to prosecute them.

I had been a graduate teacher, school principal and IT lecturer. I have delivered lectures at university levels. When I used to work for Westminster Adult Education College (WAES) delivering IT functional skills to Level 2 students I noticed the majority of the students, mostly Muslim women from Africa and Middle East, did not have the required level of English and IT skills to be at Level 2. Many could not write a sentence or spell a word correctly. Their previous teachers were white. But the college had given them Level 1 qualifications.

When I raised this matter with the IT manager, the head of the department, an Italian woman, launched a conspiracy to terminate my work. The white staff assisted her to do it. The Italian woman knew how to do Mafia style frauds. She knew my attitude of professionalism and that I had been a freelance journalist.

There is a huge skills shortage in the UK. During the time UK was a member of European Union (EU), UK received billions of pounds to develop skills of the UK and EU citizens. Many further education colleges had abused the funds, just giving qualifications not the skills. To receive funds, they had to show to the EU their success with qualifications. WAES was one of them. Westminster Adult Education also received millions of ponds to do this. Instead of developing the skills of the learners they gave qualifications to show their tremendous success. When I noticed it they terminated my work.

BBC reported that some colleges had given qualifications to learners even if they had not attended the college/lectures. When I worked at Southgate College, delivering various subjects up to extended diploma levels including Business Administration, I saw the same situation. But the problems arise when they apply for jobs without skills. They always fail. The victims were mainly from ethnic minorities. In one way this practice was also discrimination against ethnic minorities.

I prosecuted WAES at Westminster Employment Tribunal regarding the racist discrimination. My son Brian, 24, Honours graduate of IT, from University of Westminster, argued my case. We produced true and solid evidence to prove our case. They produced fabricated/manipulated, fraudulent documents including emails. My son and I had expertise to analyse those. The email they produced to the courts as from the learners were written in good English when they couldn't write even a sentence correctly. They forged even my signature. I made a complaint to the special police unit, Action Fraud, requesting an investigation into the fraud. But they were never interested in investigating. Had they done it, the fraudsters would have been in prison. When I asked legal advice from a law firm, they said the police must have arrested the culprits.

When they produced fabricated evidence from a female student, I knew the woman had a criminal background: She was in prison twice; one time trying to kill her brother-in-law with a handgun, the other time stealing money from the same person. When my son pointed this out at the court, questioning how a person with a criminal background could give evidence at the court about professional practice, the defending barrister panicked and made a humble request not to mention her name and asked permission to use a code instead. We agreed. The white lecturer, defending her (woman with criminal background) in the court appeared to be gay. We also proved how the white lecturers, without relevant qualifications, had been given excessive hours by the Italian woman while I was given the least hours.

During the process of the court hearing an Indian man approached us and asked our permission to be in the court. We welcomed him. He gave us a press card to show he had a PhD.

In his closing submission, my son, Brian said, "The great African leader Nelson Mandela sacrificed his whole life to make the world an equal place for everyone. In his autobiography about the ground reality of white racism, he wrote 'Long walk to freedom'. We have white judges. The college/the respondents did not bring any witnesses from ethnic minorities because they suspect them. They brought only white people.

The witnesses could not justify their version about the termination of Mr Rajasinghe Bandara's employment, the different treatment to white lectures. We produced enough evidence to the court to prove the racist discrimination.

We would hope justice would be delivered."

It was one of the most beautiful presentations I have ever seen in a court. The court commended Brian, in their judgement about this.

After his submission the Indian man came to us, sat with us and said, "If I were the judge I would have favoured you. But if the court did, it would open floodgates for other people to come to the courts with thousands of similar cases." It was the bad omen that judgment was not going to be in our favour. We believe he was a court messenger, employed by the court to tell this. He prepended us as an Asian individual who was interested about our case. After telling that he climbed through a staircase and entered to an area only the courts' employees had access to.

The following week judgment was delivered. All charges against them, including racist discrimination and the frauds, failed. It was a another story of 'To Kill a Mockingbird', enormously popular novel by American author Harper Lee about white racism, published in 1960, and sold more than 40 million copies worldwide.

The story is about the white court, backed by the white jury, sentencing an innocent black man to jail, for a crime which he did not commit. The complaint was made by the abusive white father of a young girl who he had been sexually abusing for a long time. But the court and the jury didn't want to find the truth. They were only interested about the skin colour.

When I said I was going to appeal against the verdict, my son said, "You are going to waste your time, you never win. At the top they all join together. Don't be upset, we have a moral victory. Remember Mandela: 'Long walk to freedom'." I hugged him with pride.