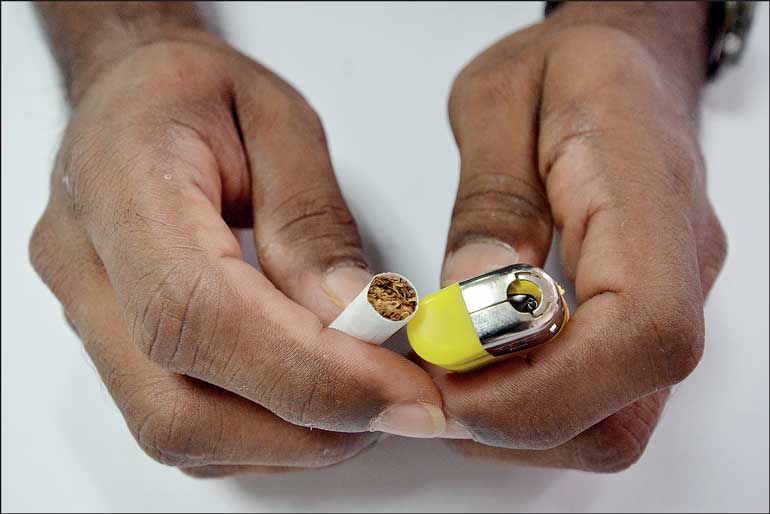 Contraband deprives revenue to Government, whilst the legitimate cigarette industry constantly coughs out billions to the State coffers despite the gauntlet to its neck

Sri Lanka is at the zenith for cigarette pricing globally. We are the world leader as recognised by no less than the World Health Organization. There is no gain to be got from flogging this dead horse. Attention must instead be focused on regulating access to illicit and other domestic tobacco products, and ensuring a level playing field in terms of tax. There is disproportionate interest in the legitimate cigarette trade, whilst others roam free
---
By a Special Correspondent
---
Budget 2022 is a decisive one for Sri Lanka. The raging pandemic disrupted lives and livelihoods for two years, as the Government grapples with an unprecedented revenue and foreign exchange crisis that threatens our outlook for the medium term. Import restrictions and foreign exchange pressures contributed to rising prices and shortages of essential goods leading to severe stress and frustration to the public and those in government.
The power for change
The 2022 Budget promises a policy framework to address these critical issues and place the economy on a sustained growth path, a Finance Ministry spokesman has said. There is talk of inception of a wealth tax and a COVID-19 CESS, plus, easing restrictions on imports to provide relief to an increasingly testy public. With foreign exchange and earnings to the state at a premium, the Government is poised for an unenviable high-wire act with a broken safety net at the bottom.

In this backdrop, it is imperative that officials choose prudence over popularity, which has often proved a difficult pill to swallow. However, unlike ever before the Government can ill-afford populist measures that will send the economy into a disastrous spiral. On the other hand, this Government has in its clutch the parliamentary power to push through any proposal it deems beneficial for the nation. How well will it employ this capacity remains to be seen.
Smoke without fire
The Government must stay the prudent course and not be swayed by vested elements clamouring for hikes or cuts to suit their self-indulgent ends. Sri Lanka's cigarette industry presents a prime example in the lead up to this Budget, with lobby groups claiming a Rs. 20 increase in price per stick will offer substantial returns to Government. There is considerable propaganda surrounding this claim, but hardly any attention paid to its outturn.

A standard cigarette in Sri Lanka today is Rs. 65 with a 20-pack costing Rs. 1,300. Median household income per month sits around just Rs. 62,000 per month, with a Central Bank report pointing to just 2% spend on tobacco and alcohol. Effectively, consumer spend on a full pack of cigarettes amounts to 2% of the monthly median income.

Consequent to the price increase of July 2019, official cigarette volumes sold annually plummeted to 2.3 billion sticks in 2020 compared to 3.15 billion in 2018. A pack of cigarettes from Sri Lanka is listed as the most expensive in the world in terms of purchasing power parity as per the latest WHO report; a feather in the hat no doubt of the local tobacco control movement.
Balanced price is critical
Excessive price hikes coupled with crippling market conditions led to a Rs. 10 billion drop in revenue from the sector during 2020. This was the year the Sri Lankan Government earned just Rs. 1,373 billion; spent Rs. 1,052 billion of that on State salaries and pensions, and was left with a paltry Rs. 321 billion to handle just about everything else. A further Rs. 980 billion was required that year for interest payments on loans. The Government is in no position to let go of revenue.

The Government's own regulatory body for tobacco control, the National Authority on Tobacco and Alcohol (NATA), has admitted the existing revenue model for tobacco is broken. In a statement to the press, its Chairman states that following successive price increases, the State has experienced falling revenues. The NATA Chairman adds that his organisation together with a consultative committee and the WHO has developed a new price formula that will ensure Rs. 125 billion in annual income to the government from cigarette sales between 2022 and 2026. What they fail to admit is the lack of foresight and consideration that dismantled a system which was already yielding the State Rs. 125 billion a year.
Lobby groups firing blanks
The anti-tobacco lobby projects that a price increase at this juncture will yield a further Rs. 40 billion in revenue to Government. It insinuates that the extra Rs. 40 billion earned can be used to provide relief to the public on price of essential items. The Government just last week removed all price controls on essential items such as flour, gas, milk powder and cement. With prices of many other essentials about to follow suit, just how much relief is such a move purported to offer?

On the other hand, a Rs. 20 hike in price of a single stick amounts to an increase of 31%. In 2019, prices increased 18% and this led to a drop of 850 million sticks sold in 2020 vis end 2018. Factoring the prevalent rate of inflation coupled with the impacts of COVID this year, a 31% price hike will compound government losses well above the Rs. 10 billion already lost last year. Unofficial estimates point to much as Rs. 22 billion, a price the Government can ill afford at this juncture.
Government at crossroads
Where Government needs to pay attention is the impact of its measures on the illicit trade, which is the primary substitute for smokers in the face of excessive taxation. The anti-tobacco lobby including certain Government officials turn a blind eye to its existence and rampant spread, as the illicit cigarette market share has shot up to 25% by 2020 from a low of under 2% just five years ago in the face of increasing consumer unaffordability. Contraband deprives revenue to Government, whilst the legitimate cigarette industry constantly coughs out billions to the State coffers despite the gauntlet to its neck.

As alluded to above, Sri Lanka is at the zenith for cigarette pricing globally. We are the world leader as recognised by no less than the World Health Organization, the foremost global institution in the campaign against tobacco harm. There is no gain to be got from flogging this dead horse. Attention must instead be focused on regulating access to illicit and other domestic tobacco products, and ensuring a level playing field in terms of tax. There is disproportionate interest in the legitimate cigarette trade, whilst others roam free.

Sri Lanka is at a crossroad in its development journey. It must move quickly and judiciously on a correct path to breathe life to an economy on the edge of peril. The evolving policy over the past fortnight in relation to price of several essential items is a crucial chapter on this journey that will pave the way for constructive solutions. It is hoped the Government will exercise the same degree of prudency for pricing policy over this controversial yet crucial segment of our economy.