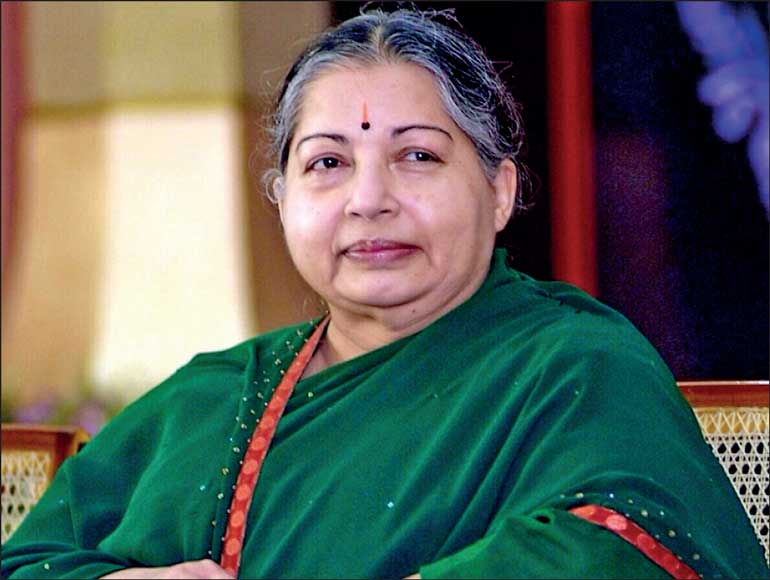 Had she not died, Jayalalithaa would have been definitely convicted and imprisoned for corruption and forfeited her chief minister post. Death through illness spared her that ignominy

There was no inner party democracy in the AIADMK. Jayalalithaa appointed, removed, transferred, promoted, demoted, expelled and recruited at her own discretion. Ministers were appointed, fired or shuffled according to her whims. Her wish was the party's command. None dared to disobey let alone defy. She was an autocrat who did not tolerate criticism. She looked down upon the media and brooked no dissent from any quarter

Tamil Nadu in South India is geographically the closest Indian state to Sri Lanka. Tamil Nadu meaning Tamil country has a population of 72,147,030 according to the 2011 Census. The state has spawned many colourful political personalities. Standing out among these figures is actress-politico Jayalalithaa Jayaram who was elected as Tamil Nadu chief minister four times and served in that position for almost 16 years. The alluring actress turned powerful politician reigned over India's sixth largest state like a 'boss lady'. She also ruled her party the All India Anna Dravida Munnetra Kazhagam (AIADMK) in a dictatorial mode.
Jayalalithaa Jayaram passed away in December 2016. If the 'iron butterfly' was among the living now, she would have celebrated her 75th birth anniversary on 24 February. It is against this backdrop that this week's 'Political Pulse' Column focuses on Jayalalithaa while drawing from my earlier writings about her.

Jayalalithaa led the AIADMK from 1989 until her death in 2016. She was elected four times in general elections as Tamil Nadu Chief Minister. She served three full terms in 1991-96, 2001-06 and 2011-16. However she had to step down as chief minister twice due to legal impediments caused by charges of alleged corruption and acquisition of disproportionate assets against her. However she regained her post as chief minister on both occasions. She was elected chief minister a fourth time in 2016 but fell ill and passed away a few months later in the same year. Had she not died, Jayalalithaa would have been definitely convicted and imprisoned for corruption and forfeited her chief minister post. Death through illness spared her that ignominy.

Notwithstanding the corruption charges, Jayalalithaa was the sole repository of power in the AIADMK administrations she presided over. As chief minister, she was in practice the ruling deity of Tamil Nadu. Her followers, supporters and sycophants referred to her respectfully as "Amma" which means both mother and also a superior woman. Amma is both an endearing as well as respectful form of address. In Tamil Nadu under Jayalalithaa rule, there was only one "Amma" and that was her. From state-administered cheap food restaurants to privately run cinema halls "Amma" was the brand name. Cardboard cut-outs and colourful posters hailing "Amma Jayalalithaa" dotted the landscape of Tamil Nadu then. "Amma" or boss lady was omnipresent and omnipotent.

Jayalalithaa usually kept her party members and supporters at a distance. But when she triumphed at an election Jayalalithaa allowed party members to come up to her and offer their wishes and praises. This they did with gusto in a disgusting exhibition of servile sycophancy. Thousands of supporters crawled before their divine "Amma" and prostrated themselves at her feet. Jayalalithaa had Tamil Nadu at her feet metaphorically and also literally.

Tamil Nadu was once the cradle of the "Suya mariyaathai Iyakkam" or the "Self-respect Movement". It was in essence a Dravidian revolt against perceived Aryan dominance in the form of Brahminism. Ironically "Dravidian" Tamil Nadu fawned at the feet of "Paappaathi" (Brahmin woman) Jayalalithaa without any semblance of self-respect.


Srirangam Aiyengaar

Jayalalithaa was born on 24 February, 1948 in Mysore in the Karnataka state of today. She is of Tamil Vaishnavite Brahmin Aiyengaar stock hailing from Srirangam in the Trichy district of Tamil Nadu state. Both her paternal and maternal grandparents relocated to the state of Karnataka which was formerly known as Mysore. Her paternal grandfather was Dr. Narasimhan Rangachary who served as the court physician to Krishnaraja Wodeyar IV, who reigned as the Maharajah of Mysore from 1894 to 1940. Her maternal grandfather Rengasamy Aiyengar worked at Hindustan Aeronautics.

Jayalalithaa's father Jayaram was a wastrel who squandered the family fortune away through gambling and betting. He died when Jayalalithaa was two. Jayalalithaa's widowed mother Vedavalli, turned to acting in films for a living. She adopted the screen name Sandhya.

Jayalalithaa herself was born in Melukote in the Pandavapura division of Mandya district in Karnataka. She was given her grandmother's name Koamalavalli at the time of birth. The name Jayalalithaa was adopted later when she became an actress. It was derived from the names of two houses where she had resided in Mysore. One was "Jaya Vilas" and the other "Lalitha Vilas". Her name was originally spelled with one 'a' at the end. Later another 'a' was added for numerological reasons. Jayalalitha became Jayalalithaa. However, she was widely known by her pet name "Ammu". In later years "Ammu" gave way to "Amma."


Queen of Tamil cinema

Very few people looking at her rotund appearance of later years would be able to imagine the time when Jayalalithaa was slim and lissom. That she was and a ravishing beauty too. All one has to do is to view a DVD of one of her movies. As an actress, Jayalalithaa was the uncrowned queen of Tamil cinema during the mid-'60s to the mid-'70s of the last century, the dream girl of many a teenager and the favourite pin-up star of many fans. Jayalalithaa sparkled on the silver screen. She acted in 142 films from 1964 to 1980 in the Tamil, Telugu, Kannada, Malayalam, Hindi and English languages. Of these 77 films ran for over 100 days and 18 for more than 25 weeks.

Jayalalithaa's first Tamil film was 'Vennira Aadai'. Her second Tamil film was 'Aayirathil Oruvan' where she first played the leading lady to MG Ramachandran known as MGR. It was a blockbuster. MGR was 48 years old and Jayalalithaa only 17. Despite the 31-year age difference the pair hit it off grandly on screen. More films followed and the duo made 28 films together in nine years. Almost every film was a commercial success.


Love of MGR's life

The immensely popular MGR had a network of fan clubs known as Rasikar Mandram. Though several actresses have paired with MGR, it was Jayalalithaa who captured the hearts of his fans. MGR's wife Janaki was called "Anni," meaning wife of the elder brother by fans, who also referred to Jayalalithaa as "Sinna (small) Anni". MGR himself was infatuated with her. Though they never formally married, Jayalalithaa was regarded as the love of MGR's life.

In spite of her unofficial liaison with MGR, the actor to whom Jayalalithaa was linked romantically was Telugu actor Sobhan Babu. He was however married and refused to divorce his wife and marry Jayalalithaa. Once when a Tamil magazine had a gossip article about this relationship, Jayalalithaa wrote an open letter to the publication in which she stated that both of them were in love and would marry if and when Sobhan Babu divorced his wife. That never happened and Jayalalithaa remained single and was referred to as "Selvi" or unmarried woman perpetually.

There came a time when MGR and Jayalalithaa got estranged chiefly due to the Sobhan Babu affair. While Jayalalithaa faded away from the screen, MGR formed his own political party the AIADMK and became Chief Minister of Tamil Nadu. After a few years of separation there was rapprochement between both. MGR enticed her into his party and launched her on a successful political career.

MGR brought her into politics in 1982. After joining the AIADMK, Jayalalithaa became the party's propaganda and later administrative secretary. She was a Rajya Sabha MP in 1984. In 1989 she entered the Tamil Nadu legislature as an elected MLA.

After MGR's death in 1987, the ADMK founded by Ramachandran split, with his wife Janaki and paramour Jayalalithaa leading the two factions. Jayalalithaa triumphed and the party united under her leadership to sweep the polls in 1991. Thereafter she became the imperious yet undisputed leader of the AIADMK until her illness and demise.

Few in her party dared to call her by name and so she was "Amma," "Madam" or "Thalaivi." Since MGR was called "Puratchi Thalaiver," or revolutionary leader, Jayalalithaa was addressed by its feminine equivalent, "Puratchi Thalaivi." Like MGR, she too was called "Ithaya Deivam" (God of the Heart).


Living deity

Many in the AIADMK began treating her as a living deity. At least one of her former ministers used to pat his cheeks reverentially when referring to her. Some ministers have gone on record saying their ambition in life was to be her servant or be a watchdog in her kennel.

Years ago in a movie called Thanipiravi MGR played Lord Muruga and Jayalalithaa, his consort Valli, in a dream sequence. A picture of both Murugan and Valli was framed and worshipped by many. Likewise, Jayalalithaa has played divine roles in many other films too. Pictures of Jayalalithaa in such roles were hung in many dwellings. Some people even lit camphor and laid flowers before them. Once sycophants went to the extent of depicting her as the Madonna in posters. Enraged Catholics protested and the posters were removed.

Falling at her feet or touching them as a mark of respect was almost a ritual for many of her followers. Touching or falling at the feet of elders to seek their blessings is customary in India. But in the case of Jayalalithaa, party sycophants took this practice to ridiculous levels. Even party veterans older than Jayalalithaa prostrated themselves publicly. There were nauseating references to her feet by party members when they commenced their public speeches. In a disgusting spectacle they began speaking by paying homage to her "potpaadangal" (golden feet) or "thamaraithiruvadigal" (lotus feet).

Like Imelda Marcos of the Philippines, Jayalalithaa herself had a fascination for footwear. There have been media reports and pictures of her 800 plus shoes, sandals and slippers.

Interestingly enough this penchant for Jayalalithaa's feet was shared even by her mentor and paramour. According to some observers, MGR had some kind of a foot fetish for Jayalalithaa. In many of the films in which they acted together, there were scenes of MGR touching Jayalalithaa's feet such as removing a thorn from her sole or massaging a sprained ankle. Apparently the man who founded the ADMK had a fixation on her feet. Later members of MGR's party seem to have followed their leader by being at Jayalalithaa's feet.


"Falling at her feet"

Once Jayalalithaa was questioned by a North Indian journalist about this "falling at her feet" practice and asked her why she did not put a stop to it. She replied that her supporters were doing so voluntarily due to their affectionate regard for her and that she was unable to prevent it. This was not correct because it is well-known that she likes and encourages it. Jayalalithaa also utilises this act to humiliate people.

In one instance a man who had left her party and criticised her returned to its folds again. The media was called in to witness the return of the prodigal. This man, K.K.S.R. Ramachandran, was a big-made-man with a very big moustache. He was required to prostrate himself four times before a smilingly-seated Jayalalithaa under the pretext that the photographers had not got a good shot. The picture was released to all papers.


Minions and serfs

Jayalalithaa has often been criticised for her arrogance. She was virtually a dominatrix with party people and treated them like her minions and serfs. At times, Jayalalithaa would be the only person sitting on a stage while others would remain standing or seated on the floor.

Later she dispensed with this practice but allowed only selected persons to sit next to her. When a senior Minister, Munu Aathi, dared to sit next to her at a function, she flared up and publicly ordered him to move back.

On another occasion a Congress cabinet minister from Tamil Nadu tried to sit next to her on a flight to New Delhi. She shouted at him to get lost and referred derisively to his caste. The man was a Dalit. There was a big outcry and a public apology was demanded. She did not budge.

During inner meetings of the party she remained seated while the rest sat on the floor or remained standing. There have been press conferences where her ministers stood behind her with folded hands while she sat on a sofa. Later on she stopped that and allowed others also to sit.

However there was no inner party democracy in the AIADMK. Jayalalithaa appointed, removed, transferred, promoted, demoted, expelled and recruited at her own discretion. Ministers were appointed, fired or shuffled according to her whims. Her wish was the party's command. None dared to disobey let alone defy. She was an autocrat who did not tolerate criticism. She looked down upon the media and brooked no dissent from any quarter.


Ironic contradiction

While her haughty demeanour and arrogant attitude deserved to be condemned, there was perhaps a rationale for such behaviour. The ascendancy of Jayalalithaa in a Tamil Nadu milieu could be viewed as an ironic contradiction to the norms prevailing in the state.

Despite the breeze of cosmopolitanism blowing in through globalisation, the state of Tamil Nadu is basically conservative. It is a patriarchal, male-dominated society with strict notions of a woman's role and place – Jayalalithaa was a woman.

Tamil Nadu society at large has contempt for women actors in the cine field who do not behave as 'good' women should. Woman film stars, in spite of their glamour, are not respected and regarded with disdain in private – Jayalalithaa was an actress.

The dominant political ideology in the state is that of Dravidianism. This is based on archaic concepts of the Aryan-Dravidian divide where the Brahmin community is seen as Aryans and other Tamils as Dravidians. Anti-Brahminism is a core element of Dravidian discourse – Jayalalithaa is a Brahmin.

Thus, one can see that the Jayalalithaa phenomenon went against the grain of three dominant concepts in Tamil Nadu. She was a woman, a film star and a Brahmin. The success of this embodiment in the socio-political realm of Tamil Nadu was a contradiction. Jayalalithaa, in a way, was an exception or aberration.

In that context, the situation could have been quite dicey for her. If she were to be democratic and easygoing, the people surrounding her may have exploited it to their advantage. Instead of appreciating her conduct, they would very likely have regarded it as a weakness and taken advantage.

When she entered politics, many party members were dazzled by her beauty and easy accessibility. They were extra-attentive to her and ever ready to make physical contact. A regional leader from Madurai called "Pazhakkadai" Pandi went ballistic once on stage. He was reprimanded by MGR.


Treated with reverence

Thereafter the order went out from MGR that Jayalalithaa should be treated with reverence. This changed the situation. Soon party people began showing great subservience to her. Slowly she was promoted as a superior, cult figure.

After MGR's death Jayalalithaa was quite vulnerable. An Indian editor once told me of an incident that happened in 1988. The AIADMK had split after MGR's death and both factions were trying to take control of the party headquarters building. When Jayalalithaa joined demonstrators, party supporters mobbed her.

Sadly, she had to be rescued by the Police from her own supporters. Jayalalithaa used to wear pure white sarees with a thin border then. The Indian editor told me that her saree and blouse were full of grubby finger marks. Apparently her supporters had used the opportunity to try and fondle her or squeeze her. In later life she had her own set of bodyguards known as the "poonaipadai" (Cat force) to prevent supporters from getting too close to her.


Unquestionable superiority

Jayalalithaa perhaps realised that she had to assert unquestionable superiority over her party people to remain in control. Superiority and not equality was necessary. The followers had to be put in place as inferiors. This she began to do vigorously.

Soon she became an authoritative figure. She grew into her role while her inherent traits of arrogance came to the fore. She humiliated her followers to show who was boss and trampled them underfoot. Incredible as it may seem, they seemed to like it, with even highly educated professionals paying pooja horizontally to the Brahmin boss lady.


Vicious, vindictive streak

This state of affairs may help to understand the reasons for her arrogant conduct but it certainly cannot condone it. Moreover, there was a vicious, vindictive streak to her that often manifested itself in controversial ways.

There was a woman administrative officer (IAS), Chandralekha, with whom she had a disagreement. Soon acid was thrown by goondas on Chandralekha's face. As Chief Minister, Jayalalithaa abused her authority and incarcerated her rival, Karunanidhi. The Police carried the howling man away.

Due to a dispute with the Kachipuram "Sangara madam" Holy seer Sri Jayendra Swamigal, Jayalalithaa went to the extent of getting him arrested on what seemed to be false charges.


Loo without water

When maverick politico Dr. Subramaniam Swamy fell foul of her, Jayalalithaa organised a hostile reception for him in Chennai. Members of the ADMK Women's League raised their sarees in a protest demonstration. "Subramanian Swamy has met his waterloo," gloated Jayalalithaa publicly. "I will send Jayalalithaa to the loo without water," retorted Swamy.

Chief Minister Jayalalithaa was taken ill on 22 September 2016 and admitted to Apollo Hospital in Chennai. On 4 December 2016 she suffered a cardiac arrest and was admitted to the Intensive Care Unit at Apollo. Her condition was critical and she was put on life support. She passed away on 5 December 2016.
---
(The writer can be reached at [email protected].)