It is very probable that we have been heading towards a zero-sum economy since the first industrial revolution in 1760.

Although demand and supply existed long before the industrial revolution, countries, and regions and brands have sought to gain an edge over the other more aggressively from that time – seeking to become more productive, more innovative and better than the best. Trade has been viewed like this for centuries, on how one person's gain is another person's loss – the zero-sum equation.

Innovation and thereby the protection of it through patents has been a key driver in positioning one's product or service against the other so that the differentiator would be a way of besting the competitor.

However, in the current global scenario where innovation to most services or products run neck and neck with each other, the differentiator is no more innovation by itself but the policies that govern it. Therefore the old adage that 'it is not countries that compete but companies' seems a little off, to say the least — simply because, countries and their governments create policies and policies are a part of the success or failure of any company.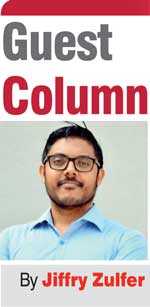 Whilst the digital advancement we are experiencing today, coupled with globalisation may well flatten the world and make its borders more porous, countries still need to keep their sovereignty and govern its people according to local laws. Unfortunately, the laws and policies that govern the digital world are mostly weak or outdated, and the danger of it adversely impacting local businesses is much higher than it having such an impact on foreign operators.

A recent article in the Echelon magazine titled 'Dealing with the gig economy' said: "Platforms like Google, and social media firms like Facebook are also part of the gig economy. However, the focus of this piece is on the tax and tech policy challenges that give global platforms an unfair advantage over similar local ones. In emerging markets where their apps are used, global platforms often don't pay sales or income tax because they don't have a physical presence. At the heart of this dispute is where platforms, including ones like Google and Facebook, offer services and make their profits and where those services and profits are booked for sales and income tax purposes."

So, policies can impact in good and bad ways, but one thing is clear — with this overemphasis by international agencies which encourage lawmakers, administrators, and policymakers to open up everything in the name of globalisation, we need to be cautious. We need to examine how this has to be done without damaging the entrepreneurial spirit of our local businesses.

One of the policies that these international agencies promote is to have export-led growth and see this as the panacea for all our economic woes. However, export-led growth with all its positive connotations may become lopsided if it isn't properly managed.

Building a healthy local market that can be fine-tuned towards domestic consumption helps the economy, both in driving local consumption needs as well as job creation. Whilst the digital economy has played a very important role as a leveller in global economics we may now be coming to the point where its processes need be re-examined, in order to find win-win situations for everyone.

Innovation is something that has to be promoted and nurtured by the state and it could come in many different ways from business processes, product services, organisational models, etc. It should be encouraged at all levels, from the conceptualisation stage right down to research and development, the transfer of knowledge, deployment and finally, how it is used in the market. Not only is it a priority for the state to ensure a healthy business, but it is necessary to have the right regulatory and policy environment, in which it could happen.

The tax environment is another area that needs to be looked at carefully. On the one hand, if it is too regimented it could impede progress. But, on the other hand, it could be a way to open up markets and level the playing fields so that there will be equal opportunity for local and international players. With digital advancement happening rapidly across the world, the gig economy has become a partner in its growth.

A gig economy is a free market system in which temporary positions are common and organisations contract with independent workers for short-term engagements. The term "gig" is a slang word meaning "a job for a specified period of time". While this is probably the way employment will be looked at in a future world, policies need to be created in creating a level playing field so that one player could not have an advantage over the other due to some loophole in the law. Since the digital platform can easily give access to offshore companies entering local markets without much of a hassle and continue to operate without even maintaining a physical office in the geographic location they operate in, we need proper policies and laws to ensure that local entrepreneurs are not impacted due to the lack of a level playing field.

The central goal of creating economic policies would be to spur productivity and innovation and this would obviously be in trade and nontrade areas. For this, we need to domestically balance the interest of workers and consumers, over both short and long term periods. This will not only promote domestic skills development but will also spur interest in innovation, knowledge building and transfer and production. Without it, progress will be stunted and in the end, will kill the spirit of entrepreneurship.

As we move into the second decade of this century, many changes are going to happen, politically, culturally and socially and it is the digital platform that will be responsible for the bulk of its progress or regress and as a nation, we cannot be left behind. We have an equal opportunity to take on the world, especially in the service industry. But for this, a vital first step needs to be taken i.e. ensuring that a level playing field is created for domestic industries.

Whilst these policies must in no way be seen as protectionist measures to cut out foreign players in local markets, it must always be viewed as a positive-sum game. A positive-sum occurs when resources are somehow increased and an approach is formulated in which the desires and needs of all concerned are satisfied. One example would be when there are two parties, and both gain financially by participating in a contest, no matter who wins or loses. This is the definition of a positive-sum game.
[Jiffry Zulfer is the founder and CEO of Digital Mobility Solutions Lanka Ltd., the most successful tech-based startup in the country 'PickMe,' which introduced online ride hailing to Sri Lanka. A serial entrepreneur counting 17 years of founding and successfully running several technology-based ventures, Zulfer has been part of several tech companies in the country including Anything.lk which is now rebranded as wow.lk. Zulfer won the National Silver Award at the FCCISL Sri Lankan Entrepreneur of the year 2018, the FCCISL Young Entrepreneur of the Year Award (April 2004) and the ICTA Young IT Professional Award (May 2006) for his efforts in technopreneurship.]