Changing the apron of the cooks will not bring better soup
---
The Prime Minister must take steps to appoint professionals and capable people through the national list to the ministry posts. That will be the only way forward to revive the country from the current crisis.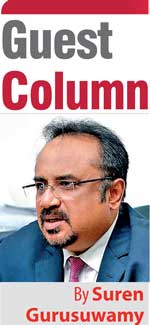 Already the members of parliament of the former Government did not manage the economy well. Therefore the international community and the people of the country have lost their faith in these parliamentarians. Appointing the same parliamentarians of the former ruling party to different ministerial posts will not bring anticipated results to the current crisis. This strategy will not win back the confidence of the people of the country. The lenders and donors too have lost faith in the former ruling party members and are therefore reluctant to provide assistance to the country.

People started agitating against the parliamentarians due to their failure to manage the economy.

This is the main reason for the people to demand resignation of ruling party members of Parliament. People mainly demanded the President, the Prime Minister and the Cabinet of Ministers to resign immediately and to replace them with the right people.

The required right people may not be found within the Parliament alone. Professionals and capable people can be found from the society, brought through the national list as members of parliament and appointed to relevant ministerial posts.

This will not only help the country to take the stride in the right direction but also win back the confidence of the people of the country and the international community especially the donors and lenders.
---
(The writer is the Official Spokesperson of TELO, a constituent party of the Tamil National Alliance.)
---