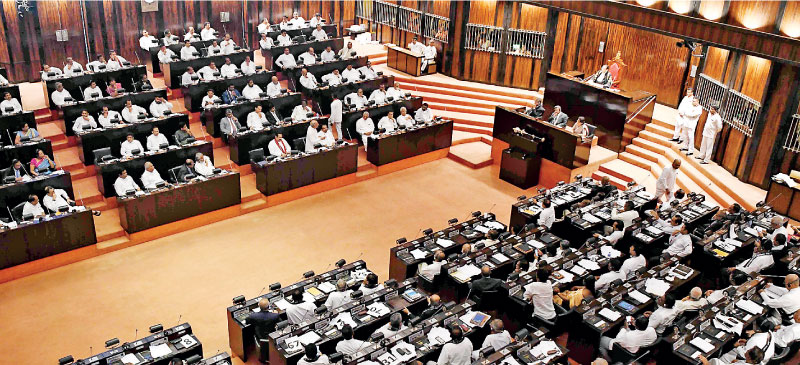 A bloated cabinet is the last thing the country needs
---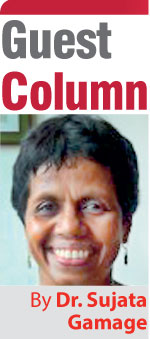 The President's office announced an interim cabinet of 21 with the promise of replacing it with an all-party cabinet soon. An all-party cabinet sounds good in theory, but it is not going to help if all-party means a bloated cabinet with fragmentation and misalignments that typically manifest in such.

Officially, we have 15 parties in Parliament distributed as SLPP (145), SJB (54), TNA (10) and JVP (3), EPDP and AITC with two members each, and nine parties with one member each. The two main parties are coalitions comprising of a multitude of small parties. If each interest group expects to receive a piece of the pie, the pie or the cabinet will have to be quite big. A bloated cabinet is the last thing the country needs.

The latest news is that SJB which still has the most MPs in the Opposition as one group has decided not to take any posts in the cabinet. SLFP, which now sits outside of the SLPP coalition with 15 members in its official count, too may make a similar decision.

I do not see the Opposition staying out of the cabinet as a big problem. It is more important to have a lean and rational cabinet with opportunities for the opposition parties and government backbenchers to be part of the decision-making process through a sectoral oversight committee system in Parliament.


A lean and rational cabinet is more important?

The Constitution allows 40 ministers in a national government. It is unfortunate that the drafters of the 19th Amendment were more concerned with political expediency not the performance of a cabinet.

There have been enough warnings about increasing the cabinet size beyond 15 or 16. For example, the 1988 report of the Administrative Reforms Committee (or the Wanasinghe Committee) on the rationalisation government functions set a limit of 16 portfolios for a cabinet.

Verite Research expanded on the negative effects of irrational cabinets in their 2020 follow-up study based on the Wanasinghe report and international practices.

"There are two key problems that emerge from the current practice of formulating ministries (1) proliferation of ministries to accommodate political interests and the instability of the resulting ministry portfolios, and (2) the irrationality in way the ministry portfolios are designed and the resulting dysfunctionality."

The recommended set of sectors to be covered in by a rational cabinet, are – Family and Community; Culture and Society; Environment; Health; Education; Labour and Employment, Agriculture; Industry and Trade, Public Utilities; Ports, Shipping and Aviation; Finance and Planning; Home Affairs; Justice; Defence; and Foreign Affairs.


With interim government we are on the way to rationality?

The latest cabinet of 22 portfolios is held by 17 ministers. As is, it is over the limit of 16 prescribed by the Wanasinghe committee or the 15 prescribed by Verite Research, but twenty is acceptable if portfolios are not fragmented or misaligned.

Glaring misalignments are seen in the placing of water supply subject in the health ministry, the land subject in the tourism ministry, and wildlife and forest conservation in the agriculture ministry. In the latter case, expansion of agriculture comes into conflict with wildlife and forest conservation and may lead to a conflict of interest within the ministry. The wildlife and forest conservation subject is better placed within the environment sector/ministry,

Fragmentation is there but the fragmented sub sectors are logically clustered. However, it is worth noting agriculture is split into fisheries, lands and agriculture. If fisheries involve a larger focus on freshwater fishing using irrigation tanks it is better to have fisheries with the agriculture sector.

Another instance is separating energy and transport subjects in to two ministries. Given that the demand for energy cannot be managed without managing transport issues, it would be better to merge the two public utilities.

An interesting feature about the interim cabinet is the inclusion of food security under trade. It could have been put under agriculture but making food security as a trade issue also makes sense. Another interesting feature is that the ministries concerned with economic growth and addressing energy crisis are largely headed by younger MPs – Manusha Nanayakkara, Ramesh Pathirana, Harin Fernando, Nalin Fernando and Kanchana Wijesekere with oversight by Ranil Wickremesinghe, a veteran.


Empowered Sectoral Oversight committees for non-Cabinet MPs

The Sectoral Oversight Committees (SOCs) set up by the 8th Parliament of the 2015-2020 period has sweeping powers as defined by House Standing Order 111. Some of the Chairmen of these sectoral oversight committees used them well to develop comprehensive policy papers or intervened to resolve thorny issues of implementation and they speak glowingly of the value of these committees.

In another plus for the committee system, the sectoral committees allow younger MPs with fire in their belly to hold the chairmanship in these committees and show their colours. This is particularly important in Sri Lanka where senior politicians expect to receive cabinet appointments no matter their lack of performance in previous positions.

Another crucial point at this time is the role that the opposition parties which do not wish to take cabinet portfolios can play in these committees. If sufficient publicity is given to these sectoral committee proceedings, some MPs may find participation in them attractive alternatives to cabinet positions.

A proposal tabled in the Parliament on 5 June 2020, by then PM Wickremesinghe to revitalise the sectoral oversight committees has a list of 16 sectoral committees which are closely aligned with a rational set of ministerial portfolios. A push for quick implementation of this proposal is vital.

A well-functioning sectoral oversight committee system can indeed be a viable alternative to the more difficult goal of an all-party government.