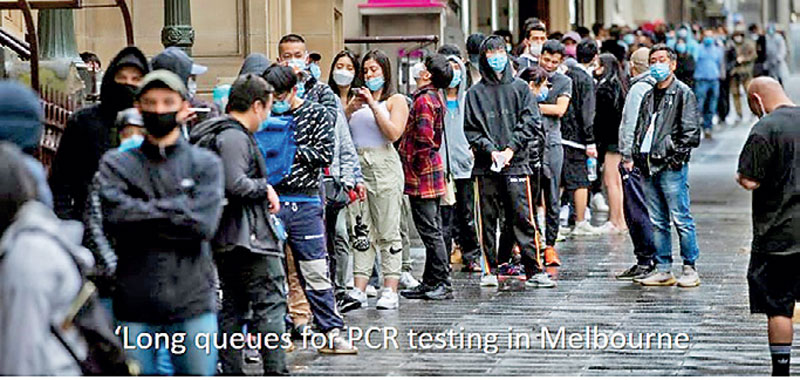 ---
The writer shares his first-hand experience of air travel during the COVID pandemic 'new normal' during his flight back from Melbourne
---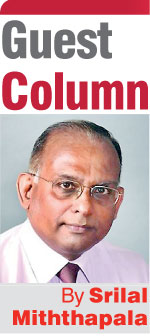 The prerequisites for air travel today under the 'new normal' is cumbersome and stressful. I had the opportunity to experience it first-hand on a recent fight back from Australia.

A negative PCR test 72 hours before departure is essential on most airlines. When in a country like Australia, which has got its COVID response plans completely messed up, this gets complicated. With caseloads exceeding 40,000 a day, the medical system there is stretched to the limits, with everyone wanting to get tested. (Even for interstate travel, before visiting aged care centres, going for a party, etc. people are testing.) Consequently, there are long queues at testing centres, with waiting time of 5-6 hours, sometimes more.

Results get late and take a minimum of more than two days to come, usually longer. (I saw a lady complaining that her results had not come for six days, and that she had to postpone her flight!) To add to the woes, unfortunately there is no way to call or mail anyone to query or complain. All one gets is automated responses just apologising for delays and asking for patience. And all this is after paying AUD 150 for the special travel PCR test.

There was no special access at the testing centre, and I had to stand in line with everyone else (who were getting tested free) in the scorching sun (38 deg. C!) So much so for the great Aussie customer service. All non-existent now. (Compare that with good old Sri Lanka where for about Rs. 7,000 – AUD 43 – you get tested in the comfort of your home with results guaranteed within 24 hours).

So with my travel day looming ahead, I was biting my nails in stress and frustration, waiting for my results in suspense. I learned that there is one fast track testing centre located at the airport which will give you the results in 90 minutes. But it opens only at 6 a.m. (surprised why they do not have it open 24 hours, since there are flights in the early hours of the morning.) With mine being at 7:30 a.m., there was no way I could fall back on this option, in case my PCR results did not come in time.

In any event even if I could have gotten it done there, with the 3-4-hour check-in time now recommended, it would mean a 4.0 + 1.5 = 5.5-hour arrival at the airport prior to boarding. And given the one-hour drive to the airport from home, it would mean I would have had to leave 6.5 hours before from home (at 1:30 a.m.). Crazy!

So eventually (with several greyer hairs added to my head) I did get the PCR test results by SMS late on day 3. Once the PCR arrived, I had to carry a printed copy to the airport, as required by Sri Lankan Airlines (UL). (And of course, your printer has to give trouble at the correct time, so that you have to then drive to Officeworks to get it printed.)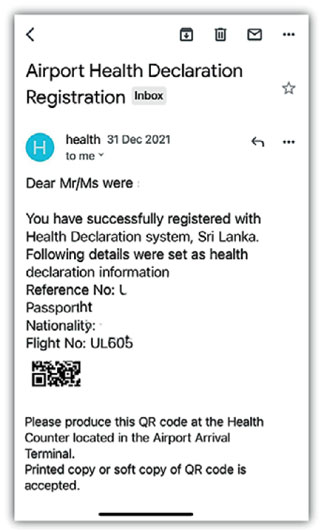 Then there is the new Sri Lankan health clearance form that has to be filled in online 72 hours prior. All vaccination certificates, PCR test results and other details have to be filled in online. For some wise, unknown reason, no PDF versions are accepted, and all documents have to be in JPEG format. So, I unearthed my PDF editor to convert all documents to JPEGS (which refused to work, keeping up with my ongoing luckless trend!) So as a last resort I took some pictures of the certificates from my phone and uploaded them. Within minutes I got confirmation that my application was successful, and was sent a QR code to carry with me. (Is my luck changing!?)

Finally, I did get all the formalities sorted out about 12 hours before my flight.

In spite of my 30 odd years in tourism (where I did travel fairly often), it is evident from the foregoing, that I am a paranoid traveller. Now that the documentation formalities were cleared, I started thinking of my baggage. After being away for six months, and with a sweet granddaughter waiting for me in Sri Lanka, it was no surprise that my luggage was badly overweight. Thankfully I had arranged for my wife to accompany me to the airport, so that if there were any issues, I could 'off-load' some items to take back with her.

So, with all these issues, I managed only a few hours of erratic sleep, and left for the airport at 4 a.m. The door-to- door airport shuttle had another passenger to pick up, and with that detour, we arrived at Tullamarine airport at about 5:25 a.m.

By the way, ticket prices on UL were quite steep. SQ was giving a much better rate and I was told that many Sri Lankans are going in for this option. I was not too happy about transiting in Singapore, so I decided to fly UL in spite of the high rates.

I was surprised to see a deserted airport. Apparently, there were no other flights departing except for UL605. The usually bustling Melbourne airport was like a 'ghost town'.

The UL counters were at the further end where there was a sizable crowd. The UL airport staff were ensuring an orderly process of sending passengers in batches up to the check-in counters so that there was no crowding

Years of being in tourism has its benefits no doubt. The station manager was known to me, and to my wife, so I had 'back door' VIP status as I was whisked through check-in, with hardly a cursory glance at my overweight bags! After clearing emigration, I arrived at the gates only to be told that the arriving UL flight from Colombo had landed 45 minutes late. (UL – Usually Late?!) Just my luck. Another long wait and I nodded off for a while, in the waiting area.

The incoming airline crew, (who had laid over in Melbourne from an earlier flight) were also impatiently waiting as the aircraft was cleaned and made ready. The captain and his two first officers were talking with the airline station manager, and they were taken to a lounge to wait until the aircraft was ready. (On a long-haul flight like UL605 there are two co-pilots who take turns to assist the captain to fly the plane.)

I walked around the empty airport and saw only a few planes parked on the tarmac.

Finally, we boarded (thanks to the UL ground staff I got to board first) and settled down in my side aisle seat. (The station manager had told me that since the flight was reasonably 'open' he would keep the seat by my side free.) So, I had the luxury of virtually two seats once I put the armrest up. The captain managed to get cleared early, and we pushed back and took off only half hour behind schedule eventually.

My luck seemed to have certainly changed.

The service of the cabin crew was quite good, contrary to what I had heard about UL of late. They were very attentive and efficient. The food, though rather bland, was ok.

The flight was smooth, although long and tiring, and I did not get any sleep, particularly since it was a daylight flight. To add to that, there were many Sri Lankan families traveling back with little children. So, it was more like being in a crèche, with crying and wailing right throughout the flight.

After the dinner service the window shades were drawn down, with mellow mood lighting switched on, which I am sure was to lull passengers to sleep. The air conditioning was also turned up, since the cabin became quite cold, again a subtle way of getting people to sleep. It seemed to have succeeded well, judging from the snores emanating from all around me in the cabin. I guess this gave the cabin crew some well-earned rest on the 10+ hour flight.

After a hurried lunch service, we were ready to descend for landing.

The BIA was the same as before with no change in the physical configuration, with adequate counters, so that I cleared emigration in not more than 10 minutes. There were hordes of baggage handlers hovering around the baggage carousel, like hawks swooping on unsuspecting passengers, and forcing them to help them with their bags. One guy told me that they hardly earn anything on some days because of the reduced flights.

Well, with only one other flight landing just after mine (a UL flight from Heathrow) the airport successfully managed to mix up the two baggage carousels. So, there we were, running back and forth between the two carousels looking for our bags. This chaos turned the clock back by 45 minutes, which ruined the otherwise smooth arrival process so far. After this record wait for the bags, I eventually retrieved them, and passed through a deserted customs area.

I now braved for the health checks and calmed myself with inner dialogues to be prepared for another long delay.

I was pleasantly surprised that everything was very orderly with several lines with clear notification. There was a separate queue for people who had done the health certification on line, which I joined. I just scanned the code in front of the officer using their machine, and hey presto! I was stamped and waved on in less than 45 seconds! Excellent process. I would say even better than some developed countries.

I noticed that for others who had not pre-loaded the health check form, it seemed to be complicated from what I observed of the large crowds in those queues.

So, what's the verdict? Would I travel again in the midst of this ongoing pandemic and constantly changing 'blow hot, blow cold' travel protocols? Nope! Unless it is a necessity. Definitely not on leisure. I may be a bit risk averse, but at my age, I shall 'hunker down and be in my bunker', rather than travel under the 'new normal'!