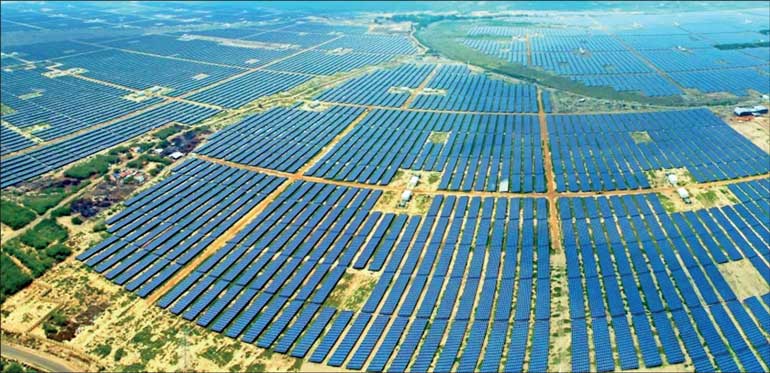 A renewable energy facility of Adani
---
On 16 August 2022, Power and Energy Minister Kanchana Wijesekera reported that Adani Green Energy Ltd. (AGEL) was issued Provisional Approvals for two wind projects of 286 MW in Mannar and 234 MW in Pooneryn (total 520 MW) that represents an investment of over $ 500 million.

On paper, the AGEL entry into SL renewable energy (RE) development looks promising and should be applauded. The $ 500 million investment in the power sector is significant especially at a time when SL is in poor economic shape and generation expansion plans stagnant and in disarray. The large capacity wind power addition will come useful for reducing the power system shortfall forecasted to arise in the near future. Once final approval is granted, these projects can be constructed on a fast-track basis as is the case in the wind industry. Another positive factor is the 'economy of scale' benefit (due to large capacity) that helps to yield a competitive tariff.

The intent of this narrative is to highlight opportunities and risks associated with this venture to readers lacking familiarity with the wind industry and related commercial/business matters that arise.


Who is Adani?
As researched on Wikipedia, Adani Group is an Indian multinational conglomerate covering a range of businesses such as port management, electric power generation and transmission, renewable energy, mining, airport operations, natural gas, food processing and infrastructure. The group has annual revenue of over $ 20 billion with operations at 70 locations in 50 countries.

In April 2021, Adani Group became the third Indian conglomerate to cross $ 100 billion in market capitalisation. It crossed the market capitalisation of $ 200 billion in April 2022 becoming the third Indian conglomerate after Tata Group and Reliance Industries to do so. Adani Group as of 19 September 2022 has a market cap of approximately $ 260 billion, having grown faster than any company ever in India.
AGEL – relevant player on the SL wind projects
The party that has received the Provisional Approvals for two wind projects is AGEL – a subsidiary of the Adani Group. It has a RE portfolio of over 20 GW. As of today, AGEL has 647 MW of wind power plants in operation with 2,054 MW under construction and 390 MW of hybrid power plants (wind/solar) in operation with 2,350 MW under construction (data from AGEL website).

AGEL is a big player in the South Asia wind power industry with ambitious plans to build 45 GW of renewable energy capacity by 2030 (three times its current portfolio). While the interest shown on the SL wind projects should be greeted enthusiastically, it is hoped that relevant GOSL agencies have conducted due diligence that concern national priorities, and they are aware of the opportunities and risks that arise with the AGEL venture.
Due diligence on AGEL proposal
Sample of items that should have been covered during the due diligence process are listed as follows:
If provisional approvals for the wind projects granted exclusivity to AGEL, what project development timelines were stipulated in the approval document? Was any tariff figure mentioned?
With AGEL having an ambitious RE and wind project development agenda in India, where do the SL projects fit in their development strategy? What influences the 'opportune moment' to begin development of the SL projects?
The combined capacity of AGEL wind projects in SL is 520 MW. This amount of capacity has a major influence on the SL generation expansion planning strategy and the opportunity cost of failure is high. Thus, project development timelines are critical for SL.
What recourse does GOSL have if AGEL delays the project developments or walks away after the provisional timeline expires? GOSL could face power planning disruption and endure lost opportunities with other interested parties. Did GOSL secure any guarantees from AGEL? If so, what minimal performance is guaranteed and what are the options offered or payments to be made if performance is below expectation?
Industry news reports that the Adani Group have bought the design of a high-capacity wind turbine from a German organisation on an exclusive basis, and they have completed the installation of a prototype unit in India. Does AGEL intend to use this turbine on the SL projects and if this is the case, will the projects be the testing ground given that 520 MW is a very significant share of generation capacity, and its potential failure could be disruptive and costly in terms of finding alternative emergency power. Additionally, how do the AGEL wind project development timelines for projects in India and SL align with wind turbine production plans?
Opportunities
Strategic investment: AGEL is present in SL at a time when the nation is in the midst of a serious economic crisis. The bleak circumstances justifies the GOSL taking a decision to override the established process for developing large projects above 50 MW capacity. It is understood that this was a Government-to-Government deal and this opportunity should be recognised as a strategic investment that suits SL and as well as India.

RE development goal: The AGEL projects align with SL's desire for investment with the 520 MW capacity addition representing a significant quantum of energy that helps to meet the GOSL stipulated goal of 70% RE by year 2030. One hopes that opportunity associated with this venture is shaped and enhanced to suit SL's needs in terms of project completion timelines and creation of high skill job opportunities.

Showcase projects: The projects going ahead can be publicised widely to show that SL on is the economic recovery path and implementing its much publicised RE agenda.

Diaspora investors: With the Govt. of India backing the AGEL wind project development moving forward, the potential for attracting the SL diaspora for investing in the development of RE projects of varying capacities (KW - MW) in the northern regions of SL will be significant.
Risks
Land acquisition and permitting: GOSL should take the lead on resolving local matters (political sensitivities, land leasing, etc.) rather than burdening the investor whose skill sets are better served on activity related to project development, financing, and execution.

Permitting: The long-drawn-out permitting process involving SL state institutions is a major obstacle that stands in the way of fast-tracking project development.

Raising loans for the projects: Analysts report that AGEL's aggressive growth is debt-funded and report that the debt-equity ratio of the business is the "Second-Worst in Asia" and have raised alarms (Bloomberg). How will this situation in combination with the economic state of SL and the debt-ridden national electric utility that has failed to make payments to existing RE project operators affect the ability of AGEL to secure loans for the SL projects? If Adani requires a counter guarantee from the Government, will the Government be able to offer it, given its dire debt situation and IMF agreements?

Currency risk: Since the payment for electricity supplied to Adani will most likely be USD-denominated, what are the impacts of currency risk on CEB (and its owner GOSL), and on future retail tariffs. Note that, unlike domestically owned nonconventional RE plants or even large hydro, once foreign-financed debt servicing is over, the currency risk is minimal, whereas for Adani, the risk continues for the duration of the PPA.

Wind turbine procurement: The timely availability of wind turbines at a time when regional and global demand is rising while global supply chains for parts face disruption is a matter of concern. AGEL could deploy their own wind turbine on the projects and perhaps this may be their business strategy applied to all future wind project developments. The concern is about the wind turbine supply priorities assigned to the SL projects.

New turbine: Incorporating a new turbine into a portfolio of projects on a fast-track basis has its pitfalls. Beyond the technology risk, establishing a global supply chain for the turbine components and lack of operational experience on the newly deployed fleet of turbines can be challenging and are potential areas of concern.
Conclusion
There are no doubts about the competency of AGEL and the expertise of managers and engineers in India who have acquired significant 'combat' experience on the development, execution, and operation of wind power projects in the South Asian region. However, the financial state of the business, the economic state in SL and the challenges faced when playing the role of a turbine manufacturer may have a significant impact on the ability to conclude a portfolio of projects within the intended timelines. It is hoped that AGEL management will rise to the tasks at hand and attain success.

As a strong advocate for harnessing RE in SL and having a firm belief that wind and solar will play a substantial role in helping the nation attain RE dominance in the electricity sector, I hope that the successful execution of the AGEL wind projects will set the trend for future RE project developments.
---
(The writer is a consultant on renewable energy and could be reached via email at [email protected])
---