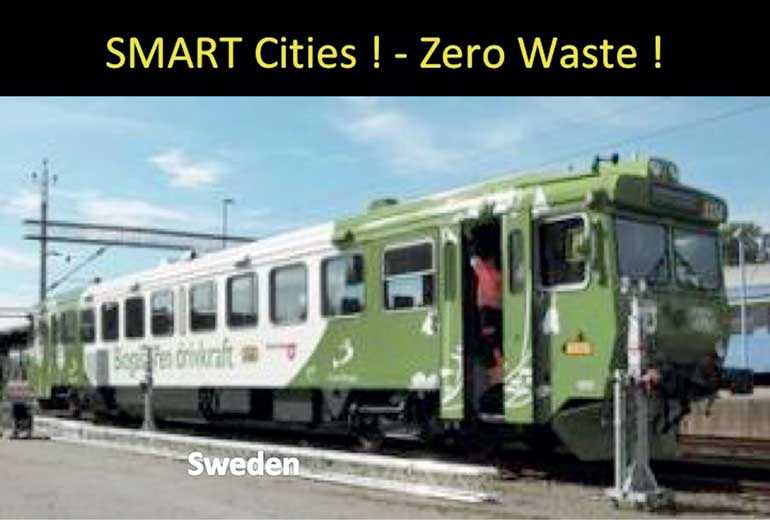 Most of our days from the recent past appear to belong to waste! Beating politics and robberies, traffic-related deaths and related mayhem waste managed to garner headline space in press and media.
While there were many discussions and emotional outbursts over why our former Queen wants to send her waste here or why we should make our space readily available to their waste, our own waste suddenly started accumulating all over Colombo again. This resulted from the closure of Kerawalapitiya site, which was functioning as an improvised composting site subsequent to the Meethotamulla dump site collapse, suddenly becoming out of bound for all waste.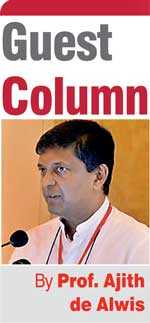 The ministry in charge of the site indicated that there is no more space for waste and requested all to be sent to Puttalam, where there is now a new sanitary landfill site emerging, which is also a project of the same ministry. After a few days of bickering there was no other way out to Colombo other than falling in-line with the request and trucking garbage to Aruwakkalu which is situated around 170 km away.

It is indeed sad that Sri Lanka just cannot resolve this situation in a way that we can be proud about with the use of knowledge and requirements that suit the present with the future in mind. In so many ways this situation demonstrates our poor unscientific management and gross failure of the citizenry to be part of the right solution.

It is the wrong attitude and the practices of the citizenry in one way that pushes the decision makers to resort to wrong practices though that excuse is not really valid. Colombo never managed waste properly and it has been a story of misunderstanding and mismanagement right throughout – even when the city was receiving accolades, we were cleaning right across the city but dumping what was collected in a few places and at Meethotamulla in particular. We were not managing waste, as a city should be.

Today the demand is even more – cities need to be responsible for their waste but also must have ways of utilising waste as a resource. We are living through an era where the transition to a circular economy is an imperative! Our ways of behaviour are far from circular but one of sheer waste of money, energy and time – a frenzied demonstration of an extremely linear economy.

Over the UK waste imports, tensions did arise and there is still no sign of that closure as quite a few investigations are underway. Then waste from Colombo started moving to Puttalam 170 plus kilometres away to be deposited within a sanitary landfill. This is in-country waste movement and still local residents went up in arms and we heard of broken windscreens and security provided by police. What eventful journeys waste is having.

There is lots of waste we create through haste. Most certainly the good intentions drummed up by many are long gone, as otherwise definitely Colombo should not be facing this issue. There are ample demonstrations to indicate what we should be doing as a community.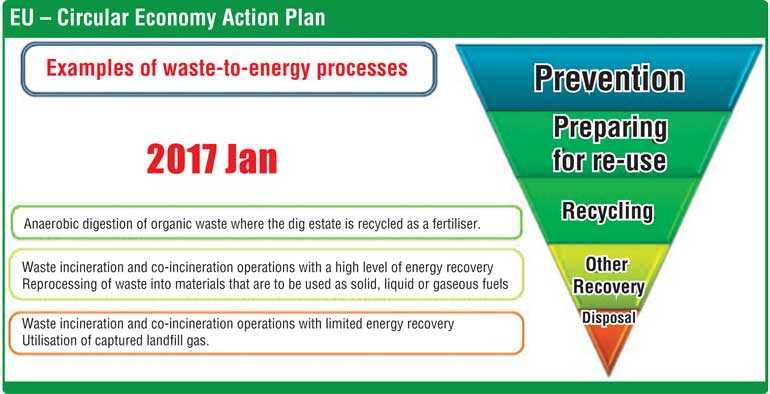 Colombo is currently expecting a Waste-to-Energy plant and there is another to serve suburbs south of Colombo. The two WTE plants differ, though both have incineration of waste. Generation of electricity from waste is expensive and not all the sound process principles are followed as Sri Lanka is not implementing the concept of tipping fees and the polluter pays principle and thereby reducing the investor to find their returns solely from the sale of electricity generated.

The plant scheduled for Karadiyana has an additional plant separately treating wet waste anaerobically and not by thermal treatment. This method is in line with the EU recommendations of best practice and it is in line with the most current scientific understanding.

Why is the Aruwakkalu approach currently an issue? The original expectation was landfilling dewatered mixed waste with dewatering at Kelaniya and then the waste blocks to move on rail. Present global understanding and the recommendation is to move away from landfilling of any organic waste – dewatered or otherwise.

Landfills do still have a function and Aruwakkalu has a role to play. It should receive non-recyclable non-organic waste streams as was well demonstrated at Dompe where Sri Lanka's first proper landfill exists. Perhaps establishing a portion of space at Aruwakkalu as a secure landfill to manage scheduled waste would have really been the way to go – serving nationally as a scheduled waste management facility that would have served industrialisation of our economy. This is still possible.

As a national secure facility, the distance would not have been an issue as it is not possible to have many such facilities for a country. However transporting organic wet waste over such long distances even if the final destination is a sanitary landfill is an uneconomical procedure and a violation of a fundamental environmental tenant – proximity principle.

Today we witness overseas, local bio-waste generating biogas and enabling trains to be run, bio-waste running vehicles and buses in cities – energy generated from local waste locally – whereas we spend on expensive fuel bought with scarce foreign exchange and then drive long distances to deposit waste. Most certainly not a positive environmental achievement. City cleaning achieved at enormous internal and external costs!

I do not think there is the need to carry out in-depth calculations here, as the folly is evident. The current expenditure indicated amounts to Rs. 5 million per day with 40 plus trucks plying over 344 km round trip per truck per day. The overall expenditure is Rs 1.65 billion per year. It is also expected to have a payment of Rs. 2.5 million per day (?) from the transporters to the local Pradeshiya Sabha to compensate to restore damages possible to roadways.

To put this expenditure in perspective the current 2019 allocation to support National Science Technology and Research is Rs. 4.1 billion. Also Rs. 4.7 billion is what had been indicated as the cost of the fly-over constructed over Rajagiriya! Interesting to understand these costs and allocations and relate to our expectations and priorities too.

The tragedy at Meethotamulla, on 14 April 2017, has gone down in the annals of the history of solid waste management as the fifth worst waste avalanche in the world! Colombo, like all large urban centres, requires strategies to dispose of the vast amounts of solid waste generated daily by its citizens.

The tragic loss of life and property that resulted from the disaster at Meethotamulla prompted the Government to seek instant answers to this problem particularly as there are many other solid waste 'mountains' beginning to rear their ugly tops over the landscape. Today we understand that there are around 320 dumps across the island.

The immediate answer to Colombo post Muthurajawela was with Kerawalapitiya. It had a recycling plan associated with the process and was not intended as another dump though the very nature of the site did raise questions. The urgency to have an option meant Kerawalapitiya did happen. A significant positive noted from this operation was the first time use of compost generated from the site using segregated waste – the operations did insist on segregated waste though this is where the citizenry failed to deliver – in upcountry tea plantations for the very first time.

Perhaps till this demonstration, the plantation community had largely shunned market acceptance of compost derived from urban solid waste. It was equally interesting to hear of significant benefits once compost mixed with fertiliser had been applied to this plantation. Now that practice has come to an end and the solid waste is carted to be landfilled, there is no opportunity of a resource recovery of this nature.

I wrote in this column at the time that Colombo has a chance to be different; to execute methods of waste disposal that have been well researched, are efficient, and do not harm the environment. Also I went on to say that Colombo, and Sri Lanka, has the opportunity to raise its head as an example to others, rather than just allow its waste dumps to grow into towering monsters. Alas, finally that was not to be and today we see a classical operation that belongs to past practices in solid waste management enacted at cost to serve the capital.

It is likely that Kelaniya dewatering and the rail may actually take place which would reduce costs. However, still a better approach is to have that operation upgraded to a RDF (refuse derived fuel) facility and the RDF to be sent to Norochcholai coal power station with some reconfiguration for co-firing and then there is some positive difference indeed. If this step is followed there is definitely some benefit from this exercise, which is not managing waste as per normal environmental norms. Again across the world you find examples of coal power stations being switched to fire RDF instead!

Such options still means there is still a chance to change and succeed to realise a more sustainable Colombo.