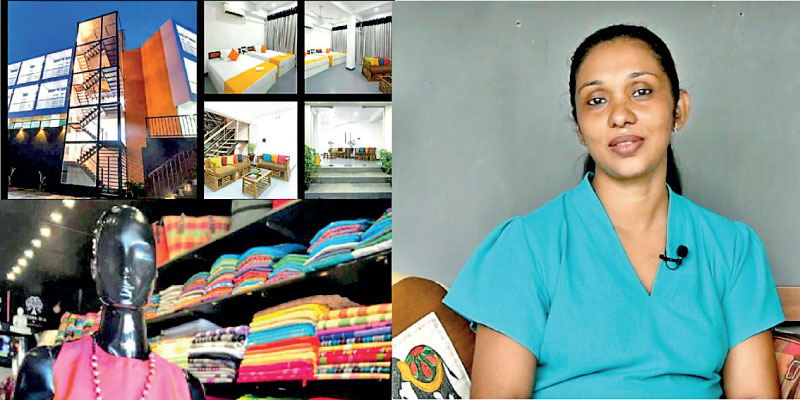 Sunimal's Handloom and Hotel, an SME owned by Achini Liyanage
---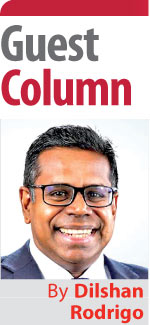 Sri Lanka's microfinance sector has demonstrated exceptional resilience in the last three years. The significance of this sector is perhaps best indicated by the fact that micro, small and medium enterprises (MSMEs) employ around 40% of the country's adult population, constitute 99% of business establishments and contribute more than 20% to the GDP.

These enterprises are important feeding points to the Apparel, Footwear and Leather, Processed Foods and Handloom and Handicraft sectors, among others. Hence, microfinance is arguably one of the most important industries in the country, as it gives hope to the poor, builds entrepreneurship and increases employment by creating micro industries. Ultimately, this contributes to different outcomes including improving the incomes of rural households – thus reducing poverty.

During the last three years, the sector had to overcome multiple challenges as a result of the constitutional crisis in October 2018, followed by the Easter Sunday bombings in April 2019 and COVID-19 raising its ugly head in Sri Lanka in March 2020. To survive, let alone thrive, industry players had to fundamentally rethink their goals and priorities, revisit their business models and wholeheartedly support business revival efforts.

Most companies in the sector remain strong and have adapted well, despite these challenges. However, this year has been nothing short of cataclysmic and it's clear that the industry is facing its biggest challenge yet. The country has signalled its inability to meet its debt obligations, the rupee has depreciated by 70%, interest rates have increased by 6% to 10%, inflation is skyrocketing and we find ourselves in the midst of a foreign exchange crisis.


New challenges

The combination of these factors has led to new challenges facing the industry, which has taken its toll, with many players exiting the sector. Some players have also moved to leasing, gold and real estate segments, which are perceived as less risky due to the secured nature of these portfolios. Hence, the first priority is to retain industry players.

This trend of exiting and moving out of the industry is particularly worrisome. It paves the way for the informal sector to play a bigger role – which in turn exposes customers to many issues including undue influence, exploitation and sexual harassment. It also carries an opportunity cost to the economy – loss of tax revenue, unskilled employees and employment migration.

The issue also has gender implications. A large number of women rely on the microfinance sector. Successful business enterprises which are women led and/or operated have proven repeatedly that these not only improve financial independence but more importantly, keep family bonds strong.

To counter this trend, the regulator must remove the interest cap on microfinance loans expeditiously. This will encourage new players to enter the formal sector, whilst ensuring existing players become more active (rather than diversifying to alternate businesses like leasing, property development etc.). This will create healthy competition, ensuring that lending rates remain competitive, but fair.


Lack of essentials

Fuel and gas shortages and electricity interruptions, whilst impacting all sectors, could impact micro businesses most severely, as they lack bargaining power and influence. I have fond memories of the period prior to 2019, when over a thousand small cafes, restaurants and resorts around the country were catering almost exclusively to tourists seeking the experience of local cuisine and culture and thus, appreciated niche businesses. The growth of these vibrant businesses was very evident as evidenced on various communication channels including Lonely Planet, Trip Advisor, Airbnb and Agoda.

The shortage of raw material for agriculture and production inputs are also a major challenge, especially since agriculture continues to be a vital industry for microfinance.

Crop losses due to the fertiliser ban, coupled with reduced imports to supplement local production, which is crucial for industries like livestock, have reduced agri-production drastically. Given that many farmers are subsistence farmers, they have little leftover to sell commercially, after feeding their families. Chemical fertiliser prices have risen sharply, with urea selling at Rs. 25,000 to Rs. 30,000 per kg, a multiple of 10 to 12 times from price levels before the crisis.

Similarly, production-related industries too have been highly impacted. There are shortages of resin, poultry feed, chemicals and various other inputs which are essential for production. Producers are also faced with logistical challenges, since foreign banks and freight forwarders are reluctant to accept Sri Lankan credit.
Struggling to survive

During my visits to regions across the country, I have constantly heard laments regarding the inability to run businesses amidst current issues. Enterprises are forced to lay off staff when the country should be thinking about value addition, efficient warehousing, strengthening supply chains, harnessing digital technology and driving exports. The reality today is that micro and small businesses are struggling to survive, some even looking to sell their businesses out of desperation!

There is a lack of a concerted plan of action, expertise and influential advocacy, to overcome this situation. There is a dire need to harness talent and expertise from the diaspora and multilateral and local academia, to develop and support a national agriculture policy and to move the country from a service oriented economy to a production-oriented one. I've discussed the imperatives for agriculture before, but there are multiple opportunities to support local industries. Let me enumerate a few:

Eco-friendly, carbon-free transportation is one such opportunity. Building a network of cycling tracks for safe and secure transportation and the industry around it for locally assembled bikes and electric bikes is a good place to start. Take a leaf from the tremendous progress made by the Philippines over the last few years in developing dedicated cycling tracks at a fraction of the cost of the much-hyped monorail infrastructure.

We must also create an enabling environment for the ICT industry by enhancing internet broadband networks, supporting the assembly and manufacture of PCs, laptops, cabling and accessories. In addition, there is a major opportunity to strengthen knowledge workers employed in the global outsourcing industry. India and Pakistan have over three times per capita of self-employed IT professionals than Sri Lanka does.


Critical transformations

We must also develop indigenous apparel supply chains and industries to reduce our reliance on imports. Exports of Sri Lankan batik, embroidery, linen and trims should be enhanced, drawing on the rich cultural heritage that Sri Lanka possesses.

If COVID-19 taught us one lesson that has universal application, it is the urgency to digitally transform industries. Sri Lanka was no exception. As a result, many banks and non-banking financial institutions (NBFIs) were exposed and lost market share while others gained. The more progressive institutions were able to support business revival efforts by influencing hybrid businesses, hybrid working and availing customers and businesses, by literally facilitating 'banking at your fingertips'.

The real imperative is to connect our businesses to local and global marketplaces – the likes of Daraz, Ikman.lk, Amazon and eBay – as well as supply chains, an area in which the country is currently lacking. Today, Sri Lanka's top 20 exporters account for 80% of exports and we need to change this fast, for which embracing digital is key!

Unfortunately, politicians have repeatedly openly influenced micro customers not to pay loans, undermining the credit information bureau in the process. This creates a vicious cycle that ultimately discourages formal institutions from operating in this sector and encouraging informal players to enter the sector.

The near hyper-inflation we are experiencing at the moment puts tremendous pressure on the marginalised segments of society. It impacts consumption and people have to draw upon savings and borrow to make ends meet. The loss to the prepared food segment (bakeries, caterers and restaurants) from tourism and supply disruptions, open account import restrictions and logistics are massive.


Adverse long-term impact

Last, but not least, the country is witnessing a brain drain on a scale we have never experienced before. The loss of specialised, qualified staff in every sphere will seriously undermine Sri Lanka's productive capacity going forward. We are also hearing of companies in export sectors – like IT and apparel – relocating overseas. We are truly at a crossroads today. The micro and small industry sector is at the risk of collapse if action is not taken. Political stability is the foremost consideration to bring in the much-needed flow of funds to revive the economy, be it repurposing, bridging or borrowings. We need to move away from the mindset of a welfare State and allow people to take accountability for their lives – be it in education, health, transport or agriculture, which are traditionally the most subsidised sectors. Instead, we need to create an environment of financial independence through entrepreneurship, in a production-oriented economy.

The East Asian miracle is a result of concerted action, with increasing production given priority. We must also draw insights from countries such as the Philippines and Cambodia, where the microfinance industry has been given regulatory support to negate the influence of the informal sector. Sri Lanka too, must embark on such reforms immediately as the lifeblood of the economy needs support, responding to that call of action is an imperative!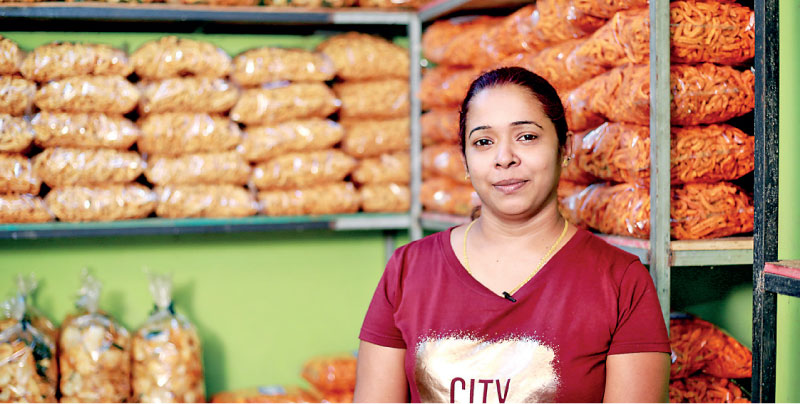 HR Sweets Micro Entrepreneur Fathima Mumtas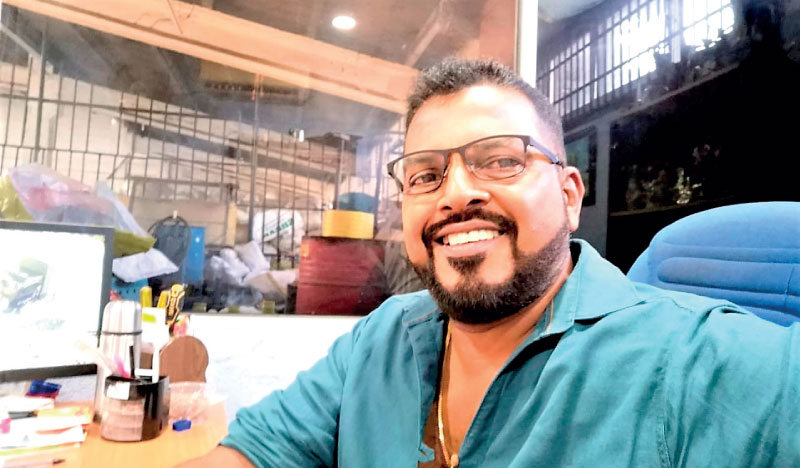 KVR Plastic Industries is an SME owned by Ranjith Amaratunga

Micro enterprise Richmo Tailors owned by Suranga Kasturiarachchi
---
The writer is the Chairman of HNB Finance PLC and HNB PLC Director/Chief Operating Officer with over 30 years of experience in the Banking, Apparel, Investment Banking and Insurance industries.)