Special deals for Sri Lankans provided by wow Travel, a partnership between wow.lk and Walkers Tours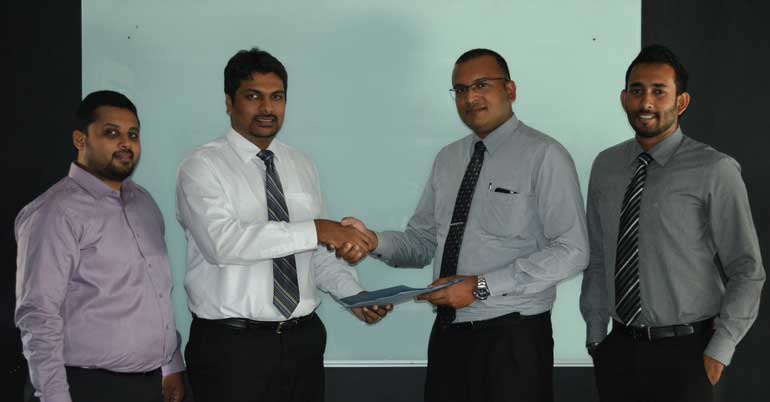 wow.lk Head of IT Shamly Faleel, Digital Commerce Lanka Chief Executive Officer Sheyantha Abeykoon, Walkers Tours Head of E-commerce Umeshi de Fonseka, Cvisit Head of Business Development Ashan Fernando
wow.lk, Sri Lanka's leading online shopping website and Walkers Tours, Sri Lanka's leading Destination Management Company have joined forces to offer online customers, unparalleled travel deals on wow Travel.

wow.lk is renowned for offering an exciting variety of travel deals on its popular daily deals site. Through this partnership, customers of wow Travel will be able to take advantage of incredible discounts of up to 40% to 50% on over 100 hotel properties, whilst making their bookings seamlessly online. The service uses a state-of-the-art online booking engine developed by technology partner Code Gen that links the website to the reservation systems of hotels across the country. Given the expansive footprint that Walkers Tours has amongst local resort properties, customers will be able to enjoy great deals on some of the country's premier hotel properties including leading hotel chains and a variety of boutique hotels.


Commenting on the launch of its enhanced travel offering, Digital Commerce Lanka Ltd Chief Executive Officer Sheyantha Abeykoon stated, "Constant innovation and value addition – these are two things that we always focus on. We have been providing exciting travel deals for a long time now and we wanted to enhance this aspect of our offering further, to provide our customers with added value. Walkers Tours is one of the country's premier travel companies and has access to a hotel inventory that is unmatched. We knew that a partnership with them would offer our customers an even greater experience, offering them the phenomenal discounted offers that wow.lk is known for, across the widest range of hotels. Additionally, this partnership will enable us to offer our customers a seamless and reliable online booking experience which is convenient and hassle-free."

Commenting on the partnership Walkers Tours Head of E-commerce Umeshi de Fonseka stated, "We constantly strive to provide our customers with the best travel experiences. Our partnership with wow.lk will be an extension of the offering we provide on our own portal CVISIT.com. wow Travel will help us strengthen our offering for the local market, whilst expanding our online reach. wow.lk, Sri Lanka's largest online shopping mall, is known for its continuous commitment to innovation, which aligns well with our mission to provide the most creative and memorable travel experiences."


Walkers Tours has been in the travel industry for over 40 years and is a subsidiary of Sri Lanka's largest conglomerate, John Keells Holdings PLC. Constantly focusing on providing clients with the most creative and imaginatively designed tours, the company offers a wide range of holiday experiences across Sri Lanka.

wow.lk continuously strives to meet the varied needs of the local online shopping community and is committed to providing its customers with added value.wow.lk has been at the forefront of e-commerce innovation in Sri Lanka and continues to deliver a convenient virtual shopping experience to customers, providing them with a variety of affordable products and services. Backed by Dialog Axiata, Sri Lanka's largest telecommunications service provider, wow.lk is now one of the largest and most reputed online e-commerce sites in the country.