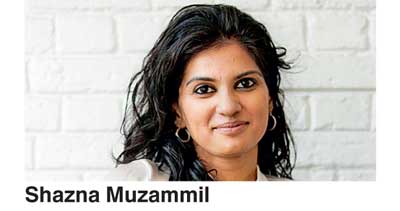 Women's Entrepreneurship Day (WED), the world's largest entrepreneurial and financial empowerment initiative, recently appointed country ambassadors to oversee and coordinate activities in over 144 countries worldwide, supporting, empowering, and celebrating women entrepreneurs on every continent. Additionally, WED will host its first annual Choose Women Wednesday on 30 November to celebrate and support women-owned businesses.

In Sri Lanka, women entrepreneurs will be coming together at "Above All Else", celebration of women entrepreneurs in the SME sector, to celebrate, support, and empower women entrepreneurs in the region. Shazna Muzammil has been selected as the Women's Entrepreneurship Day Ambassador for 2016 representing Sri Lanka.

Muzammil will be launching a series of initiatives and campaigns in support of entrepreneurial development and support for women in Sri Lanka. Established entrepreneur and leading businesswoman in her field, WED Ambassadors, brings together a host of experience and opportunity for innovation and development for women entrepreneurs.

Muzammil heads Business Development at J Walter Thompson, an international advertising agency in Sri Lanka. She is also a Board member of the Women's Chamber of Industry and Commerce, which is the first women-only trade chamber to be set up in Sri Lanka in 1985, and the first in the world.

She is a fervent supporter for women's cause and is a founding member of the Zonta Club 1 of Colombo, which is a worldwide organisation of professionals and executives working together with the aim of advancing the status of women across the globe. She is a member of the 'A.J.M. Muzammil Foundation,' a registered Foundation since 2003, which serves the poor and needy and work to enhance and uplift underserved communities, uplifting youth and children, social welfare, and health care programs in economically depressed areas.

She was also the Private Secretary to the Mayor of Colombo from November 2011 to October 2015. While in this environment she was exposed to a lot of the grass root level sector of the city and understood greatly the need to educate, empower and support these classes of people in the community. She initiated and supported the Mayor in projects that enhanced the life of these people.

She has initiated programs to enhance, support and educate the underprivileged women from our community. She also played a crucial role in empowering women and young girls by providing skill building and life skills through her own business which she started with her two partners.