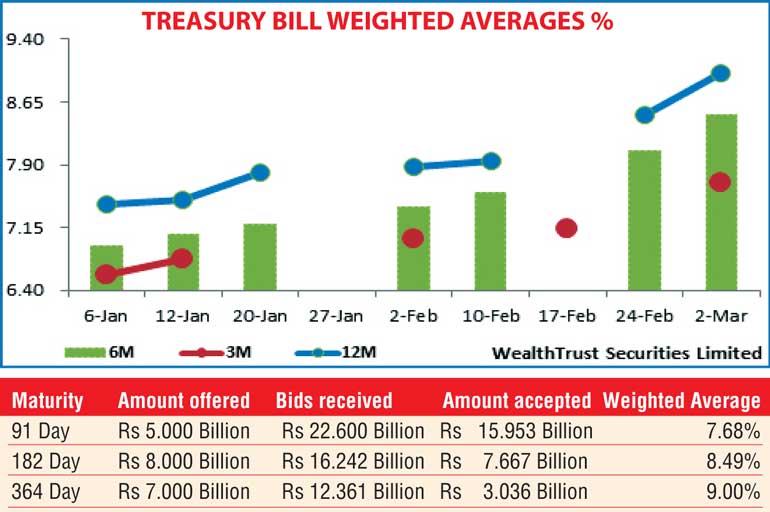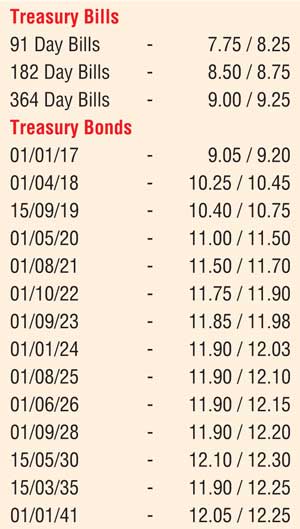 By Wealth Trust Securities

The upward momentum in primary market rates continued at yesterday's weekly Treasury bill auction as well, with weighted averages increasing for a 12th consecutive week. The 91 day bill recorded a weighted average of 7.68% against its previous average of 7.14%, while weighted averages on the 182 day and 364 day maturities increased by 42 and 50 basis points respectively week on week to 8.49% and 9.00%. Interestingly, the accepted amount on the 91 day bill was 199.4% above its offered amount of Rs.5 billion while the overall accepted amount exceeded the total offered amount of Rs.20 billion by Rs.6.6 billion. The total bid to offer ratio was seen increasing to a four week high of 2.56:1 against its previous week of 1.57:1.

In secondary bond markets yesterday, yields were seen increasing once again mainly on the liquid 01.09.2023 maturity to an intraday day high of 11.92% and closed the day at 11.85/98 against its previous day's closing level of 11.75/80. In addition, the 01.08.2021 and 01.10.2022 maturities were seen changing hands within the range of 11.48% to 11.52% and 11.70% to 11.75% respectively while on the shorter end of the curve, 2017 and 2018 maturities were seen changing hands within the range of 9.00% to 9.20% and 10.30% to 10.60% as well.

Meanwhile in money markets, overnight call money and repo rates remained steady to average at 7.51% and 7.02% respectively as the surplus liquidity dipped marginally to Rs.38.46 billion yesterday.

Rupee appreciates marginally

The Rupee on the active one week forward contracts was seen appreciating marginally yesterday to close the day at Rs.144.75/85 against its previous day's closing of Rs.144.85/95 on the back of export conversions outpacing importer demand. The total USD/LKR traded volume for the 01 March 2016 was USD 65.50 million.

Some of the forward USD/LKR rates that prevailed in the market were One Month - 145.45/55; Three Months - 146.85/00 and Six Months - 149.00/25.