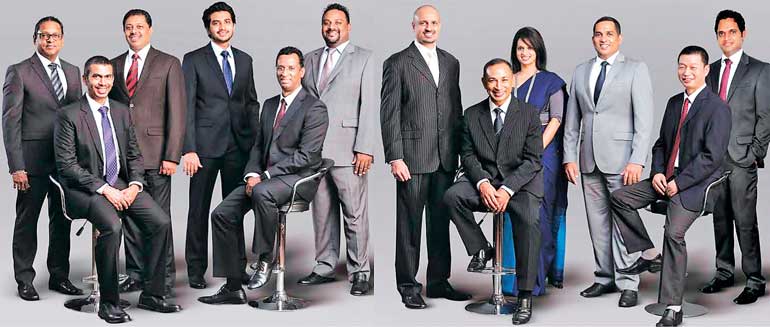 The TJ Management Team
South Asia's largest textile manufacturer Textured Jersey (TJ) have been placed on the Forbes 'Asia's 200 Best Under a Billion' list of 2016.

The 200 companies in the Forbes' Best Under a Billion Asia-Pacific list must have an annual revenue between $5 million and $1 billion and be publicly traded for at least a year. The 200 are picked from a universe of over 15,000 companies across the Asia-Pacific exchanges based on earnings growth, sales growth and return on equity in the past 12 months and over three years.

TJ has been on a major expansion drive in the last few years extending its regional presence with the acquisition of Ocean India in 2015 and acquiring one of the region's best fabric printing facilities Quenby Lanka in the same year.

The recently strengthened Management Team, and the operations teams, then transformed these companies, delivering great synergy. The company ended its last financial year on a resounding note recording a strong net profit of Rs. 2,175 m, a 63% growth over the last year.

Continuing its performance momentum in the new financial year, TJ reported eight straight quarters of strong quarterly profit growth. TJ share price has been on a steady rise and reached an all-time high of Rs. 41 just this week. The stock however still trades at lower PE ratios compared to many of the companies featured on this prestigious list, and the CEO of Textured Jersey, Sriyan de Silva Wijeyeratne says this is a company to watch out for in the future.

The CEO adds that he was delighted and honoured to be named amongst Asia's Best. "To be recognised by a prestigious brand like Forbes is a benchmark achievement for the Company as well as the industry. This is a proud moment for the TJ team, and a testament of our groundbreaking work and milestone achievements in being a part of the ever evolving global supply chain for the garment industry. We will continue to work closely with our customers and partners; our teams have put in phenomenal efforts to consistently provide new innovations, costs savings and faster delivery to the many brands we service," he elaborated.

Whilst being placed on the Forbes list is TJ's crowning glory for 2016, the company has been on an exuberant journey ever since it won the prestigious 'Firm of The Year Award' at the London World Textile Awards, whilst being selected Best Dyer and Finisher of the Year at the same time.

TJ, which is featured in the Most Respected list locally, was selected Worldwide Best Dyer and Finisher for the second year running in 2015, as well as winning a number of coveted accolades at the National Business Excellence awards locally as well as the Green Era Award in Italy.

TJ says it will continue its aggressive expansion plans for both Sri Lanka and India in the coming years with several new innovations already in the pipeline. The company's plans for synthetic manufacture and digital printing are already in the public domain.

An expert panel of Asia-based senior executives and internationally-recognised knowledge management and intellectual capital experts select the finalists. This year's roster saw an average 60% growth in annual sales and in total generated a combined $47 billion in revenue, $10 billion in profit, and has a combined market value of $349 billion. This list reflects companies that have navigated the global credit crunch with little to no debt on their balance sheets.

Asia's leading organisations have been listed for their ability to leverage enterprise knowledge to deliver superior performance in the areas of innovation, operational effectiveness and excellence in products and services.

TJ Chairman Bill Lam said the Board was thrilled to hear this exciting news, and felt that the company was receiving due recognition for some excellent work done over the recent past. "The Global Fashion Industry is in a transformative stage, and to have a Textile firm manage this turbulence while outshining thousands of businesses in Asia to be featured in the top 200, is indeed something to be proud of," he added.

Listed on the Colombo Stock Exchange, TJ is backed by two leading industrialists – Pacific Textiles Hong Kong and Brandix Lanka as its main shareholders. The company currently has a market capitalisation of Rs. 28.6 billion.