By Waruni Paranagamage

Power and Energy Minister Patali Champika Ranawaka yesterday said that an international symposium on the 'Energy Challenges in the Knowledge Economy' will be held on 26 June at Colombo Hilton, with former Indian President Dr. Abdul Kalam attending as keynote speaker.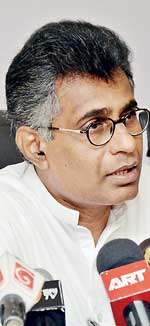 The Ministry of Power and Energy has proposed an ambitious Sri Lanka Energy Sector Development Plan to achieve national energy self-sufficiency by 2030. As outlined in the newly-published policy book by the ministry, one of the eight key areas of the plan deals with 'Investment in Research and Development' in order to foster innovative ideas to carry Sri Lanka forward into an energy-empowered future.

"We have divided the offshore into 20 parts and we hope to continue natural gas exploration to meet the set targets. But the next challenge of the Government will be to transform coal power plants, petroleum transport systems and services to cater to natural gas power by 2018. So we need research applications within the power and energy sector to overcome these challenges," the minister added.

The challenges existent within three major fields, namely water, power and petroleum and transportation, will be covered at the symposium. There are 10 topics which are related to three major fields that will also be considered.

The organisers are willing to collect research work undertaken in various sectors of the economy that have a direct bearing on the effective management of energy sources and consumption in the country.

The symposium's organisers have called for the technical papers of researchers who have already undertaken their research work, studies or conceptual work in related fields. The highest quality papers will be selected for publication during the symposium's proceedings.

Through the implementation of recently-formulated energy policies and gathered research, energy- sufficiency can be achieved by 2030, Ranawaka asserted.

Among the international experts who will address the symposium are Prof. Peter Heck from the University of Applied Science in Trier, Germany and Prof. Saravanan Muthaiyah from Multimedia University in Malaysia. Organisers say that they will present a paper on their country-specific experiences in reaching energy goals.

Parallel to the event, Dr. Kalam will address 1,500 students at the BMICH on the same topic.

The symposium aims at achieving evidence-based policy formulation and implementation. It is open to academics, professionals, public officers and business executives who are directly involved in energy-related research and management activities. Attendance is free of charge.