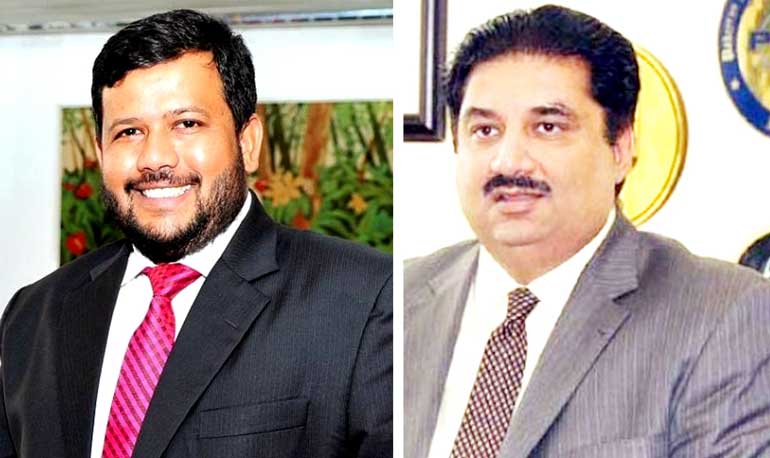 Pakistan-Lanka trade at $ 353 m
Looking to jointly explore bigger trade: Rishad
On 2-day visit to Colombo
With trade between historic trade partners Sri Lanka and Pakistan positioned to reach $ 1 billion trade volume, Pakistani Commerce Minister is scheduled to arrive in Colombo to take the process forward.

The visit is in view of the first Business Interaction Forum between the two countries to be held next week in Colombo.

"We extend a warm welcome to the Minister. We believe that there is great unrealised trade potential that we could jointly explore," said Minister of Industry and Commerce Rishad Bathiudeen yesterday.

Pakistani Minister of Commerce Engr. Khurram Dastgir Khan will be in Sri Lanka from 10-11 November and the visit, which is facilitated by the Department of Commerce, is expected to drive current bilateral trade to new levels.

Bathiudeen added: "We are facilitating several high level courtesy calls for the Minister. A highlight of this visit will be the first-ever Business Interaction Forum to be held with the participation of business representatives of both sides."

In 2014, bilateral trade between both countries stood at $ 353 m. In January 2014, when the then Pakistan High Commissioner to Sri Lanka Major General Qasim Qureshi called on Bathiudeen at the Ministry of Industry and Commerce, he stressed: "What we want to do is to expand bilateral trade from the present levels to $ 1 billion in the coming years."

Pakistan is the second largest trading partner of Sri Lanka in the SAARC region after India. The balance of trade is in favour of Pakistan.