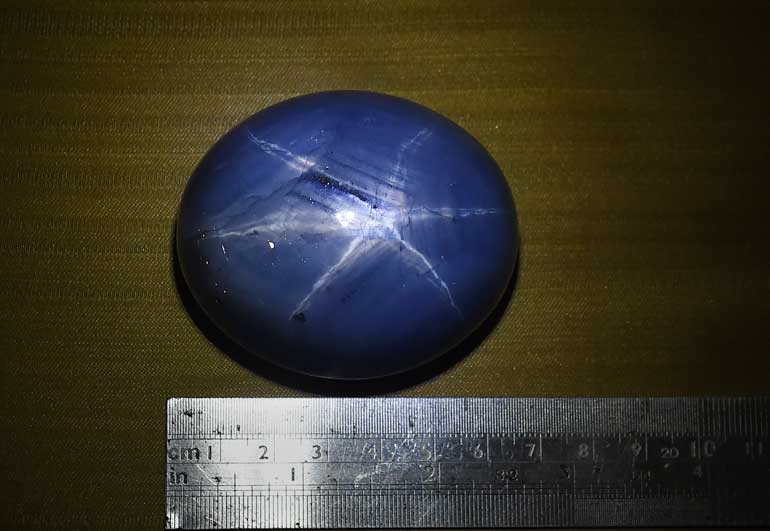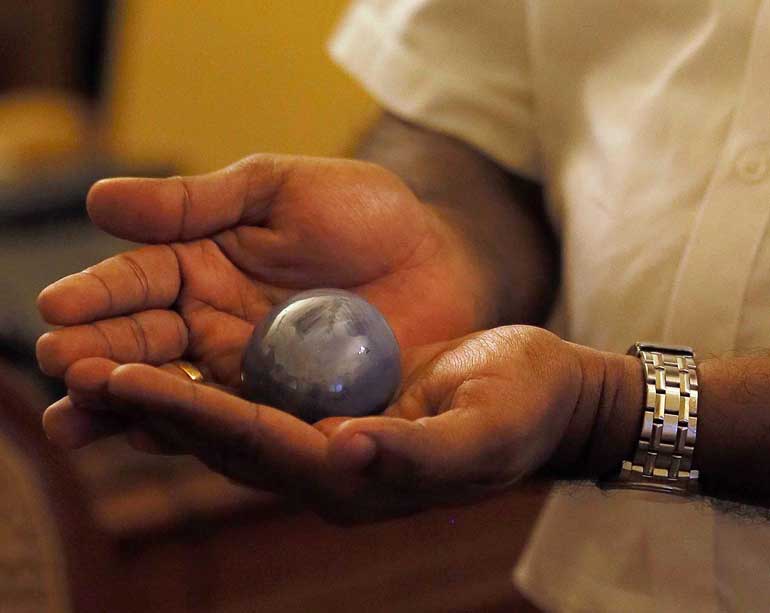 The world's biggest blue star sapphire, the Lankan Star of Adam, is displayed in Colombo on January 8, 2016. A Sri Lankan gem trader who owns the world's largest blue star sapphire has decided to sell the dazzling stone, with a dizzying asking price of $300 million. AFP PHOTO/Ishara S. KODIKARA
BY Chamitha Kuruppu

Nearly four months ago a unique and precious looking oval shaped blue gem stone was discovered in a gem mine in Ratnapura. A wealthy businessman, passionate about gems, lost no time in acquiring this astounding piece which he felt would be priceless.

Today, he owns world's biggest blue star sapphire, which he has named the Lankan "Star of the Adam" which weighs 1,404.49 carats (280.898 g). Although he is forced to remain anonymous due to security concerns, the canny businessman who is willing to sell 'Star of Adam' for an astounding $300 million says he wishes to help the poor and uplift the industry with the money he receives.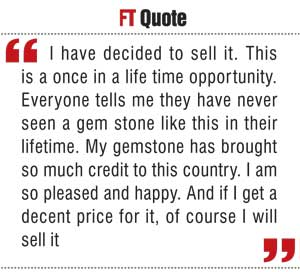 "It is not only world's biggest blue star sapphire; 'Star of Adam' is currently the most famous gemstone in the world," he beams and then whispers "But not even the domestic workers in my house know that I own this."

This rare blue star sapphire has been authenticated as the biggest of its kind at the Gemological Institute of Colombo.

Its Consultant Gemologist Ashan Amarasinghe, says that although there could be more blue star sapphires this is the biggest 'gem quality' blue star sapphire in the world.

"It is difficult to give a price for a unique piece like this," says Amarasinghe adding "This one is the largest such in the world. There is no second piece to replace it. So it's not possible to quote a price."

Although industry experts pointed out it was impossible to give a valuation to this rare stone, the owner has now valued it at over $300 million. "This is the most famous gem stone in the world. Given the fame of this stone I feel the international value of it could be as high as 300 million dollars. That is why I decided to quote that price," he asserts.



The owner initially said he 'loved to keep the gemstone with him and exhibit it to the public' and pointed out his estimate is about 100 million dollars. However having witnessed the overwhelming publicity 'Star of Adam' received both locally and internationally, he later changed his mind deciding to sell the dazzling piece.

"I have decided to sell it. This is a once in a life time opportunity. Everyone tells me they have never seen a gem stone like this in their lifetime. My gemstone has brought so much credit to this country. I am so pleased and happy. And if I get a decent price for it, of course I will sell it."

Asked what he would do with such large amount of money, the owner of world's biggest blue star sapphire promptly replied "I will help the poor. Throughout my life I have never forgotten the poor. I have been blessed. I have never had any difficulties in my life. But I never stopped imagining what the poor go through in their lives. Now I have got the opportunity to make their life better."

"There is a saying when you give a loaf of bread to the poor you feed them for a day. When you teach them how to make bread you feed them for life. Whatever I do I want to make it long term," asserting that while he prefers to live a private life he also promises to help the poor for the rest of his life.

The Sapphire is the non-red variety of corundum. A 9.0 on the Mohs scale of hardness, sapphire is the second hardest natural mineral. Sapphires with inclusions of tiny, rutile needles exhibit an optical property called asterism. This is the star shaped effect seen in star sapphires and is usually only seen in cabochon cuts. Star sapphires usually have six ray stars, but twelve ray stars are also known. Rarely, when sapphires are cut 'en cabochon', they can demonstrate a cat's eye effect. This effect displays a thin band of light down the centre of the stone and is known as chatoyancy.

The second biggest star blue sapphire weighing 1395 carats was also found in Ratnapura, which is known as gem capital of Sri Lanka. Gemmologists confirm the second largest star blue sapphire is also inside the country owned by a Sri Lankan gem trader but refused to reveal further details due to security reasons.

Sapphires, like any naturally occurring gemstone, are formed by the different shifts, mixings and chemical changes that are constantly taking place in the earth. Sapphires are created through certain shifts in heat and pressure, and can be found in both metamorphic and igneous rocks. Rocks in which sapphires can be found include granite, schist, gneiss, nephaline syenite and a variety of others. They may also be found in deposits of alluvium. When sapphires are formed naturally, they are hexagonal, and are called corundum. Due to the remarkable hardness of sapphires, second only to diamond, they are highly prized.

"This type of sapphire could be created due to the high pressure and temperature in the metamorphic rocks for over 240 million to 590 million years ago," National Gem and Jewellery Authority Director, K.L.D Dayasaga, said of the stone.

"There are lots of people inquiring about the stone, locally and internationally. I am extremely happy to see such interest for my gemstone which keeps growing by the minute," says the owner of the Star of Adam. He is currently in the process of setting up a website and a separate email address where people can reach him and inquire about the gemstone.

Asked whether he will be able to sell this precious gemstone at the quoted price he replied "Most of the hedge funds and investment funds have lots of spare cash. With oil prices so low and gold prices down I am sure they will not waste an opportunity to invest in something like the world's most famous gemstone."

So what are you waiting for? If you envied that shiny blue piece on Duchess Kate Middleton's finger, this is the opportunity, and you could be the owner of world's biggest blue star sapphire and all you need is a mere 300 million US dollars!