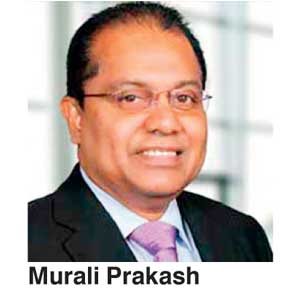 Top corporate personality Murali Prakash has been appointed as the Group Managing Director and CEO at diversified entity Taprobane Holdings Plc.

TAP has interests in manufacturing, financial services investments, property, services and plantation.

He has also been appointed Group MD/CEO at Lanka Century Investments Plc, in which TAP holds an 80% stake.

Previously Murali has served as the Group Managing Director/Chief Executive Officer of Brown & Company PLC for over seven years. He has held a number of prominent leadership roles, including the positions of Chairman of Gal-Oya Holdings Ltd., and Sales Director at Singer (Sri Lanka) PLC. He has also served on the Boards of Singer (Sri Lanka) PLC, Singer Finance (Lanka) PLC and Singer Industries (Ceylon) PLC.

He also serves as a Non Executive Director at Laugfs Gas Plc and Laugfs Holdings Ltd.

Murali holds an MBA from the University of Southern Queensland and is a Certified Professional Marketer (Asia Pacific) as well as a Certified Management Accountant (Australia).

He is an Alumnus of both the National University of Singapore and Asian Institute of Management, Manila and a fellow member of the Chartered Management Institute (UK) and the Institute of Certified Professional Managers (Sri Lanka).