A brand new Ford Focus worth Rs. 5.5 million with other prizes worth a total of Rs. 10.8 million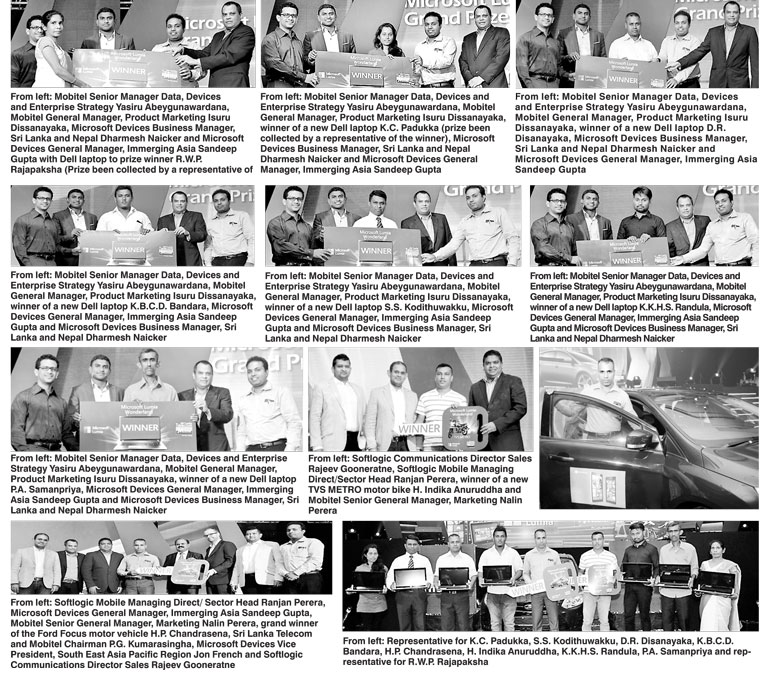 Mobitel and Microsoft, who have successfully driven the development of information and communications technology in Sri Lanka to provide the best communication devices and services to the country, recently concluded the much anticipated Microsoft Lumia Wonderland final grand draw at a gala ceremony organised at the Hilton Colombo.

A sweepstake which was introduced for the first time in the country among a local telecommunications and the global software giant rewarded a brand new Ford Focus motor vehicle worth a staggering Rs. 5.5 million to H.P. Chandrasena from Werahera, Godakawela as the grand prize. In addition, over a period of eight weeks, in total 68 other lucky customers of whom eight of them received a valuable TVS METRO motor bike worth Rs. 1.3 million in total, while the other 60 lucky customers were rewarded with new DELL laptops each which were worth a staggering total of Rs. 4 million.

Strengthening a long standing partnership between the companies, Mobitel and Microsoft recently unveiled a series of Microsoft Lumia smart phones which was subsequently followed by a daily and weekly draw that led up to the final grand draw. The draws entitled customers to free data bundles, free talk time on their Lumia devices and provided the rare opportunity to win valuable prizes worth millions of rupees.

The range of sophisticated Microsoft Lumia smartphones that were launched by Microsoft in partnership with Mobitel in the recent past include the Lumia 430, Lumia 535, Lumia 540, Lumia 640 LTE DS, Lumia 640XL 3G DS and Lumia 640XL LTE (4G). Mobitel offered up to 2 GB data monthly for six months along with free talk time worth Rs. 150 monthly for a period of three months for the range of smartphones as an assured bundle from Mobitel.