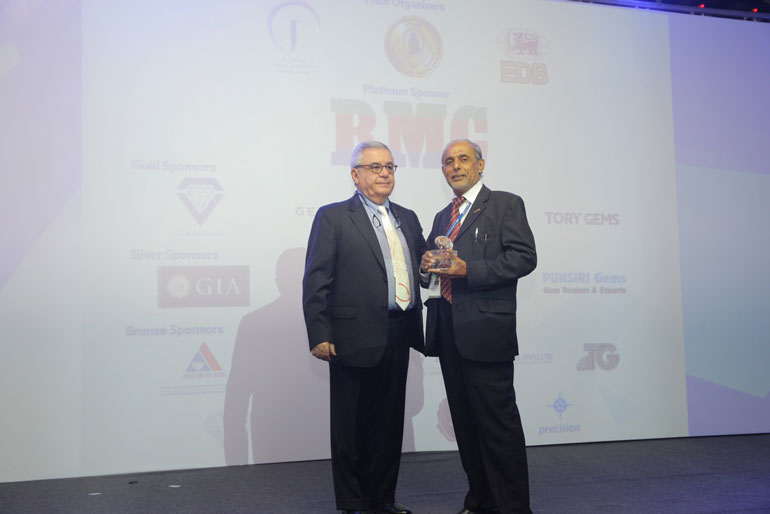 Kamil Ismail was the first recipient of the International Coloured Gem Stone Association Award for a Lifetime Achievement at the ICA Congress 2015, which was held recently at the Cinnamon Grand Hotel in Colombo.

Kamil Ismail, the Managing Partner of Gembines entered the coloured stone business as a gem stone wholesaler and exporter in 1987. He joined the ICA in 1984 and has been an active member since.

He served as the ICA Ambassador to Sri Lanka in 1998/1999 and served as ICA Director with Past President Paolo Valentini.

Kamil together with Past President Eli Eziri served as the Executive Director of the ICA from the year 2000 to 2003. He was subsequently appointed as the Secretary of the Executive Committee and stepped down at the ICA Congress 2007 in Dubai after completing his term.

Devoted to the coloured gemstones industry, Kamil also served in the organising committee of the ICA Congress in 1989 held in Colombo, Sri Lanka. He was also the main coordinator of a successful Gem Mine tour in Sri Lanka immediately after the Jaipur Congress in 2003. He was the President of the Sri Lanka Jewellers and Gem Merchant Federation and is currently a member of the FACETS organising committee. He is the Director of the Sri Lanka Gem and Jewellery Association and presently serves as the Vice Chairman of the Gem Segment.

Kamil, a charter member of the Lions Club of Colombo (Wekanda) and Past President of the Club has undertaken many projects for the less fortunate and has been recognised and won many awards for the services rendered by him to the community.