By Madushka Balasuriya

Change is coming in 'leaps' and bounds, or at least, that's what Silicon Valley based Restaurant Technology Company Leapset hopes to bring to the restaurant industry in Sri Lanka.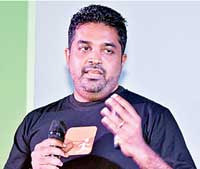 Leapset, which is partnered with American food marketing and distribution multinational Sysco, offers a single platform for the entire industry to handle the various facets of restaurant management such as social discovery of a restaurant, making reservations, online, mobile ordering, restaurant operations via their advanced POS, payments and customer retention.

The fully integrated restaurant operating system comprises three main services: Cake, which is a restaurant discovery platform; Guest Manager, which is a table booking and floor management system; and a cloud-based Point of Sale (POS) system. "This puts us in a completely different category or segment than really anybody else in the market. Nobody has a set of services like this, that are interconnected," highlighted Leap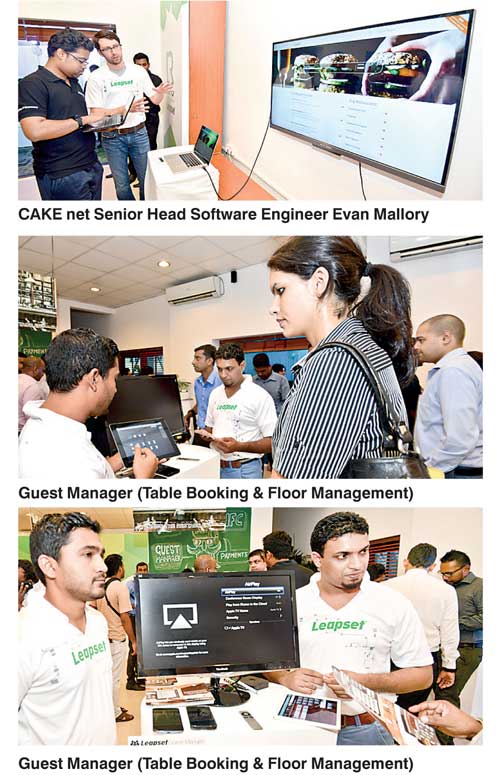 set Vice President Sales Warner Siebert, speaking at a launch event held in Colombo recently.

From a consumer view point, the most exciting aspect is Cake with its discovery and online ordering services working together allows the user to find restaurants, view menus and order online. The entire platform is standalone but can also function as an extension of the POS, which is where it really gets interesting, as this allows restaurants to keep track of items which are most popular or even an individual consumer's preferences.

According to a press release "Leapset draws its resources from the Cloud to ensure consistency and instant access for its customers – anywhere, anytime. The system is automatically updated worldwide and can also function via app, ensuring that restaurateurs have at their fingertips everything they need to run their business."

"We follow a very similar model to how Apple produces their technology; there is tight integration of the software and hardware and the products are built with simplicity in mind. The hardware and software design happens with the team based out of the Silicon Valley with the engineering done in Sri Lanka and the hardware manufactured to order in Taiwan," added Leapset Managing Director for Sri Lanka and Senior Vice President Engineering Shanil Fernando.

Following their successful venture in to the much larger US market, Leapset CEO Mani Kulasooriya said moving into the Sri Lankan market made sense as it was "well positioned for the services offered by Leapset," and that while "the market may be smaller in comparison to our US market…it's a matter of personal ownership and pride to launch our product locally."

The move was also aided by the fact that Sri Lanka is in the midst of a food revolution. "We have a growing middle income sector willing to spend more money on quality food and all of them are highly connected. They are now writing reviews, they are exposed to different types of food, they have expectations of very high quality and service, and they will give you feedback. There is a culture of food now; it has become a topic," noted Leapset Vice President Delivery Peshele Randeni.

In addition, Leapset says its service model is "one of the keys to their success," as they "offer their platform for a monthly rental so that restaurants that generally have quick cash flow cycles do not need to come up with the huge capital investment needed to purchase a traditional smart POS." This along with free six-month trials for early adopters resonated well with potential clients at the launch event, some of whom had already laid out considerable sums on other POS systems but were interested in the service nevertheless.

As for the future, Leapset plans to introduce new products and enhancements first in Sri Lanka, and its Flower Road Engineering Centre will house a centre for innovation and customer care. Leapset currently employs a staff of over 350 in both Sri Lanka and the States.