LAUGFS Holdings recently announced the shifting of its Corporate Head Offices to an advanced state-of-the-art building complex in a landmark location at 101 Maya Avenue in Colombo 6.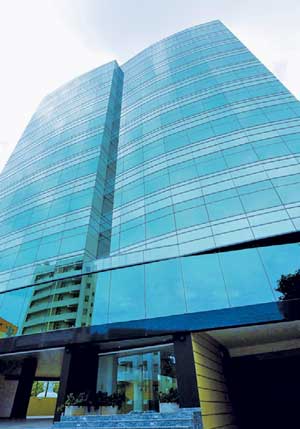 The move to shift to this exclusive and iconic property at 101 Maya Avenue coincides with LAUGFS's 21st anniversary this year.

The group has expanded rapidly over the past two decades to today become a trusted diversified conglomerate in Sri Lanka as well as overseas, with presence in a range of industries from LPG downstream activities and renewable energy to leisure and consumer retail.

The shifting took place with a simple celebration marked with religious ceremonies in the presence of staff and the senior management. The new office complex, developed and managed by LAUGFS Property Developers, is conveniently located in the city of Colombo, with easy and fast access from Baseline Road and Galle Road as well as Horana Road.

Together with LAUGFS Holdings staff, the majority of the group's 20 subsidiaries have also relocated their Corporate Offices to the new Head Office complex. Bringing together these diverse subsidiaries within the group to one central location is expected to create greater collaboration, allow for more efficient use of resources as well as bring in easy access and greater convenience to stakeholders.

Housing over 500 staff within its 10 floors, the new LAUGFS Head Office building is elegantly designed and is equipped with cutting-edge technology. The new building will consist of a large auditorium, a rooftop entertainment lounge and a fully-equipped modern gym.

As well as a spacious cafeteria, staff are also provided with designated chill-out zones to unwind and engage with each other in an informal and relaxed setting. It also features sophisticated systems such as automated visitor management, digital white boards, video walls, high tech video conferencing facilities, as well as a state-of-the-art data centre.

LAUGFS is one of the largest diversified business conglomerates and a trusted name in Sri Lanka. Founded in 1995, LAUGFS today has expanded across 20 industries in Sri Lanka and overseas, establishing a strong presence as a leader and pioneer in the power and energy, retail, industrial, services, leisure, logistics and real estate sectors. With over 4,000 employees and an annual turnover exceeding Rs.28 billion, LAUGFS continues to expand and empower millions as a trusted Sri Lankan brand.