Demonstrating the inspirational leadership strength of LAUGFS, Niroshan J. Pieries, CEO of LAUGFS Lubricants clinched the prestigious IPM People Leader's Award 2017 in the Marketing category at the recently held IPM National HR conference. The youngest CEO in the Sri Lankan Lubricants industry, Niroshan is an inspirational leader who epitomises this year's conference theme 'High Tech and High Touch' with his informed and attuned leadership style.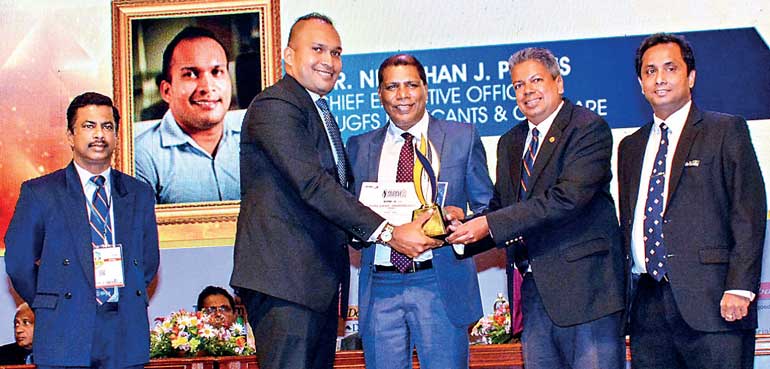 LAUGFS Lubricants CEO Niroshan J. Pieries receiving the award at the ceremony
Held in a time of change in leadership style and organisational functions, the National HR conference 2017 focused on recognising emerging HR leaders who tackle the challenges brought forth by 'Generational Disconnects' that prevail in the current business world. Niroshan leads LAUGFS Lubricants and Car Care and is instrumental in steering the company to greater heights with the vision of making the LAUGFS Lubricants brand the leader in the lubricant industry while contending against 12 multinational organisations.
In selecting award winners at the National HR conference, the judges followed a stringent selection process to choose leaders who had succeeded in delivering stakeholder expectations through transparent, credible and innovative HR initiatives. In addition, the conference sought to promote the value of emerging HR leaders who actively work towards integrating technology and people to make organisations smarter, more conscientious, and agile.
LAUGFS Lubricants is the only Sri Lankan brand to blend and distribute lubricants in Sri Lanka and established its manufacturing facilities at the Malwatta BOI Zone in 2015. LAUGFS Lubricants manufacturing facilities conduct research and development in its state-of-the-art laboratory facilities that adhere to international industry standards. Using cutting edge technological tools, LAUGFS Lubricants product range is manufactured to suit the dusty tropical climate of Sri Lanka and provides extended mileage. Whilst LAUGFS Lubricants fulfil a wide range of automobile and industrial lubricant requirements through a comprehensive product range, the Company also became the first ever industry player to introduce a dedicated label for the three-wheeler category in Sri Lanka.
LAUGFS Lubricants recently unveiled its new brand identity, highlighting its superior product offerings through vibrant new packaging introduced for its diesel, petrol, motorcycle and three-wheeler ranges. The company has displayed a sharp increase in growth since the new brand identity was launched.
In addition to lubricant products, the company offers expanded Car Care services at its network of eleven service centres which provide an extensive range of vehicle related services for all types of vehicles including hybrid cars. Operated by a team of highly skilled professionals that undergo intensive training, LAUGFS Car Care services combine high-end technology, excellent service standards and expertise. LAUGFS Car Care network of service centres continues to grow rapidly, with a number of new centres scheduled to commence operations across the island in the near future.
LAUGFS is one of the largest diversified business conglomerates and a trusted name in Sri Lanka. Founded in 1995, LAUGFS has expanded across more than 20 industries, both local and overseas, establishing a strong presence as a leader and pioneer in the Power and Energy, Retail, Industrial, Services, Leisure, Logistics and Real Estate sectors. With over 4,000 employees and an annual turnover exceeding Rs. 28 billion, LAUGFS continues to expand and empower millions as a trusted Sri Lankan brand.