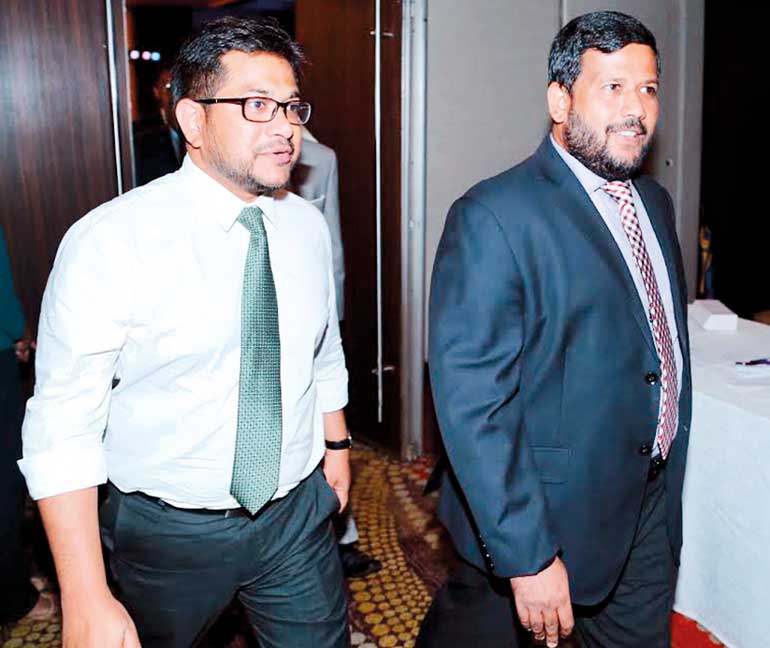 Minister of Industry and Commerce Rishad Bathiudeen (right) and Sri Lanka Handicraft Board Laksala DG/CEO Ali Ahlam Nawaz (left) meet in Colombo on 11 May
Sri Lanka's only national gift and souvenir boutique has notched increased sales in Q1 and aims for a huge Rs. 1 billion turnover this year by leveraging the country's growth in tourism.

"I am pleased that Laksala has shown increasing sales growth. I believe Laksala can Rs. 1 billion in 2016," said a satisfied Minister of Industry and Commerce Minister Rishad Bathiudeen on 11 May in Colombo.

Minister Bathiudeen, under whose purview Laksala falls, was remarking after being briefed by Sri Lanka Handicraft Board Laksala DG/CEO Ali Ahlam Nawaz on Laksala's latest performance numbers.

Laksala, the only state owned gift and souvenir boutique whose sales slogan is 'All of Sri Lanka', was established under the National Crafts Council and Allied Institutions Act of 1982. Today Laksala operates 14 showrooms/branches located island-wide. As a novel concept, Laksala has recently finalised arrangements to convert its showrooms in Colombo 7 Racecourse Promenade and Katubedda to offer a wider range of exclusive handloom products with attractive price points.

"I am pleased that Laksala has shown a positive sales growth trend in Q1 while also increasing supplier payments. According to the latest numbers, Laksala has also paid more than 40% of its Q1 earnings to SME suppliers. We shall continue to maintain our support for our craft SMEs and craft-personnel giving them the best prices that Laksala can. With tourist arrivals targeted at two million, I believe Laksala can achieve a target of over Rs 1 billion in 2016," added Minister Bathiudeen.

"Laksala has earned Rs. 232.6 million during the first quarter ending 31 March which is a growth of 12% as compared to 2015's 1st quarter. We allocated 43% of their Q1 sales to pay the suppliers at Rs. 102 million. This is a 217% increase in payments to suppliers compared to 2015's 1st quarter. The last quarter of 2015 (October to December) Laksala achieved Rs. 196.7 million – a significant growth of 18% when comparing the two quarters. During the 1st quarter of the year 2016 under review purchases of trade stocks worth Rs. 115 million from the craftsman were done," said CEO Nawaz briefing Minister Bathiudeen.

"Compared to previous year's 1st quarter it is an increase of 11%. Overall it is a positive growth in all comparisons in the 1st quarter and is a clear sign that the Sri Lanka Handicrafts Board going under the brand name Laksala is showing signs of sparkling under the proper guidance of the new management and going towards the goals entrusted. This remarkable performance could be attributed to the patronage by a cross section of local clientele who were highly conscious of the quality, value for money, customer service and care offered by Laksala.

"The successful Valentine's Day and Sinhala and Tamil New Year promotions also helped. We intend to continue Laksala special promotional campaign to coincide with upcoming Vesak, Ramazan, Hajj, Deepavali and Christmas," he added.

The vision of Laksala is to be the leader in the gift and souvenir market in Sri Lanka to uplift traditional skills in rural areas. Laksala has 14 modern showrooms in strategic locations carrying over 20,000 quality guaranteed items; all manufactured by Sri Lankan craft entrepreneurs, keeping alive the traditional skills whilst infusing modern designs.